'Stranger Things' Fans: Here's How to Overload on Conspiracy Theories While Binge-Watching the Show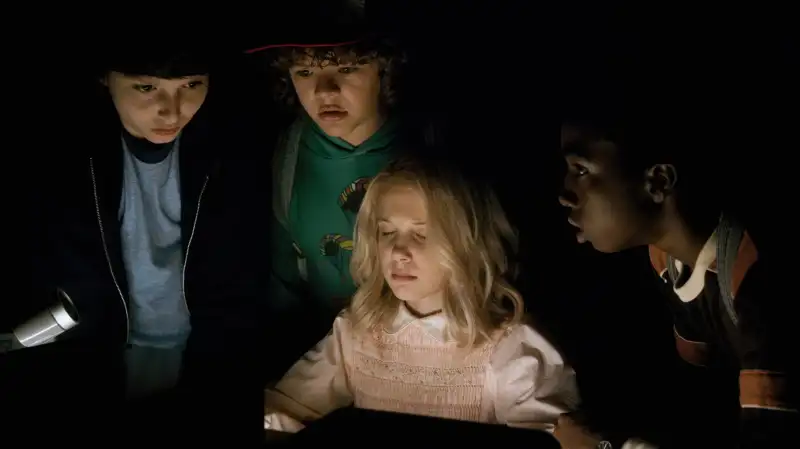 Netflix's hit series Stranger Things returns for a hotly-anticipated second season Friday. Here's everything you need to watch, read, and snag to get back into your favorite on-screen obsession.
While Game of Thrones fans at least got a few seasons' worth of sneak peaks thanks to George R.R. Martin's novels, there's no Stranger Things book. At least, not officially.
But there is The Montauk Project: Experiments in Time, a book published in 1992 that supposedly provided the germ of the idea for Stranger Things. The story is a virtual Rube Goldberg machine for conspiracy-theory buffs, replete with secret government experiments, kids with supernatural powers, time-travel portals, and scary monsters — all said to be carried out at an Air Force base on the tip of Long Island.
It's widely believed that government experiments of some kind really did happen at a military base in Montauk known as Camp Hero. But no one can say what happened for sure. And yes, there is definitely a connection between this spot and Stranger Things: When Netflix first announced the forthcoming series created by Matt and Ross Duffer, it was called Montauk and was going to be set on the eastern end of Long Island. The setting was eventually shifted to the fictional town of Hawkins, Indiana, and the show's title, of course, was changed too.
In addition to The Montauk Project, a docu-drama called Montauk Chronicles was released in 2011. The film features interviews with three men who "were brainwashed and forced against their will by a clandestine organization to take part in secret experiments," the filmmakers say. They "tell tales of experiments that were conducted on nearly one hundred thousand people over the course of about ten years. Kidnappings, murder, torture, time travel, mind control, and extra terrestrial contact are all said to have occurred at Camp Hero."
Inspiration for Stranger Things can also reportedly be found in the so-called "Philadelphia Experiment," a sister conspiracy to The Montauk Project, in which World War II-era military experiments were supposedly conducted with the goal of making naval ships invisible to the enemy. A movie based loosely on the conspiracy, entitled The Philadelphia Experiment, was released in 1984, the year the Duffer brothers were born. (The entire movie is also streamable on YouTube, and the opening credits are show in blood-red type that's eerily familiar to the Stranger Things logo.)
Courtesy New World Pictures/ Everett Collection
Soundtracks can sometimes feel like throwaways in the sci-fi genre, but Stranger Things is an exception. Its two-volume release (go here and here for the pair) has garnered critical acclaim for its creators. The Austin-based duo Kyle Dixon and Michael Stein weave a vaguely creepy, 80s-tinged sonic landscape — and, incidentally, give the synthesizer the most prominence it's had since Depeche Mode's glory days. The music can serve as great background for Halloween parties and haunted houses.
And what would a TV series these days be without tie-in action figures? Stranger Things is no exception: Bobblehead manufacturer Funko makes large-headed, vinyl figures of the major characters. They even manage to make the terrifying Venus flytrap-head Demogorgon almost — almost — cute.
If you want to act out the on-screen action, there are also action figures of the kids. Sold in packs of three, one contains Mike, Lucas and Eleven, while the other includes Will, Dustin and the Demogorgon (looking decidedly less friendly here).
Last but not least, if you missed out on the first series, don't have Netflix, and are having FOMO now, you can watch the entire first season on DVD/Blu-Ray. You might as well — it's a long stretch until the final season of Game of Thrones airs.
We've included affiliate links into this article. Click here to learn what those are.