Strategies to cut your medical costs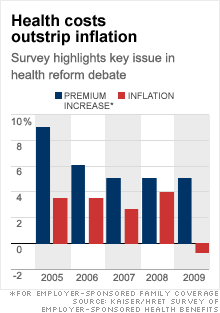 I recently wrote a short piece for Money magazine on surprising bills you can haggle over, which included specific negotiating strategies. But one of my sources chided me for not going far enough with the advice on how to lower medical bills with doctors and hospitals. "Medical debt has its own rules and almost no one is expected to pay list prices," says Andrew Cohen of the Access Project, a national health-care research and advocacy group. "People have every right to negotiate medical bills, whether they have insurance or not. But negotiating is just one step."
With the ranks of uninsured and underinsured rising and health costs fast outpacing inflation, I thought it was worthwhile to go deeper into advice on how to lower your medical costs upfront. You probably already know that uninsured people pay some of the steepest prices because they don't benefit from the volume discounts that insurance companies negotiate for group plans. But since even people with insurance are facing higher out of pocket costs for premiums, deductibles and co-insurance (where the insured pays a percentage of the bill instead of a flat-fee co-pay), it's good for everyone to know how to lower healthcare expenses.
First, know that doctors and hospitals are very open to negotiating – they do it all the time with insurance companies. Just by paying upfront, you may be able to knock 10% to 20% off your bill. Many hospitals and health care providers offer these so-called prompt pay discounts if you pay a portion or the whole bill upfront, even if you've got insurance. But don't stop there, says Cohen: "You're probably still overpaying."
Of course, a key part of knowing how much room you have to negotiate is understanding what's a fair price. But that is difficult to determine when it comes to healthcare, since costs vary widely by where you live, where you get treatment and what insurance you have. A new website may help: started by a doctor named Jeff Rice (after he said he was charged ten times more than he should have been for a lab test), Healthcarebluebook.com is a free consumer pricing guide that provides the price that PPOs pay their doctors, hospitals and other services. You can search by zipcode to find the costs of a wide variety of procedures, from hospital surgery to dentistry and cosmetic care to lab tests, and print out a detailed pricing agreement with the estimated cost. Other places to look for pricing information are the websites of large insurers.
If you negotiate a lower price and are still struggling to pay, talk to the patient billing account office and ask for a payment plan that doesn't charge interest. You might also be eligible for a public program to pay off your bill, says Cohen. "Charity care isn't just for poor people. There are a lot of people, even middle income people, who struggle with medical bills."
Have you negotiated down a medical bill successfully? Share your story here.
- Donna Rosato