7 Streaming TV Packages That Will Let You Cut the Cord For Good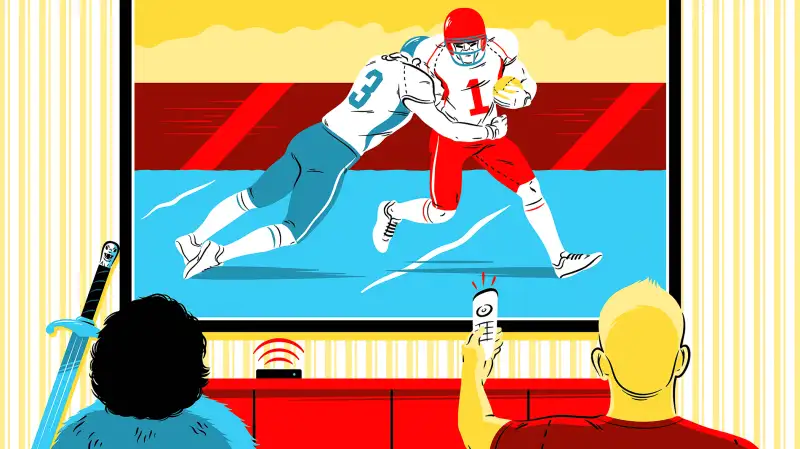 With services like Showtime, HBO, Hulu, and many others now streaming their programming online, cord cutting has firmly entered the mainstream. But that doesn't mean it's always easy to get all your favorite shows over the internet. In order to make the transition away from cable as simple as possible, we've put together six streaming "packages" that should meet the needs of the most common types of TV viewers.
Along with each package, we've also included the amount of money the typical television viewer would save by cutting cable and switching to streaming. Greg Ireland, research director for multiscreen video at market-analysis firm IDC, estimates that the average cable subscriber pays $85 a month for video while receiving an effective $10 per month discount on internet service. That means for people with a "double play" bundle—cable TV and Internet in the same bill—canceling cable would save an average of $75 a month, or $900 per year.
So what are you waiting for? Here are six packages to help you make the switch.
THE BASIC-CABLE JUNKIE
SAVE: $492 A YEAR
THE PLAN: Hulu, CBS All Access, Sling TV
This option is for you if you like to follow the latest network and non-premium cable shows, like NCIS, The Walking Dead, and Modern Family. Hulu and CBS All Access will give you the networks, and Sling TV will bring in the most popular cable content.
That said, if you're not going to watch at least eight different shows a year on cable channels, it's cheapest to get your cable fix by buying individual seasons on iTunes or Amazon Instant Video.
PRICE: $408 a year ($34 per month)
THE NEWSHOUND
SAVE: $660 A YEAR
THE PLAN: Sling TV
For viewers who just have to keep up with current events and watch breaking news when it happens, a combination of Sling TV and a TV antenna should have you covered. Sling has CNN and Bloomberg TV, and for $5 extra a month you can get international news channels such as Euronews, France24, and News18 India. Add an indoor TV antenna, and you've got network and local news as well.
PRICE: $240 a year ($20 per month)
THE PRESTIGE AFICIONADO
SAVE: $381 A YEAR
THE PLAN: Netflix, Amazon Prime, HBO Now, Showtime
First, the most buzzed-about TV moved from networks to premium cable and then to basic cable. Now a similar transition is moving top programming from cable to the streaming world. Netflix has House of Cards and Orange Is the New Black, while Amazon isn't too far behind with crime drama Bosch and the Golden Globe–winning Transparent. Close the loop with HBO and Showtime subscriptions—for your Game of Thrones and Homeland fixes—and you've got access to some of the best TV content around.
PRICE: $519 a year ($43 per month)
THE OMNIVORE
SAVE $205 A YEAR
THE PLAN: HBO Now, Netflix, Hulu, CBS All Access, Sling TV
This is the option for TV fanatics who want everything and the kitchen sink. That means network TV, cable shows, streaming shows, HBO, movies, all on demand whenever you want.
Believe it or not, you can still have all this for less than the price of cable. Even after subscribing to HBO Now, Netflix, Hulu, CBS All Access, and Sling TV, you'll still be more than $200 ahead. Don't care for Girls or Game of Thrones? You can replace the HBO option and subscribe to Showtime through Hulu and save another $72. Or you can drop Sling TV for Showtime and save an extra $108.
PRICE: $695 a year ($132 per month)
THE SPORTS FAN
SAVE: $340 A YEAR
THE PLAN: Sling TV with sports package, two sports-league services
If you want to see a significant number of local games, stop here. This is one area where streaming services can't fully deliver. Local games are generally exclusive to regional sports networks.
There's also the issue of some online services being a little more unstable than diehard fans might like. Dish's Sling TV failed for many customers during this year's NCAA Final Four, forcing the company to issue an apology.
Sling TV will give you ESPN and ESPN 2, and for another $5 you can get even more sports options, including ESPN U, ESPNews, and the SEC Network. Add an indoor TV antenna, and you'll also have access to network sports broadcasts.
For supporters of teams outside your local area, some sport-specific streaming options might also be attractive. Each major sports league offers some sort of online viewing option for around $130 a year, with the caveat that local games are blacked out. (NFL fans can pay $70 to watch any team they like, but they can only tune in to an on-demand rebroadcast once the game is over.)
PRICE: $560 a year ($47 per month)
Read next: How to Stream the World Series Games Online
THE SERIAL BINGER
SAVE: $540 A YEAR
THE PLAN: 12 seasons of shows
If you have unpredictable tastes but focus on only one show at a time, it might make the most sense to buy your television à la carte. For the amount you'd save by switching from cable to just Internet service (about $900 a year), you can pick up 30 seasons of TV for $30 each. Assuming these are all 45-minute shows with 22 episodes, that's almost 500 hours of content. If you can't imagine yourself ever watching more than that, then this plan is for you. (Don't forget to grab a TV antenna for major live events like the Oscars and the Super Bowl, or if you just want the option of kicking back and watching primetime now and then.)
PRICE: $360 a year ($30 per month)
THE MOVIE LOVER
SAVE: $352 A YEAR
THE PLAN: Netflix, HBO Now, 52 movie rentals
If your favorite part of cable is watching movies, cutting the cord might just maximize your bliss. Much like cable on-demand services, you can rent many of the latest releases on iTunes or Amazon for about $5 apiece. HBO also carries a wide selection of recent movies, and Netflix has a large back catalogue of films (though titles will appear and disappear somewhat randomly).
PRICE: $548 a year ($46 per month)