What Congress Should Do to Give Student Loan Borrowers Hope For Relief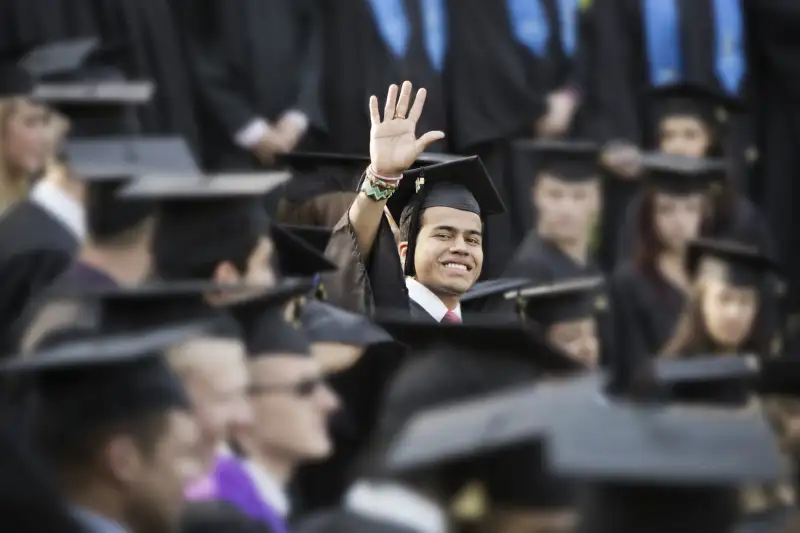 Blend Images - Hill Street Studi—Getty Images/Brand X
Steve Mason's story could keep any parent up at night.
The Redlands, Calif. pastor co-signed $100,000 in private student loans for his daughter Lisa to attend nursing school. But Lisa died suddenly at age 27.
Now, the loans intended to ensure her financial future are threatening to impoverish her parents and their three young grandchildren because Mason remains on the hook for the loans. He is struggling to provide for his family while trying to negotiate with lenders to settle on his daughter's debt which, with interest and penalties, now totals about $200,000.
If he had co-signed a car loan for his daughter, or if his family had racked up credit card debt, or nearly any other kind of debt, the Masons would have had a way out: bankruptcy. Our Founding Fathers, appalled by British debtors' prisons, created bankruptcy courts to give Americans that are struggling with debt a chance to reduce or even erase those financial burdens, and gain a fresh start.
Unfortunately, Congress has carved out an exception to this American promise: student loans.
The student loan exception to bankruptcy laws ignores tragic life situations of students, parents, and grandparents alike. And it should be changed. A common-sense approach to bankruptcy reform would help struggling families like the Masons while promoting a better student loan system for everyone.
How Student Loans Became the Exception to the Rule
Until 1976, all types of loans were treated equally under bankruptcy law. But that year, Congress passed the first exception, declaring that bankruptcy judges could only dismiss federal student loans under the direst of circumstances.
In 2005, Congress expanded the exception to include private student loans—those made by banks and credit unions.
Now, bankruptcy judges are only allowed to discharge the student loans of those who have proven they have "undue hardships," which generally means never being able to work again.
The death or disability of a borrower discharges federal student loans. But private loans—such as those the Masons took out—don't have those provisions. So private student loans plague those who are disabled as well as the survivors of those who have passed away, such as the Masons.
All together, under current law, it is next-to-impossible to get rid of any kind of student debt in bankruptcy.
How to Fix the Problem
Here are two simple steps that would help make student loans fairer and more bearable:
1) Allow judges to wipe out the private student loans of any private lender that fails to:
A) Discharge loans in the cases of death and disability, as the federal government does.
B) Charge reasonable interest rates.
C) Allow borrowers repayment flexibility, such as deferment and forbearance options for those in financial difficulties.
2) Allow judges to wipe out any student loans—including federal loans—taken out for colleges that:
A) Have high dropout rates.
B) Have high student loan default rates.
Lenders who charge reasonable rates, allow flexible repayment and wipe out the debts of the disabled and deceased could be considered "qualified" for the current tough bankruptcy rules. Bankruptcy would remain the narrow path of last resort it was designed to be for borrowers. But lenders who don't meet these standards—basically, those that don't give borrowers any way out—would be subject to the same bankruptcy laws as other lenders.
Schools, too, would need to earn the bankruptcy exemption for the programs they offer. If students are not likely to complete the programs they're borrowing for, or generally don't earn enough to pay back the debt, their federal or private student loans would be dischargeable. There is no sense in penalizing students, parents, and grandparents lured by false promises of success.
Indeed, a study two decades ago by the U.S. General Accounting Office found that low-income borrowers who dropped out of poor-performing schools were the borrowers who most frequently defaulted on their loans—not successful young grads simply trying to walk away from their obligations.
It is economic circumstances, rather than moral failings, that often brings families to bankruptcy as a way to deal with difficult and unforeseen situations. Surely the Masons could not have anticipated their current situation. And it's probably a situation that no member of Congress anticipated either when they closed the doors of bankruptcy court to virtually all student loan debtors.
These are doors that Congress, and Congress alone, can reopen for students, parents, and grandparents who have fallen on hard times to have equal access to the same courts that the wealthy and corporations have used to make a fresh start. And these doors can be opened strategically to make sure bankruptcy remains a last resort.
Otherwise, families like the Masons will continue to struggle needlessly.
Joe Valenti is the Director of Asset Building at the Center for American Progress. David Bergeron is the Vice President of Postsecondary Education at the Center for American Progress and former assistant secretary for postsecondary education at the U.S. Department of Education.