7 Highly Successful People Reveal How They Keep Their Email Inboxes From Spiraling Out of Control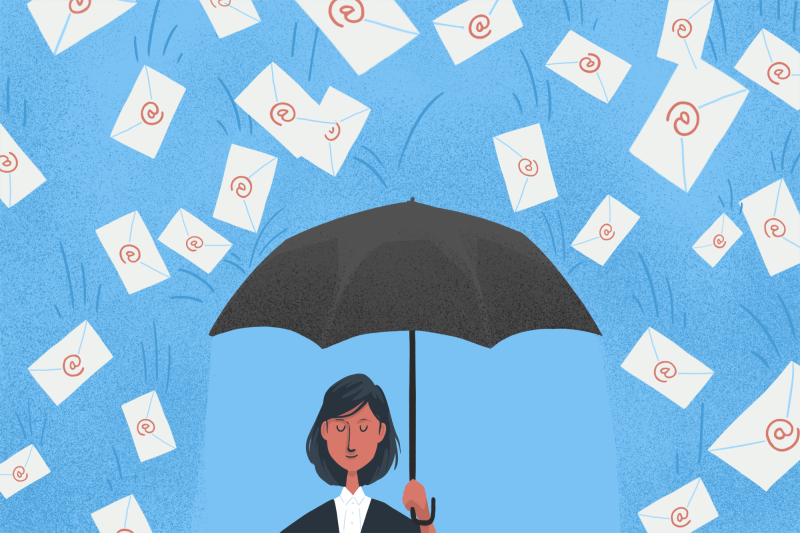 Overloaded inboxes can overwhelm even the most productive people. Fortunately, applications like FollowUpThen and SaneBox are here to help. These business leaders and Advisors in The Oracles share their favorite tools and tips for managing their email.
1. Get Slack and a second pair of eyes.
At Tamara Mellon, we use Slack as much as possible for internal communication. You can set up channels that make sense for your team and move internal communication to that medium (and away from email).
This means my inbox is focused on external communication with investors, board members, partners, and customers. Despite that, I still feel like I'm drowning in emails sometimes. That's why I also give my assistant access to my inbox. I don't ever want to miss anything important, so it helps to have a second set of eyes. —Tamara Mellon, co-founder and chief creative officer of luxury footwear brand Tamara Mellon; co-founder of Jimmy Choo; equal pay and women's empowerment advocate
2. Unsubscribe, then just check email once a day.
The first step to managing your inbox is to get rid of any emails you don't need. Unroll.Me shows you everything you are subscribed to and lets you unsubscribe to anything you don't want with one click. Then use a batched approach to archive, delete, or respond.
I check email once a day. I do it after lunch so I can complete critical tasks in the morning. Then I turn off auto-fetch on my apps so I don't get notified when new emails come in. If you have an iPhone, you can request notifications just for important emails so you're alerted of anything high priority.
Work emergencies or time-sensitive items should be communicated to you through Slack or similar communication software. That will reduce your anxiety and prevent you from checking email compulsively like I used to. —Joshua Harris, founder of Agency Growth Secrets; teaches entrepreneurs how to start, grow, and scale marketing agencies that help businesses grow
3. Don't respond.
Here's my only email rule: I don't have to respond. I have over 500,000 unread emails in my inbox. While looking at thousands of unread emails makes most people uncomfortable, there are two reasons I don't care. One, it would be impossible to keep up with all the incoming emails. Two, if it's important or urgent, the sender knows to text me.
Incoming email is just other people trying to push their agenda on top of mine. But that's not gonna happen. Candidly, I encourage everyone, including my clients, to manage their inboxes this way as well. The results have been stellar. More time, more freedom, less guilt. —Jason Capital, White House top 100 entrepreneur under 30, best-selling author, high-income coach, online marketing expert, and founder of High Status; connect with Jason on Instagram
4. Text instead.
Email can be a major drain on your time. I try to avoid it as much as possible. Instead, I ask people to send me a brief text. This allows me to reply with a short answer.
As your business grows, your time becomes more precious. You can't get to everything; so hire someone to assist you and delegate answering emails to them. This frees you up to pursue other tasks, and it's a great way for your team to learn about your business. Less time on email means my focus goes where it needs to be: on growing the business. —Robert Martinez, founder and CEO of Rockstar Capital, a real estate investment firm with $285 million in assets under management and $71 million in investor capital; host of "The Apartment Rockstar" podcast; follow Robert on YouTube and Instagram
5. Keep it short.
Action takes longer with email, which is why I have a zero email policy internally. We use Basecamp and Skype instead. I forward all external emails to my team, who have clearly defined swim lanes. When I do respond, I just give action items. My emails are short — usually one line — straight to the point. As others get used to working with me, their emails become shorter too. But if a message takes more than three sentences, it's faster to call me.
My team distinguishes between a "need" and a "want." If they need me and I'm on a call, I'll hang up early enough to talk with them before my next appointment. If they just want to talk to me, I know it can wait. We have codes as well. If I reply with "." it means I'm on a call. A number like "5" means I'll get back to them in five minutes. —Patch Baker, founder and CEO of Mobius Media Solutions; former U.S. Marine, with a mission to help people leave the military today and not feel abandoned tomorrow
6. Stay organized and use instant messaging apps.
As the CEO of 19 companies, I'm no stranger to email overload. I usually wake up to hundreds of emails; so maintaining a solid system is paramount. Trust and delegation are probably the biggest secrets to managing my inbox. I usually include my management team on emails; so I know the right person will reply and make sound decisions on my behalf. I also stay organized with labels, flags, categories, and shared folders.
Believe it or not, I don't use a laptop or desktop — just my phone. To keep my inbox under control, I use instant messaging apps. I have groups for each of my businesses and individual departments. This eliminates the need to read long threads and type formal responses. It's nice not having to worry about punctuation, salutations, or signatures. —Andres Pira, real estate developer, founder and CEO of Blue Horizon Developments, and author of "Homeless to Billionaire: 18 Wealth Attraction Principles for Creating Unlimited Opportunity"; follow Andres on Facebook, Instagram, and YouTube
7. Write email scripts for your team.
For years I refused to give other people access to my email because I was concerned about both confidentiality and being authentic and personal. I also worried about hurting others' feelings by unsubscribing to their emails. I had so many emails that I once hid in the bathroom while on vacation in Bora Bora to avoid upsetting my husband as I frantically tried to clean up my inbox.
When I finally let go of control, I found massive freedom. Now I create scripts for common emails I receive so my team can respond in my own words. I delete all junk mail, file any coupons I think I'll use, and move important emails to the top so I can focus on my priorities instead of getting lost in minutia. The best part is all of my appointment scheduling is now handled by my executive assistant, and since she is more attentive to detail, I am never double booked! —Keri Shull, founder of the Keri Shull Team, which has sold over $2 billion in properties; co-founder of real estate coaching business HyperFast Agent; named one of America's Best Real Estate Agents by REAL Trends; connect with Keri on Facebook
Want to share your insights in a future article? Join The Oracles, a mastermind group of the world's leading entrepreneurs who share their success strategies to help others grow their businesses and build better lives. Apply here.
For more articles like this, follow The Oracles on Facebook, Twitter, and LinkedIn.