Summer Job Season: Cities Are So Desperate for Lifeguards That They're Offering Signing Bonuses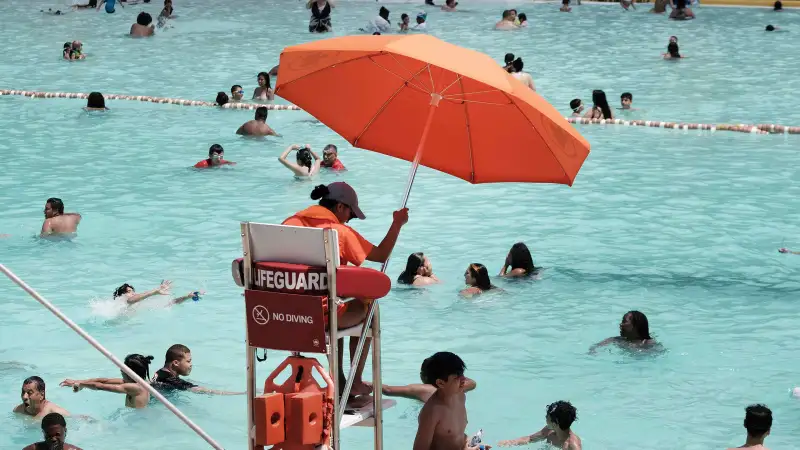 Looking for a well-paying, in-demand job this summer? Time to stock up on sunscreen.
Amid a persistent shortage of lifeguards, parks and recreation departments across the United States are offering incentives to lure staff to public schools and beaches.
Here are just a few examples:
Some cities, like Phoenix, are even offering low-impact versions of a lifeguard job (in which an employee guards only shallow pools, for instance), to attract candidates who wouldn't otherwise meet the qualifications for a more intensive position.
Is it a good time to get a summer job?
This summer, economists at Rhode Island College are predicting that the employment rate for teenagers between the ages of 16 and 19 will hit 33.6%.
That number, up from 32.7% last year and 26.3% in 2020, "suggests a strong summer job market," they wrote in their summer job forecast for teenagers, published last month. A lot of that labor market strength comes from a persistent labor shortage that made headlines during the pandemic.
But another report released this spring isn't so rosy. Recruiting firm Challenger, Gray & Christmas estimated that teens would gain 1.1 million jobs in 2023 — the fewest gains since 2011, the firm said in a news release. It added that its 2023 estimate was based on "not only the potential for an economic slowdown that may impact job creation" but also the fact some teens may be reluctant to take jobs at all.
That's good news, however, for those who do want a position this summer.
"Amusement parks, pools, restaurants and summer entertainment venues most certainly have needs," Andrew Challenger, the firm's senior vice president, said in the release. "These are in-person, shift roles that older job seekers may reject in lieu of remote or hybrid work."
How to get a summer job as a lifeguard
Lifeguarding can be a great summer job, but you'll need to meet the qualifications. For the most part, you'll also need to be at least 15 years old to work at a pool and at least 16 years old to work at a beach.
Just like with any job, the first step in securing a lifeguard position will likely be an application. After that, you'll probably need to pass a test, which could involve swimming, treading water or retrieving something heavy from the bottom of the pool. You may also be required to earn CPR certification or other safety certifications.
Lifeguard certification courses will teach you a wide range of skills you'll need to help keep swimmers safe and respond to emergencies. Programs offered by the American Lifeguard Association, for instance, cover water rescue skills, first aid, choking and CPR — just to name a few.
Your new employer may offer a training course before or after you get hired, or you can enroll in one on your own ahead of time. Training requirements will vary depending on where you live.
More from Money:
Why Teenagers Should File a Tax Return — Even If It's Not Required by the IRS
This Smart Savings Trick Can Help Teenagers Qualify for More College Financial Aid
Unemployment Hits Lowest Rate in Decades — and Wall Street Doesn't Know What to Make of It