4 Super Bowl Myths You Really Should Not Believe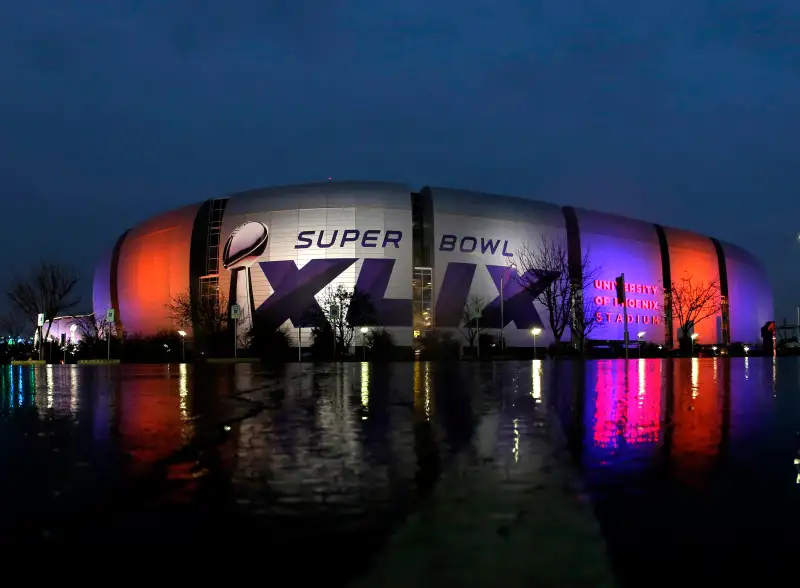 Not sure if you've heard, but there's a little game called the Super Bowl coming up. It's kind of a big deal, and when something is a big deal, lots of "facts" begin swirling around it that aren't, let's say... entirely factual. Recently, we've heard a few particularly egregious ones, and it's time to correct the record. Here are four Super Bowl myths you should definitely not believe.
1) Football fans will eat 14 billion hamburgers during Super Bowl parties
If you don't think too hard about it, this oft-repeated stat sounds plausible right up until you realize that every American would have to eat slightly over 46 hamburgers at a Super Bowl party for it to be true. That sounds pretty unlikely, especially since one study showed more than half of Americans say they want healthier snacks at Super Bowl gatherings.
Even if we assume the entire globe is interested in the winner of this quintessentially American sports event, each person on the planet would still have to consume two hamburgers during the game. As much as we might want to believe it, neither hamburgers nor American football are that popular outside the good ol' U.S. of A.
2) This year's Super Bowl will be historically unpopular
The meme that fans are uninterested in a Patriots-Seahawks Super Bowl has proliferated in the run-up to gameday. First, Fox Business claimed the game might see record-low attendance—which, as Deadspin pointed out, is extremely unlikely given that every Super Bowl in history has sold-out and University of Phoenix Stadium's roughly 72,000 seating capacity would make this year's Super Bowl the 13th most highly attended Super Bowl ever.
Other news outlets avoided some of Fox's more hyperbolic claims, but made similarly bleak predictions about demand for the game because ticket prices on the re-sale market were lower than they were before fans knew who would be playing. Those claims did have some basis in fact—for a while, tickets were selling for less than $2,000 a seat—but prices have since skyrocketed above $4,000 for the least expensive tickets. That's more than twice what they were just days before, and roughly equal to last year's average ticket price of $4,049 the same number of days before kickoff.
Fans may have preferred some fresh teams to cheer for, but they're still gonna watch the game.
3) The Super Bowl always brings huge economic benefits to the host city
Last week, the Arizona Republic's editorial board crowed that the Super Bowl would be an economic boon to Glendale, the city playing host to this year's event, and the surrounding cities.
"More than 100,000 well-heeled people are coming to town for the game. They'll spend freely in hotels, restaurants and night clubs before going to University of Phoenix Stadium," wrote the paper, before citing studies that showed previous hosts, like Indianapolis and New Orleans had made hundreds of millions of dollars from hosting past Super Bowls. Indeed, the Arizona Super Bowl Host Committee estimates the game will have a $500 million economic impact on the state as a whole.
But as ABC reports, many experts believe the true benefit will be significantly lower, with one economist putting the game's economic contribution at between $30 and $130 million—well below the Host Committee's figures. Perhaps the most vocal doubter of the Super Bowl's economic is Glendale's own mayor, Jerry Weiers, who worries the game's costs, like a $2.1 million bill for security, will hurt more than help the city's finances. As the New York Times recently noted, more than 40% of Glendale's already significant debt—equal to almost 5% of its annual tax base—is "dedicated to paying off sports complexes." That's not exactly the economic success story the Super Bowl bulls are trying to sell.
4) The Super Bowl "Flush Effect" is a threat to our local water and sewage systems
One of the Super Bowl's most persistent myths is the idea that everyone flushing their toilets simultaneously during commercial breaks, the half-time show, and right after the game could spell trouble for municipal water systems nationwide.
A surprisingly large amount of research has been done on this topic, and it does confirm one aspect of the myth: Everyone does flush at once, and it has a noticeable effect on the water supply. An analysis by the Palm Beach County Water Utilities Department during the 2011 Super Bowl found an extremely large spike in water use during half time, and another surge during the Lombardi Trophy presentation.
Immediately following the 2012 Super Bowl, which featured the New York Giants, the Department of Environmental Protection also found toilet use spiked 13% in New York City. The New York Post reported post-game water usage "was so strong that the 30-foot-deep water level in the Hillview Reservoir in Yonkers actually decreased by 2 inches after the contest."
But of course none of these events caused actual damage to the water system. Following Sunday's game, everyone can flush freely without guilt.