Surprise! Fliers are paying more and getting less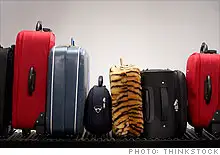 If you're one of the 2.8 million people flying somewhere for the holidays this month, no doubt you're encountering a blizzard of fees in the process: Charges for checked baggage, ticket changes, early boarding, overweight bags — not to mention food, blankets, and pillows.
Ever since airlines began imposing fees in earnest three years ago, carriers have argued that, because travelers are paying only for the services they really want, fees help keep base ticket prices down. But do they really?
Apparently not, according to an analysis of airline a la carte pricing by SmarterTravel.com. Looking at five routes over different periods of time, SmarterTravel found that travelers today, are generally paying more (sometimes significantly more) and getting less for their money than they were several years ago. That's often true even if you aren't even checking any bags. For example, if you flew from Chicago to New York in 2006, the average base price for a round trip ticket was (an inflation-adjusted) $176. A few years later, the price was up to $248 — and that's without the extra $50 you would spend to check your luggage. No wonder that checked-bag fees won our informal contest this past summer for the most hated fee in America.
Unsurprisingly, airlines are raking in sizeable profits from all these fees. In fact, they're on track for their most profitable year in a decade in large part due to the more than $4.3 billion in charges they collected from baggage and ticket-change fees alone in the first nine months of the year.
So what's a traveler to do? Of course, you could just take carry on and bring your own food. But that's often not practical for longer trips. Fees really vary by airline, so comparison shop on fees, as well as ticket price, when you need to fly. When it comes to baggage, for example, Southwest, JetBlue and Air Canada don't charge for the first bag you check (Southwest gives you two bags for free), and if you need to make a change to your flight, about half of airlines charge $75 while others charge $150. Check out SmarterTravel's Ultimate Guide to Airline Fees to see which airlines charge what.
Find Money on Facebook. Follow @Money on Twitter.