How I Finally Had the Money Talk with My Dad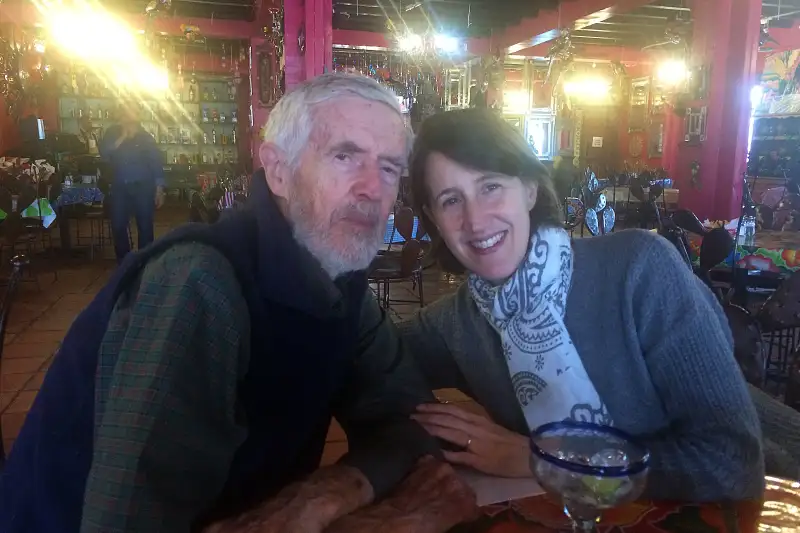 A lot of ink gets spilled on the financial details of what you need to know when your parents die. But it's just as crucial to know what's up with your parents' money while they're still alive.
After reading William Powers' powerful Wall Street Journal chronicle of helping his wife detangle her parents' finances, I decided: Better to lift the lid now to see what's in the pot, rather than wait until a crisis strikes, forcing my brother and me to face my dad's filing cabinet full of papers—or my mom's boxes (boxes!) of unopened mail—without a clue.
And so, with my dad in town for the Easter weekend—on his last night in New York before returning to New Mexico—I decided to get into the soup.
I'm sure there are a thousand schools of thought on how to broach these topics. Your parents' finances can be a sensitive situation. Kind of like a powder keg. Who wants to touch that? But I feel the tide of time washing closer, and it makes me anxious to seize the moment, whatever that moment might be.
So there Dad and I were at 10 PM, sitting on the sofa—him with a night cap and me with peppermint tea—and I realized there was no better moment to talk about infirmity and death and what his financial plans were.
I felt the squirmy unease, the desire to talk about the weather in New Mexico ("80 degrees down there already? No way!"). I tried to remember that there would be no perfect words, and that love doesn't make certain realities any easier (a point that seems particularly true about money). And that my helplessness was normal.
For almost every other excruciating topic (sex, terrorism, infidelity, the 2016 elections), we have a media-saturated vocabulary at our disposal. Thanks to Hollywood and Netflix, we can rely on casual turns-of-phrase or poses we've seen on House of Cards, The Affair, Terminator, CNN.
Alas, the show called "Your Parents Are Getting Old and You Have to Deal With Their Money and Other Stuff" is still in development, apparently. So I just started asking my dad questions:
Do you have a living will? A regular will? Have we gotten a power of attorney from you? What sorts of accounts do you have, that we should know about? Would you mind sharing the passwords?
The conversation didn't really go as planned. He and I have meandered around some of these issues before, yet I was still kind of tense. It felt like a bad omen: discussing his post-mortem financial picture a few hours before he got on a plane.
But at the age of 84, my dad doesn't rattle too easily. Also: He's a former Marine (and he raised me). A little impatiently, he reminded me that he had sent us all copies of his will and living will a couple of years ago, and yes, he had signed a power of attorney.
He had?
Rightrightrightright. I fumbled the ball but made a miraculous recovery, saying that I was sure I'd filed those documents and I would find and review them.
READ NEXT: Money's Best Places to Retire
He sighed. Then he wrote down his accounts and passwords, including his email address and password—in case I should need to get into his email. I started to relax, as I realized that whatever Dad thinks about his mortality, his financial details are the least of it. Just numbers. He wasn't afraid to open up about the things I feared.
He reminded me that he didn't want a church service for his funeral, "but a memorial would be fine," he said. No caskets or formal burial either, he added. Cremation or a "green" burial would be great. While the door was open, I edged in a little further. Did he want to donate his organs? Yep, he did.
Then, the conversation shifted and my father began to speak of his own parents. I'd heard some of the stories before, but every time something new emerges. I knew my grandfather, an engineer, had suffered a nervous breakdown while working on radar during World War II. But I'd never heard the story of his collapse during Mass in November of 1944, or the details of the events after that.
One anecdote led to another. I tagged along as my father traced a map of memories in his mind. His parents dancing and kidding around. Their move to this house, then that one. The years in Ft. Wayne. The move back to New England.
At last it was time for bed. He had an early flight out of LaGuardia. "Would you set the alarm?" he asked me.
I would, I said.