Why "Green" Cars Are Still Destroying the Earth
Money is not a client of any investment adviser featured on this page. The information provided on this page is for educational purposes only and is not intended as investment advice. Money does not offer advisory services.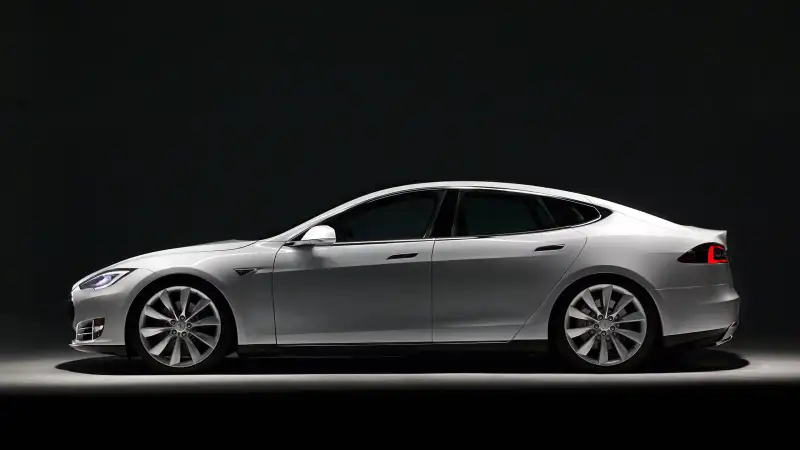 In 2013 Tesla's Model S won the prestigious Motor Trend Car of the Year award. Motor Trend called it "one of the quickest American four-doors ever built." It went on to say that the electric vehicle "drives like a sports car, eager and agile and instantly responsive."
What is remarkable about the car's speed and agility is that it's powered by a battery and not an internal combustion engine. Because of that it produces absolutely no tailpipe emissions, making it both better performing and cleaner than its gas-guzzling peers. That said, the company does have one dirty little secret: It's not as clean as you might think.
The secret behind Tesla's success
While the power driving Tesla's success might be its battery, that's not the real secret to its success. Instead, Tesla has aluminum to thank for its superior outperformance, as the metal is up to 40% lighter than steel, according to a report from the University of Aachen, Germany. That lighter weight enables Tesla to fit enough battery power into the car to extend the range of the Model S without hurting its performance. Vehicles made with aluminum accelerate faster, brake in shorter distances, and simply handle better than cars loaded down with heavier steel.
Even better, pound-for-pound aluminum can absorb twice as much crash energy as steel. This strength is one of the reasons Tesla's Model S also achieved the highest safety rating of any car ever tested by the National Highway Traffic Safety Administration.
But it's not all good news when it comes to aluminum and cars.
Aluminum's dirty side
Aluminum is the third-most abundant element in the world, behind oxygen and silicon. In fact, it makes up 8% of the Earth's crust by weight. However, despite aluminum's abundance, it's not found in its pure form because it's so reactive; instead, it is found in combination with more than 270 different minerals. Aluminum wasn't even isolated until the 1800s when the predecessor company to Alcoa discovered how to transform a raw form called alumina into the metal.
Before alumina can be converted into aluminum its source needs to be mined. That source is an ore called bauxite, which is typically extracted in open-pit mines that aren't exactly environmentally friendly. Bauxite is then processed into the fine white powder known as alumina, and from there alumina is exposed to intense heat and electricity through a process known as smelting, which transforms the material into aluminum.
Aluminum smelting is extremely energy-intense. It takes 211 gigajoules of energy to make one tonne of aluminum, while just 22.7 gigajoules of energy is required to produce one tonne of steel. In an oversimplification of the process, aluminum smelting requires temperatures above 1,000 degrees Celsius to melt alumina, while an electric current must also pass through the molten material so that electrolysis can reduce the aluminum ions to aluminum metals. This process requires so much energy that aluminum production is responsible for about 1% of global greenhouse gas emissions, according to the Carbon Trust.
There is, however, some good news: Aluminum is 100% recyclable. Moreover, recycled aluminum, or secondary production, requires far less energy to produce than primary production, as the following chart shows.
Source: U.S. Energy Information Administration
Recycled aluminum, which in the U.S. primarily comes from beverage cans and automotive parts, doesn't require as much energy because the aluminum is simply melted down in a furnace that is usually fired by natural gas. As illustrated in the chart, this segment's energy consumption is just a fraction of that of the aluminum sector as a whole.
Still, Tesla, which doesn't specify whether its aluminum is from primary or secondary production, is using a very carbon-intensive metal for its Model S. Moreover, even if it did use purely recycled aluminum, Tesla is still creating demand for aluminum by taking supply from the metals marketplace to make its cars. One way or another, new primary aluminum production will be required to increase overall supply, which will only create more emissions. This means Tesla's success will require more aluminum to be produced in the years ahead.
Investor takeaway
While green technologies might be better for the environment, none is completely clean yet. Somewhere down the line a dirty material is being used to make green technology. Aluminum production could be a lot greener given how much less energy is required for recycled aluminum. That's why Tesla and other automakers looking to the material to reduce weight and increase performance need to make an effort to push for increased aluminum recycling. Otherwise, we could be replacing one dirty technology with another.
Matt DiLallo has no position in any stocks mentioned. The Motley Fool recommends Tesla Motors. The Motley Fool owns shares of Tesla Motors. Try any of our Foolish newsletter services free for 30 days. We Fools may not all hold the same opinions, but we all believe that considering a diverse range of insights makes us better investors. The Motley Fool has a disclosure policy.
Related articles from Motley Fool: