The Staggering Cost of a Hipster Thanksgiving -- and Other Pricey Alternatives to the Classic Feast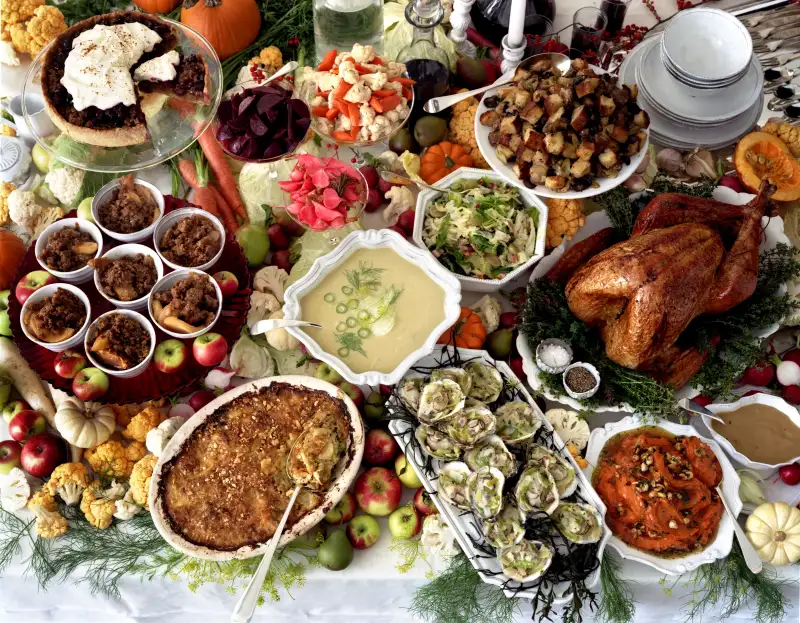 Marcus Nilsson—Gallery Stock
The traditional Thanksgiving dinner feast can be very affordable. On a per-person basis, the average meal easily costs less than bringing the crew to a fast food joint for supper.
But the total price of your Thanksgiving spread can vary by hundreds depending on where you shop, what you're buying, and the overall quality and prestige of the meat, sides, and dessert, as well as how much time and effort you're willing to devote to preparing your feast.
To give you an idea of what some different Thanksgiving dining styles will cost you, we've rounded up some sample pricing for groups with varying tastes and budgets--including some options for those who don't want to cook at all.
The Average American
For a classic Thanksgiving dinner, plus leftovers, the American Farm Bureau Federation estimates you'll spend $49.41 this year to feed a party of 10, including a 16-pound turkey plus bread stuffing, sweet potatoes, cranberries, peas, rolls with butter, carrots and celery, pumpkin pie topped with whipped cream, and coffee and milk. Even though the wholesale price of turkey has soared for supermarkets this year, widespread price promotions have kept overall costs down for consumers, and the bureau's estimated total for Thanksgiving dinner is only 37¢ higher than last year. That averages out to under $5 per person, which is still quite a deal.
What's more, there are easy ways to cut costs even lower. If you were to take advantage of coupons, sales, and supermarket promotion, you could spend a lot less and still provide a feast. Wal-Mart estimates that you could buy the same menu for just $32.64 by shopping at its stores.
The Hipster
If you were to upgrade that conventional turkey to an organic, free-range one, the price jumps from $21.65 to well over $100 at specialty shops. A 16-pound turkey from Fleisher's Pasture Raised Meats in New York City rings in at $127.84, or $7.99 a pound vs. the roughly $1.35 per pound for a supermarket bird. Add in organic, locally-sourced vegetables and dairy for your meal, and the costs for sides rise at least $15 over the Farm Bureau's projection, according to our estimates. Altogether, a healthy, hipster-approved, fully organic Thanksgiving dinner for 10 will cost in the neighborhood of $170.
The Vegan
For a vegan thanksgiving, the "turkey" costs would be similar to that for an organic free-range bird. The soy-based Gardein Stuffed Holiday Roast, picked by Slate as the tastiest of the the faux turkey bunch, costs about $8 a pound. The costs for vegan side dishes and desserts would only be about $5 more than those of the Farm Bureau's classic menu. Combine the price for 16 pounds of faux turkey and all the trimmings and dessert, and a 10-person vegan Thanksgiving dinner costs about $155.
The 1%
Upgrading to a purebred heritage turkey--which are leaner than standard supermarket birds, take twice as long to reach market weight, and have lineage that can be traced back to the 1800s--will cost upwards of $10 per pound for the meat portion of the meal. Factor that in, along with similarly upgraded sides and desserts, and Thanksgiving dinner for 10 will easily run $250 or more.
The Lazy Non-Cook
Not into cooking at all? Prepared meals save you hassle and time, but you'll pay for it in more ways than simply losing out on the quality of home cooking. A prepared meal for 12 people from Boston Market, which includes an 11-pound turkey, spinach artichoke dip appetizer, mashed potatoes, gravy, cranberry relish, vegetable stuffing, dinner rolls and two pies, rings in at $99.99. That's roughly double the Farm Bureau's estimate for a home-cooked meal--but perhaps it's money well spent if you're hopeless in the kitchen or simply don't have the time.
Supermarkets will happily do the cooking for you as well, for a price. A meal prepared by Whole Foods Market for 12 people, including a fully cooked 14- to 16-pound standard turkey, stuffing, cranberry orange relish, mashed potatoes, green beans and gravy, costs $200. An organic cooked turkey will add an extra $50, more or less, pushing the total up to $250 or more.