The 10 U.S. Airports Where You're Most Likely to Be Hacked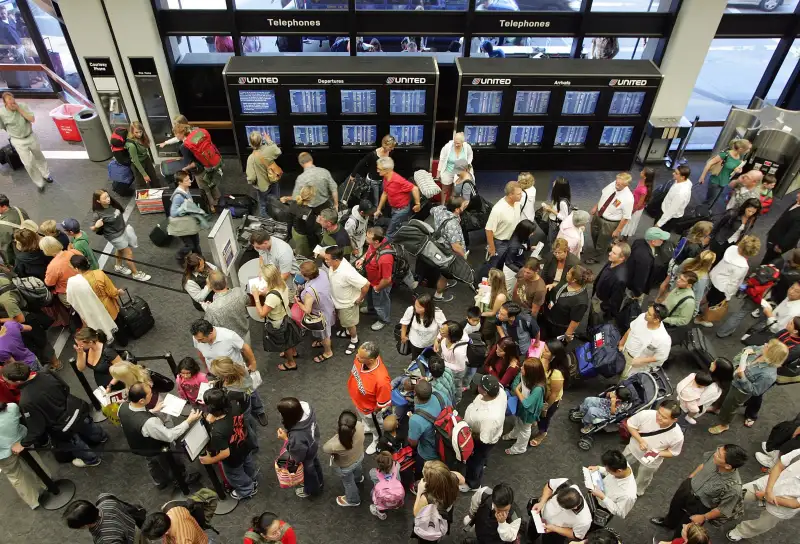 Justin Sullivan—Getty Images
The airport amenity people value most isn't fancy restaurants or uber-exclusive lounges. It's fast, free Wi-Fi. After all, cellular service in airports doesn't have the best rep. However, you might want to think twice before connecting to the Wi-Fi the next time you're in an airport.
According to a recent study by Coronet, a cybersecurity company, these public networks are often unencrypted, insecure or improperly configured. As a result, it becomes much easier for hackers to access devices connected to the networks and potentially steal personal data. "Any one of these network vulnerabilities can empower an attacker to obtain access credentials to Microsoft Office 365, G-Suite, Dropbox and other popular cloud apps; deliver malware to the device and the cloud, and snoop and sniff device communications," the study says. While it's easy to replace credit cards and void unauthorized transactions, once passwords and companies' digital infrastructures are exploited, it's difficult to regain complete access over them.
Fortunately, the folks at Coronet identified which airports have the most vulnerable networks. To rank airports by their threat level, Coronet collected data from more than 250,000 consumer and corporate endpoints that traveled through the 45 busiest US airports over the course of five months. Then, it analyzed the vulnerability of devices and risk of networks used and assigned each airport a threat index score.
The data revealed San Diego (SAN) was the worst airport for passengers' cybersecurity. Hackers set up an "Evil Twin" hotspot with the name "#SANfreewifi" at the airport to trick users into connecting to it, ultimately gaining access to all of the files that the victims downloaded or uploaded while they are connected. There was a similar event at Houston's William P. Hobby Airport (HOU), one of Southwest's major focus cities, where attackers created a network named "SouthwestWiFi." That airport came in third place. Coming in at fifth is United's biggest hub, Newark (EWR), followed by American Airlines hub Phoenix (PHX) in seventh and Delta hub Detroit (DTW) in ninth.
If you travel through these airports frequently, fear not. There are many ways to protect and secure your mobile devices while traveling, such as to use virtual private network (VPN) software and safer web browsers. If you really want to play it safe, you may also want to consider using a separate set of electronics just for travel, which you don't store any of your sensitive personal information on.
The least vulnerable airports include Chicago's Midway Airport (MDW), Washington Dulles International Airport (IAD) and Miami International Airport (MIA). However you'll still want to use caution when connecting your devices.
This post originally appeared on The Points Guy.