The 100 Best Places to Work in 2018 — and the Jobs They Have Open Right Now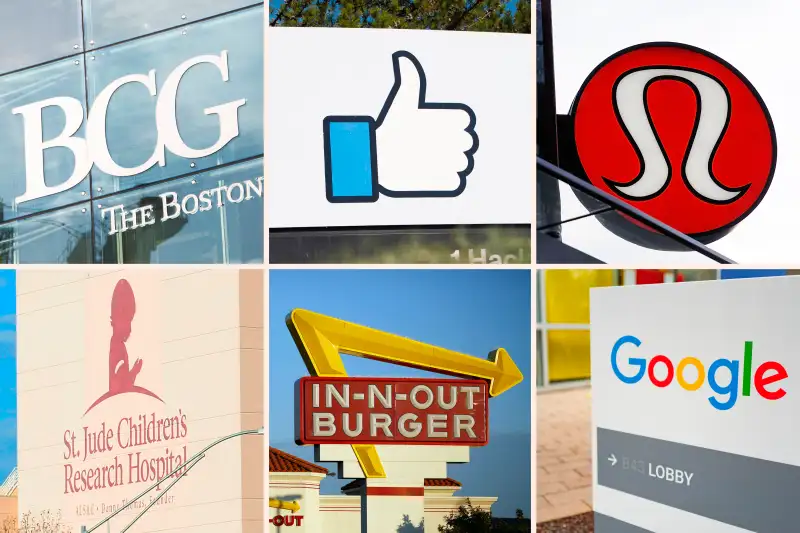 Getty Images (4); AP (1); Alamy (1)
Facebook is the place to be, according to job website Glassdoor's new list ranking the 100 best companies to work for in 2018.
Technology is a recurring theme on the list. Other companies span healthcare, consulting, and retail. Bain & Company (No. 2), Google (No. 5), and Apple (No. 84) are the only three employers to score a spot all 10 years that Glassdoor has released the list. Facebook has made an appearance for eight consecutive years.
Why are people crazy about Facebook?
"What we really see them appreciate most is the company's mission-driven culture, transparent leadership, and the fact that their work literally impacts the lives of billions of people worldwide." said Glassdoor CEO Robert Hohman of its crowning achievement.
Facebook VP of People Lori Goler, who's in charge of the company's global HR organization, says she's particularly "excited" about leading the Glassdoor list since it's based on ratings from Facebook's own employees and reflects its internal culture.
"One of the themes in the reviews is people get great feedback here, they get coaching and room to learn and grow," she said of the reasons Facebook scored so high. "Another theme is the impact every individual can have. Any job really matters. It's a strength-based organization, so it matters that people are in roles that play to their strengths. When you put those things together and do it at scale, it's a pretty magical combination."
Goler notes that Facebook goes out of its way to instill a belief in clear, honest communication throughout its ranks, including "training for hard conversations" and weekly Q&As led by CEO Mark Zuckerberg.
There are 40 newcomers to Glassdoor's list, among them the video game developer Blizzard Entertainment (No. 28), Kimpton Hotels & Restaurants (No. 37), T-Mobile (No. 79), and Adidas (No. 93).
Even fast food received a glowing endorsement, with In-N-Out Burger hitting No. 4 and Chick-fil-A coming in at No. 72 on the list.
Glassdoor compiles its annual Employees' Choice Awards based on anonymous reviews of companies from current and former employees submitted on its site, which makes it unique among lists like these. Employees are encouraged to share pros and cons of working for their employer, and they rate workplace attributes like career opportunities, compensation and benefits, culture and values, senior management, and work-life balance. Ratings for the list are determined by the quantity, quality, and consistency of reviews in the eligibility timeframe (between November 1, 2016 and October 22, 2017).
It might have you thinking about a job switch. If that's the case, the best news is that Glassdoor has listings of open positions at all the companies.
Below you can see the full list of the 100 best companies to work for along with links to check out available jobs.
1. Facebook
Company Rating: 4.6
Company Rating: 4.6
Company Rating: 4.6
Company Rating: 4.6
5. Google
Company Rating: 4.6
6. lululemon
Company Rating: 4.6
7. HubSpot
Company Rating: 4.6
Company Rating: 4.5
9. St. Jude Children's Research Hospital
Company Rating: 4.5
Company Rating: 4.5
11. SAP
Company Rating: 4.5
Company Rating: 4.5
13. Keller Williams
Company Rating: 4.5
Company Rating: 4.5
15. Salesforce
Company Rating: 4.5
Company Rating: 4.5
17. Delta Air Lines
Company Rating: 4.5
18. Academy Mortgage
Company Rating: 4.5
19. The Church of Jesus Christ of Latter-day Saints
Company Rating: 4.5
20. H E B
Company Rating: 4.5
21. LinkedIn
Company Rating: 4.5
22. DocuSign
Company Rating: 4.4
Company Rating: 4.4
24. NVIDIA
Company Rating: 4.4
25. Fast Enterprises
Company Rating: 4.4
Company Rating: 4.4
27. Nestlé Purina
Company Rating: 4.4
Company Rating: 4.4
29. Paylocity
Company Rating: 4.4
30. Intuit
Company Rating: 4.4
31. Adobe
Company Rating: 4.4
32. NewYork Presbyterian Hospital
Company Rating: 4.4
33. VMware
Company Rating: 4.4
34. Concur
Company Rating: 4.4
Company Rating: 4.4
36. Forrester
Company Rating: 4.4
37. Kimpton Hotels & Restaurants
Company Rating: 4.4
Company Rating: 4.4
39. Microsoft
Company Rating: 4.4
40. Ellie Mae
Company Rating: 4.4
41. Hilton
Company Rating: 4.4
42. Yardi Systems
Company Rating: 4.4
43. Smile Brands
Company Rating: 4.4
Company Rating: 4.4
Company Rating: 4.4
Company Rating: 4.4
47. Protiviti
Company Rating: 4.3
Company Rating: 4.3
Company Rating: 4.3
50. SpaceX
Company Rating: 4.3
51. Discount Tire
Company Rating: 4.3
Company Rating: 4.3
53. NIKE
Company Rating: 4.3
54. Monsanto Company
Company Rating: 4.3
55. United Airlines
Company Rating: 4.3
56. Electronic Arts
Company Rating: 4.3
57. Zillow
Company Rating: 4.3
58. Capital Group
Company Rating: 4.3
59. Roche
Company Rating: 4.3
60. 3M
Company Rating: 4.3
61. REI
Company Rating: 4.3
62. Procter & Gamble
Company Rating: 4.3
Company Rating: 4.3
64. Kwik Trip
Company Rating: 4.3
65. Yahoo
Company Rating: 4.3
66. Arm
Company Rating: 4.3
Company Rating: 4.3
68. Guidewire
Company Rating: 4.3
69. Capital One
Company Rating: 4.3
70. Trader Joe's
Company Rating: 4.3
71. Hyatt
Company Rating: 4.3
72. Chick-fil-A
Company Rating: 4.3
73. Extra Space
Company Rating: 4.3
74. Slalom
Company Rating: 4.3
75. J. Crew
Company Rating: 4.3
76. Stryker
Company Rating: 4.3
77. Deloitte
Company Rating: 4.3
Company Rating: 4.3
79. T-Mobile
Company Rating: 4.3
80. Travelers
Company Rating: 4.3
81. CDW
Company Rating: 4.3
Company Rating: 4.3
83. Accenture
Company Rating: 4.3
84. Apple
Company Rating: 4.3
85. Darden
Company Rating: 4.3
86. QuikTrip
Company Rating: 4.3
87. Taylor Morrison
Company Rating: 4.3
88. Insperity
Company Rating: 4.3
89. Cisco Systems
Company Rating: 4.3
90. Massachusetts General Hospital
Company Rating: 4.3
Company Rating: 4.3
92. Ceridian
Company Rating: 4.3
93. adidas
Company Rating: 4.3
Company Rating: 4.3
95. Shell
Company Rating: 4.2
96. Starbucks
Company Rating: 4.2
Company Rating: 4.2
Company Rating: 4.2
99. KPMG
Company Rating: 4.2
Company Rating: 4.2