The Unbelievable Ways 15 Billionaires Got Their Start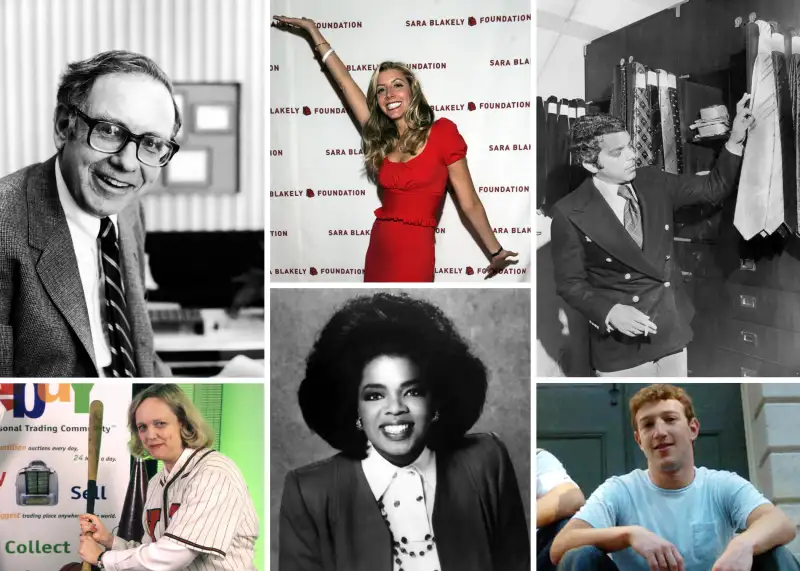 How do the richest of the richest get to where they are? As with all things extreme, their stories don't always match up with conventional thinking about how to rise in a career. Some came from nothing and worked their way up with incredible savvy. Others simply had a whimsical passion that turned into an unlikely fortune. From the titans of technology to Oprah Winfrey's media domination, these are the unusual ways famous billionaires struck it rich.
Ralph Lauren
New York Post Archives—The New York Post via Getty Images.
When you think of classic American fashion brands, it's impossible not to think of Ralph Lauren. But the man behind the company was born Ralph Lifshitz to Ashkenazi Jewish immigrants, and grew up poor in New York City. He changed his name while still in his teens in response to bullying, and later convinced his employer, a tie manufacturer, to let him start his own line. He called it Polo to give it an English feel. After getting raves for his menswear designs, he gradually built his retail behemoth.
---
John Paul DeJoria
Ron Galella—WireImage/Getty Images.
The cofounder of haircare company John Paul Mitchell Systems and tequila brand Patrón Spirits Company is now worth a reported $3.1 billion. But he had a humbling rise: At two different points in his life, he was homeless and living out of his car. He made his way from being a door-to-door shampoo and encyclopedia salesman to partnering with Paul Mitchell in 1980, forming their company with just $700 and amassing an enviable fortune.
---
Zhou Qunfei
Qunfei is the richest self-made woman, according to Forbes, with a net worth of $7.4 billion. Though she's now a smartphone mogul, she grew up in a poor village in central China and dropped out of school when she was 16. After working in a Shenzhen factory, she used $3,000 in savings to create her own company making glass screens. Now her Lens Technology makes glass covers for the likes of Apple and Samsung.
---
Bill Gates
Doug Wilson—Corbis via Getty Images.
The Microsoft cofounder and philanthropist, worth reportedly $86 billion, is perhaps the most iconic example of the college dropout turned über-rich mogul. The son of a prominent lawyer, he was headed toward a career in law when he was an undergraduate at Harvard, where he enrolled in 1973, but he had an intense passion for computer science and an intimidating intellect that led him astray. He left the college after two years, and it wasn't long before he started his computer software company with Paul Allen. He was also undeniably lucky, finding himself at the right place at the right time, which is why you shouldn't necessarily use him as a guide for your own climb up the entrepreneurial ladder.
---
Meg Whitman
James D. Wilson—Liaison Agency/Getty Images
As CEO of eBay, Whitman took the company from $5.7 million in sales to $8 billion over the course of 10 years. But she's not your typical tech executive: Born with a hip defect, she recovered and eventually went to Princeton, where she planned to study medicine but switched to economics. When she started her career at Procter & Gamble in 1979, she fought a policy that didn't allow female trainees to use company credit cards. Now she's on the P&G board of directors, and has moved on to being Hewlett-Packard's CEO.
---
Warren Buffett
Lee Balterman—The LIFE Images Collection/Getty
The so-called Oracle of Omaha had help in his rise as an investor from his stockbroker father. But he was also a business wunderkind like no other: After purchasing his first stock at 11, he launched a relatively lucrative business with just a used pinball machine. By 16, he had already made $53,000 in today's dollars, and was well on his way to making some of the smartest business deals in history. Eventually the Berkshire Hathaway head became the richest person in the world. (He's currently the second-richest with $75.6 billion, behind Gates.
---
Elon Musk
Musk's background wouldn't make you think he'd become one of the most powerful figures in the tech world. Born and raised in South Africa to South African and Canadian parents, he sold a video game to a computer magazine at the age of 12 for $500. After being ruthlessly bullied in his adolescent years, he moved to Canada, where he attended Queen's University, and then transferred to University of Pennsylvania, where he started, of all things, an unofficial nightclub business in a frat house. He eventually made one clever move after another in Silicon Valley, including helping to form PayPal and investing in Tesla, before ousting its cofounder and CEO Martin Eberhard to run the car company himself.
---
Sara Blakely
Ben Rose—WireImage/Getty Images.
Blakely made her fortune on Spanx. Yes, the shaping underwear that has also become a pop-culture phenomenon. She was once a door-to-door fax machine salesperson, invested just $5,000 to invent something to wear under white slacks, and started selling her creation at Neiman Marcus. Now sold in 65 countries, the massively popular Spanx has pushed her past the one-billion mark.
---
Peter Thiel
The venture capitalist has made a splash in the media recently because of his political beliefs and successful legal war against Gawker. Born in Germany, he moved to the United States with his family as a child. He eventually attended Stanford, where he was the furthest thing from a computer whiz: Instead, he studied philosophy and got a law degree. In 1999, he coauthored a now-notorious book with friend David Sacks called The Diversity Myth, which argued that colleges had capitulated to multiculturalism over intellectual dissent. Only after making money as a derivatives trader at Credit Suisse Group did he help start PayPal, working alongside Musk, and make an early investment in Facebook in 2004, thereby accumulating his billions.
---
Marian Ilitch
Ilitch raked in her $6 billion fortune on pizza by founding Little Caesars with her husband in 1959. Then it was just one spot outside Detroit. Her husband has since died, and now in addition to the pizza chain, she owns the NHL Detroit Red Wings team.
---
Oprah Winfrey
Film Favorites—Getty Images
Oprah has faithful followers in the millions, who are inspired at least in part by her own life story, which is too strange to make up. The multihyphenate star and businesswoman was born in rural Mississippi to an unmarried teen mother and suffered sexual abuse for years. She rose from poverty and trauma, becoming an ace student and getting a full-ride scholarship to Tennessee State University. Then she zagged again, dropping out of college to pursue a career in media. She became the first black female news anchor before she was 20, and eventually hosted a local talk show in Chicago that would be rebranded as the massive syndicated hit The Oprah Winfrey Show.
---
Sean Parker
The Napster cofounder inspired the most memorable line in The Social Network, about the rise of Facebook: "A million dollars isn't cool. You know what's cool? ... A billion dollars." He also has his own colorful story worthy of a biopic: He was only 19 when he helped start Napster, the music-sharing service that irrevocably changed the music industry and entertainment consumption online, which was shut down because of lawsuits. He became the founding president of Facebook at 24, before becoming a headline fixture for his partying and spending habits. These days he's still trying to make money in music — Parker's a longtime investor in Spotify.
---
Sheryl Sandberg
After getting her MBA at Harvard, Sandberg went on to jobs at McKinsey and in the United States Treasury. But she made it to where she is by taking risks. She joined Google when she says it was only "250 people." She then jumped to Facebook as COO in 2008 and had to figure out how to monetize the growing social-media company. In addition to that role, her book Lean In was a bestseller that spawned her own foundation.
---
Mark Zuckerberg
Justine Hunt/Boston Globe—Getty Images.
Of course, you can't talk about unlikely Facebook icons without discussing the young man who started the revolutionary social-media company. The computer prodigy was born to a dentist and psychiatrist. While studying at Harvard, he created facemash.com, which took advantage of data from a school directory in order to create a system for ranking the physical attractiveness of students. That seed of an idea, which became popular before the school forced Zuckerberg to shut it down, germinated into thefacebook.com, and then the world-conquering service we know now. Zuckerberg dropped out of Harvard in 2004 to focus on the expanding venture, and hasn't looked back.
---
Sheldon Adelson
Mark Peterson—Corbis via Getty Images.
The 84-year-old business magnate is a study in contradictions. Worth a reported $30.4 billion, he grew up poor in Boston , started peddling newspapers at 12, and building his empire by launching the biggest computer trade show, Comdex, in 1979—though he still has trouble using computers. In the '80s, he founded Las Vegas Sands, which became the world's leading casino company—but he says he rarely gambles.