These Are the 5 Best Eco-Friendly Places to Retire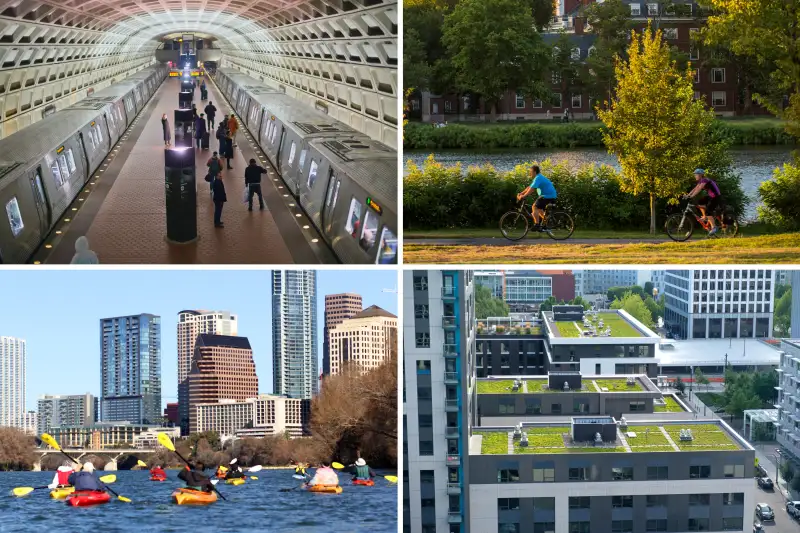 (Clockwise from top left) Pablo Martinez Monsivais—AP/REX/Shutterstock; Brooks Kraft LLC—Corbis via Getty Images; Nick Higham—Alamy; Courtesy of the City of Austin
Finding the best place to retire used to be pretty simple. Lots of sunshine? Check. Affordable health care and housing? Check.
But the list of what makes a desirable place to retire today includes more than just a sandy beach and an inexpensive cost of living. A city's ecological sustainability, or "greenness," is a key factor, too. People leaving their full-time careers and entering a new phase of life are seeking places that can help protect them from environmental challenges such as climate change and urban sprawl.
Stable and eco-friendly cities offer measurable advantages to retirees, as smart community planning prioritizes considerations like air and water quality and energy efficiency. Such factors boost sustainability and quality of life amid the threat of accelerating climate change.
"We want our golden years to be supported by places that also enhance our health and wellbeing," says Mahesh Ramanujam, president and CEO of the U.S. Green Building Council (USGBC). The USGBC, which helps builders construct environmentally sustainable buildings with its Leadership in Energy and Environmental Design (LEED) certification, has adopted a similar methodology for entire cities.
To help you pinpoint eco-friendly cities for retirement, Money consulted with the AARP Public Policy Institute and the USGBC. AARP maintains a comprehensive "Livability Index," which ranks cities on seven dimensions, including environmental factors such as transportation options and air and water quality. We cross-checked cities that scored highest for livability against those also meeting USGBC's LEED standards. The cross section of these lists surfaced five cities and communities you might consider as a retirement destination.
Pablo Martinez Monsivais—AP/REX/Shutterstock
Washington D.C./Arlington, Va.
The nation's capital is routinely counted as a green city for multiple reasons, but transportation is a highlight. Washington D.C.'s Metro system is a standard bearer in convenient and clean public transportation. Nearly 15% of workers aged 16 or older in the D.C. and nearby Arlington, Va.-area take public transit to work, which is three times higher than the national average, according to the United States Census Bureau's 2012-2016 American Community Survey. D.C. might also be home to lots of hot air, but at least it's clean. Not a single day of the 365 tracked by the U.S. Environmental Protection Agency's Air Quality Index Report in 2017 was classified as unhealthy, and 147 were ranked as good. By contrast, there were only 38 good air days in Los Angeles in 2017, and air quality was unhealthy for the same number.
If D.C. is too congested for you, Northern Virginia offers a green oasis across the Potomac River. Both Arlington and Alexandria also rank among AARP's most livable cities, lauded for many of the same positives as D.C., but in a mid-sized package. Arlington County is also LEED-certified. Just know that these gems aren't exactly under-the-radar, and housing is starting to see pricing pressures, according to AARP. If you're looking for a lower cost of living, you'll likely need to venture outside the Beltway. Meanwhile, online retailer Amazon.com last month selected Arlington as the location of one of its new corporate headquarters, with plans to hire 25,000 employees there. Mitigating the influx of business activity may be a challenge for the community.
Brooks Kraft LLC—Corbis via Getty Images
Cambridge, Mass.
This mid-sized city is best-known for the storied academic institutions that call it home: Harvard University and Massachusetts Institute of Technology. Student culture makes walking, biking and public transit the norm, and the city's historic squares are built for about anything but cars. Almost 70% of Cambridge residents commute in a sustainable way, as the city goes to great lengths to protect walkers and bikers. Cambridge is intentionally sculpting sidewalks around trees to cut down on dangerous buckling and improving lighting near schools, senior housing and senior centers as part of its City of Cambridge Pedestrian Plan. There are also bike paths along the Charles River and the Linear Park, not to mention the many streets that sport bike lanes. Cambridge also co-owns the Hubway bike share system launched in 2012. Since then, riders have travelled more than 9 million miles, saving 6 million pounds of carbon dioxide emissions from the air. To further sustainable transportation, Cambridge City Council released a Vision Zero Action Plan in 2018, designed to make biking and walking safer.
Courtesy of the City of Austin
Austin, Texas
"Keep Austin Weird" is a popular bumper sticker you'll see in this fast-growing city. But Austin is just as green as it is quirky. LEED-certified Austin was the only large city added to AARP's most livable cities list in 2018. The city incentivizes urban growth that includes proximity to public transit. Austin's rapid growth is accompanied by a number of sensible urban planning strategies, which are based on a new land development code. While famous for its youth culture and SXSW technology and music festival, Austin's City Council in 2016 adopted an age-friendly action plan to make the city work better for people of all ages. The plan aims to improve living conditions for everyone based on eight dimensions, including outdoor spaces and buildings, transportation, housing, social participation, social inclusion, civic participation, communication and community support and health services. There are specific targets for outdoor seating, green spaces and sidewalk improvements.
Portland, Ore.
West Coast cities sometimes get a bad rap with retirees due to their relatively poor air quality, high cost of living or traffic concerns, but LEED-certified Portland shows the left coast can still be the best coast. Portland holds itself accountable not only for growth, but also for ecological planning. The city adopted a Sustainable City Principles measure in the early 1990s and updated the performance objectives in 2015 for targets in 2030. Specifically, the city aims to recover 90% of waste from its operations by 2030, cut energy use by 2% annually and reduce city operation carbon emissions by 53% from 2007 levels. Portland has a long history working to be a sustainable city, with a network of expansive bike paths, and the city encourages green roofs with vegetation. What's more, Portland gives you access to the West Coast lifestyle without the housing cost anxiety. The Zillow Home Value Index of homes in Portland is $400,000, which while not cheap is well below the $1.3 million of San Jose, Calif., $967,000 of San Francisco and $649,000 of Los Angeles.
Courtesy of Seattle City Light
Seattle, Wash.
With the nickname, The Emerald City, Seattle prides itself on literally being green. Infamously cloudy skies and at least some precipitation nearly half the days of the year helps keep lawns watered. But the city is also figuratively green, finding itself ranked most livable by AARP and LEED certified. The city ranks 11th in the ParkScore Index due to a variety of factors ranging from parkland per capita to investment in parks. Meanwhile, the city is pushing away from fossil fuels much faster than most other U.S. cities. Seattle generated 88% of its electrical needs from hydropower and 4% from wind, while just 1% from coal and 1% from natural gas in 2016, the latest data available. Seattle's reliance on clean hydro power is much higher than most cities': Hydro provides less than 10% of electrical power generation nationwide.