I Spent $300 on One Uber Ride (And Would Do It Again in a Second). Here's Why I Don't Regret It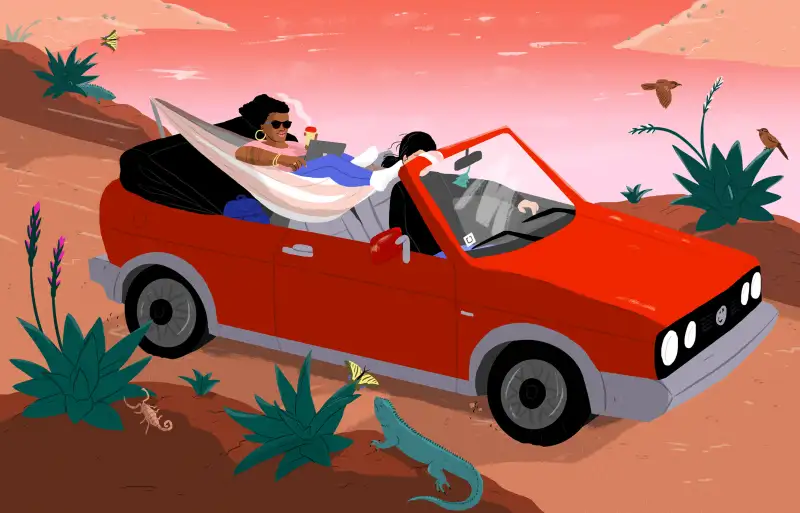 Illustration by Laura Breiling
When I signed up for an intimate writing retreat in Western Connecticut, led by New York Times-bestselling author Dani Shapiro, I didn't think about how I'd get there.
I don't drive, but I live in New York City. You can get anywhere from New York City.
A few weeks before the retreat, I emailed Dani to ask if anyone in the group of six was driving out from the city, thinking we'd carpool.
"If you mean from Boston," she answered, "Then yes. If you mean New York, I don't think so. But you can take the train. It's very easy."
She added that you just switch platforms in (some town that started with a W) and then arrange for a cab from the station, which is about 20 minutes away from the inn.
"Cool," I said, knowing I was not going to do any of that.
I might have looked up the train and discovered that it was early in the morning, conflicting with...well, my dislike of scheduling anything in the morning.
But "switch platforms" was already a deal breaker.
Getting to a train on time is already stressful. (No matter how early I plan to leave for something, I have a fraught relationship with getting out the door. It involves a lot of "Why do I always cut it so close" self-flagellation, followed by sweat.)
And don't forget boarding and looking for a good seat, hoping I don't have to share a row.
Then there's the nail-biter of wondering the whole ride whether I've missed my stop, because I can never really see the train station signs from the train window.
All that on top of worrying whether I'd done a good enough job with my writing sample? And scrambling to read everyone else's before we met to discuss?
Forget it.
I called my local car service Carmel and asked for a quote to get me from Greenwich Village in Manhattan to Connecticut. 300 bucks.
I punched in the addresses on Uber. Same.
This was more than twice the price of a train plus the taxi, but that felt irrelevant.
On the morning of the retreat, I ordered my two-hour Uber ride.
When I told Dani I'd gotten there by Uber, she said, "I thought we discussed this. There's a train."
Yup. And I'm not taking it back, either.
I had the inn call me a car for the ride home. Same price. I booked it.
Did it again both ways to get to the following retreat. (I signed up for the one in the spring, too. Thumbs up on the retreat.)
And I'd do it again. Even if the price doubled.
Here's why.
Illustration by Laura Breiling
During both trips, I calmly read writing samples all the way up, fanning my folders across the roomy back seat — without having to wonder if we were in Waterbury or Wassaic or wherever it was. I had a leisurely morning without rushing to Grand Central in time to stare at the board waiting for the gate to post. Best of all, I did all this without having to wheel my bag any farther than from a door to a car, or vice versa.
Door-to-door is my favorite luxury, one that I'll pay almost any price for. (The exact price of this was $594 round trip, including tip.)
Don't get me wrong, I'm a cheap-o about certain purchases.
Even at my most parched, I've refused to buy a $3 sports-cap Smart Water, knowing I could get it at another deli for $2.50.
I actually save and use those mile-long CVS coupons that give you three dollars off if you spend $30, or to get a buy-one-get-one-half-off on the dried mangoes.
And while I'm there, I'll buy the generic-brand acetaminophen. My headache doesn't know whether the blue-and-red pill has a "Tylenol" stamp.
But stress-free living is another story. It's what I work for and why I make money.
Anything that takes worry or extra thinking off my plate goes in the "totally worth it" category and, to me, is worth the extra expense.
I happily send out my laundry. Stupid-expensive? You bet. But keeping an eye on the time and racing to get my underwear out of the dryer before an impatient neighbor piles it somewhere is something I'll pay to avoid all day long.
I finally upgraded to unlimited data on my phone. I didn't want to give the carrier the extra $25 per month (approximately — they make it impossible to predict totals after fees and taxes), but every relentless "You've used up 75% of your extra gigabyte" text touched a raw anxiety nerve. Now, I lavishly download large files while I'm out walking, without being plagued by a single, loveless warning message from AT&T.
And then, there's travel. That's where I'll spend most extravagantly to fend off tension.
Of course, while I'd like to go door-to-door everywhere, I'm not hedge-fund billionaire Steve Cohen. Or Madonna.
So when it comes to the Hamptons — where my husband recently took on a full-time work project — it's the bus for me. (Though Blade, the 40-minute helicopter ride for $795, is tempting.)
But I won't take just any bus.
There's the Jitney (the Hamptons bus line made famous on Sex and the City) and then there's the pricier line, The Ambassador. For picking seats, the Jitney is first come, first served. The Ambassador, meanwhile, lets you pick your seat in advance (and offers better snacks and leg room) for an extra $25 round trip. The row on the right is all single seats. Pure solitude for three hours. I take The Ambassador.
What I'm really splurging on is the freedom from wondering, worrying, and calculating: How many people are ahead of me in line? How many empty rows might be available by my stop? Once every row has at least one person, will the people boarding move past me and sit next to someone else if I pretend I'm passed out?
That's brain power I'd like to use for something else.
Some people like to spend on stress relief: massages, yoga, therapy.
I prefer to spend on avoiding anxiety in the first place.
I never regret it.