This Is the Best Grocery Store in America, According to 13,000 Shoppers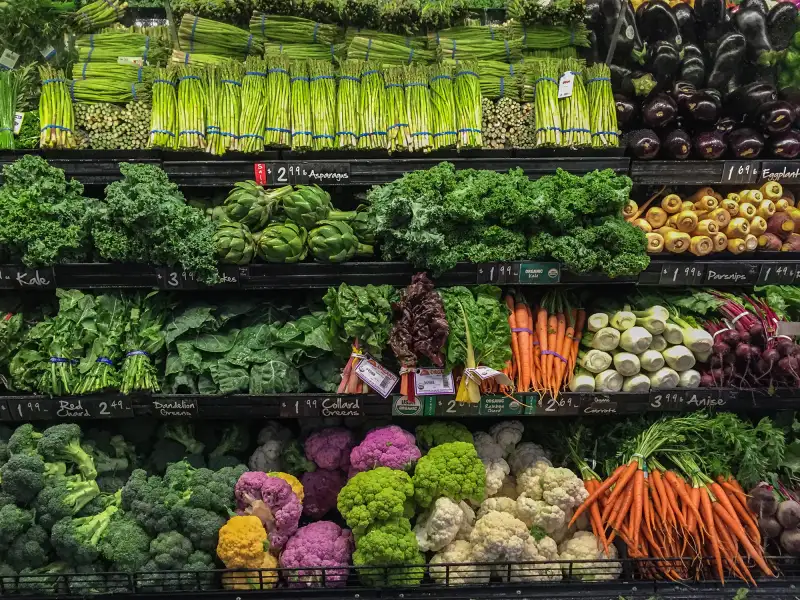 Wegmans, a Northeastern grocery chain, has been named "America's Favorite Grocery Store" for the third year in a row, according to an annual survey conducted by Market Force. Each year, Market Force surveys over 12,800 shoppers, asking them questions about the most beloved grocery stores in the country.
The management firm's survey covered everything from how fast the checkout lines were to store cleanliness and item availability. While Wegmans didn't earn top distinctions on each category, overall, it earned top recognition for customers who felt loyal shopping at the regional chain.
So who else made the list for America's favorites?
---
2. Publix Super Markets
Clearstockconcepts/Getty Images
Publix, a Florida-based chain, took a close second, earning only one percent less than Wegmans based on customer loyalty. This chain exists in the Southeastern US, with outposts in states from Florida to Maryland. Publix earned some love for their beloved "Pub Subs" from the deli section, and was also voted "cleanest," according to the survey.
---
3. Trader Joe's
SOPA Images LightRocket via Getty Images
The nationwide chain has gained a cult-following for its ready-to-eat options as well as its freezer section, inexpensive wines, and tasty seasonal snacks comes in third, at only two percent lower than Wegmans. Trader Joe's is popular with millenials and older adults alike with their low prices and cheery atmosphere. According to the survey, TJ's was voted "fastest checkout" as well.
---
4. Aldi
Aldi has been in the news lately, from their precious holiday carrot characters to the "Wine Advent Calendar Craze" of 2018. This German-based chain provides shoppers with a no-frills shopping experience and was voted "best value for the money" according to the survey. Their organic line is an inexpensive way to buy your favorite superfoods in bulk.
---
5. H-E-B
You won't find this store outside of Texas borders, but H-E-B was still able to make it into America's top five. From cowboy boot-shaped blocks of cheese to Texas-shaped tortilla chips, H-E-B is worth a stop just for the experience if you are ever in the Lonestar State.
---
6. Fry's
The sixth favorite grocery store is unique, in that many of its locations also include other services—like gas stations, banks, and urgent care centers. A few locations even operate alongside barber shops, electronic stores, bars, and more. Fry's is now part of The Kroger Co., but can only be found in Arizona, so make time for a visit if you're in the Grand Canyon state.
---
7. WinCo Foods
WinCo dominates the West Coast, with several locations in Texas and Oklahoma as well. Shoppers love the brand's freshly-baked bread, local produce, and bulk items, Spoon University reports. The company is also uniquely employee-owned, with their top goal simply being to save you money. Sounds like a good reason to be considered one of the favorite grocery stores in America to us!
---
8. Costco
Michael Brochstein/SOPA Images—LightRocket/Getty Images
Costco is the highest-ranking of the membership-only warehouse clubs, ranking 8th. Their Kirkland brand is well-known, even by non-members around the country. The chain is popular for its bulk items, sheet cakes, rotisserie chicken, as well as their evolving food court which recently added healthier items. They also offer appliances, clothing, and other housewares.
---
9. Harris Teeter
This grocery chain is based in Charlotte, North Carolina, and operates across the Atlantic seaboard. Also part of the Kroger umbrella, Harris Teeter is known for its large wine aisles and high-quality prepared foods.
---
10. (Tied) Sam's Club
Photo courtesy of Sam's club.
Sam's Club snags the tenth spot on the list, and although it ranks lower than Costco, some would say Sam's has more membership benefits. Members' health is prioritized with free health screenings and inexpensive immunizations—Sam's Club even offers health insurance. Whether you need your taxes done (yes, really), new glasses, or just to restock your favorite cereal, Sam's Club has you covered.
---
10. (Tied) Whole Foods Market
Whole Foods tied with Sam's Club for the tenth favorite grocery chain in America this year. Whether you go to Whole Foods for a healthy hot meal or for special ingredients you can't find anywhere else, the fast-growing grocery chain certainly has a fan following. Whole Foods also carries an inexpensive generic brand known as 365 that allows you to eat organic (or almond butter by the spoonful) on a budget.
This article originally appeared in CookingLight.com.