Can I Still Use Cash If It's Torn?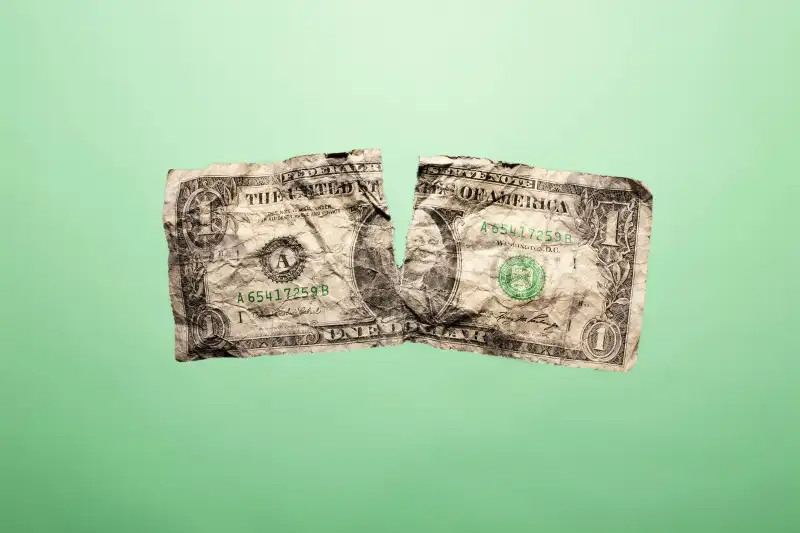 Chris Parsons—Getty Images
If Fido rips apart the contents of your wallet, or your kids think they can double their money by tearing your bills in half, all is not lost.
You can use your cash as is if a corner is missing. If it's ripped into two pieces, tape them back together and take the bill to a bank, where they will make sure the serial numbers on both sides of the note match and give you a new one. As long as three-quarters of a bill are intact, you can exchange it for a whole bill.
For more severe damage, you will need to submit your bills to the Mutilated Currency Division of the Bureau of Engraving and Printing, where it will be reviewed by U.S. currency experts. The service is free and relatively routine. The BEP handles about 30,000 claims a year to the tune of more than $30 million.
More Burning Questions: What Happens to My Debt When I Die?
You can redeem a bill for its full value if more than 50% of the note is identifiable as U.S. currency, with adequate security features intact. (Security features include various embedded threads that glow in UV light, watermarks, and color shifting numerals.) Alternatively, if less than 50% of the note is identifiable or present, you must provide evidence demonstrating "to the satisfaction of the Treasury that the missing portions have been totally destroyed."
The most common causes of mutilated currency are: fire, water, chemicals, and explosives; animal, insect, or rodent damage; and petrification or deterioration by burying. Go figure.
The U.S. dollar is pretty hearty. The average lifetime of paper currency ranges from 4.5 years for $10 bills to 15 years for $100 bills, according to the Federal Reserve. A paper note isn't actually made of paper; it's 75% cotton and 25% linen and can withstand about 4,000 double folds before it tears.
Even so, replacing damaged bills is no small expense for Uncle Sam. In 2015, the Federal Reserve spent $689 million to print and transport new currency and destroy mutilated bills. More than 90% of the new bills the BEP delivers to the Federal Reserve—millions of notes each day—are used to replace money that is already in, or has been taken out of, circulation.