Everything You Need To Know About Toys 'R' Us Going Out Of Business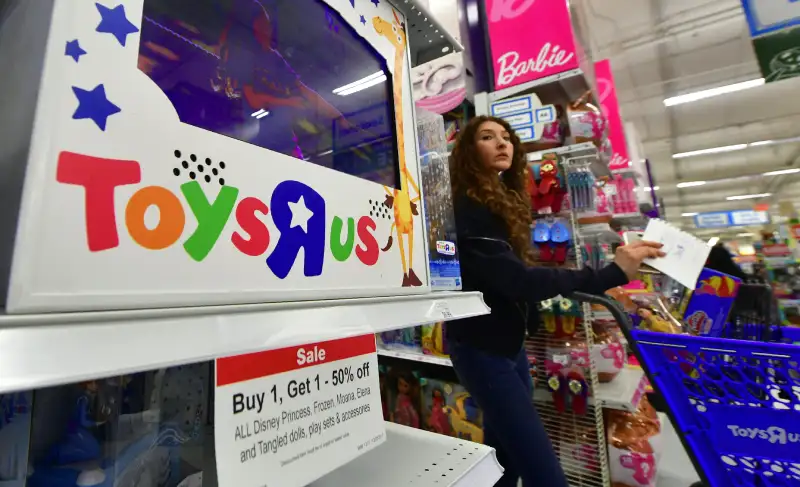 FREDERIC J. BROWN—AFP/Getty Images
Amid a chaotic past six months for the once-dominant toy retailer, Toys 'R' Us reportedly filed liquidation papers Wednesday. The move puts a nail in the company's coffin, likely meaning the closure of nearly all of its approximately 700 remaining U.S. stores.
Liquidation sales are beginning after a brief delay following the bankruptcy filing.
The company, led by Toys 'R' Us CEO Dave Brandon, filed its liquidation papers Wednesday evening, according to the Wall Street Journal. The move comes several months after the store filed for Chapter 11 bankruptcy in September in an effort to relieve itself of billions of dollars of debt and create a new financial model.
But Toys 'R' Us has struggled since then, closing hundreds of its U.S. stores in recent months. Now, the company appears set to join a growing list of brick-and-mortar stores falling victim to the struggling retail landscape, dubbed by some as the "retail apocalypse." What's perhaps more surprising is the company's demise comes despite the fact that it still accounted for up to 20% of all U.S. toy sells last year, according to CNBC.
It isn't yet clear exactly when each Toys 'R' Us store might close. But here's what consumers should know in the meantime.
Will Toys 'R' Us have any sales?
It was initially announced that liquidations sales would begin Thursday. However, due to what Toys R Us called "unforeseen circumstances" the sales were pushed back to Friday, according to USA Today.
If history is any indicator, February store closures at the retailer included going-out-of-business sales that offered discounts of up to 30% off, with store fixtures and furniture for sale in addition to the retail products.
What is the final date to use Toys 'R' Us gift cards?
Get to a store quick and use those gift cards. Shoppers will have just 30 days to spend their Toys 'R' Us gift cards before they become obsolete, a company spokesperson told Money on Thursday.
A company that files for bankruptcy or liquidation is not obligated to recognize gift cards at their full price, according to the Federal Trade Commission. But Toys 'R' Us had been accepting gift cards throughout the last six months following its bankruptcy filing in September — and will continue to do so over the next month.
However, it is unclear if Toys 'R' Us will allow customers to redeem these gift cards for cash over the next 30 days. Indeed, U.S. Senate Minority Leader Chuck Schumer (D-N.Y.) sent a letter to Federal Trade Commission Chairwoman Maureen Ohlhausen Wednesday, requesting the agency protect consumers during Toys 'R' Us's liquidation process by ensuring the company allows shoppers to redeem their gift cards for cash.
Schumer wrote that the company should honor gift cards particularly after it gave its customers "the 'all clear'" during the all-important holiday season. "It would be a sad toy story if those same consumers got gamed by a Toys 'R' Us closure and were left holding useless gift cards that were intended to bring a smile to the face of a child," Schumer wrote.
What will happen to Toys 'R' Us rewards programs?
Customers who are a part of the company's Rewards'R'Us program will be able to use their rewards dollars for the next 30 days, a representative for the retailer said. The program rewarded frequent customers, earning them $5 to spend at the store for every 125 points they gained.
The baby registry program Endless Earnings, which allowed customers to earn 10% back in purchases using the Babies 'R' Us registry, will also be only available for the next 30 days.
What if you need to return something to Toys 'R' Us?
If you purchase something at your local Toys 'R' Us now, it will be final sale, the company said. However, a representative for the retailer was uncertain if purchases made before the liquidation filing can be returned.
—Jamie Ducharme contributed to this story.