I Drank My Way Through the Trader Joe's Booze Aisle and Found Some Incredible Deals Hiding in the Shelves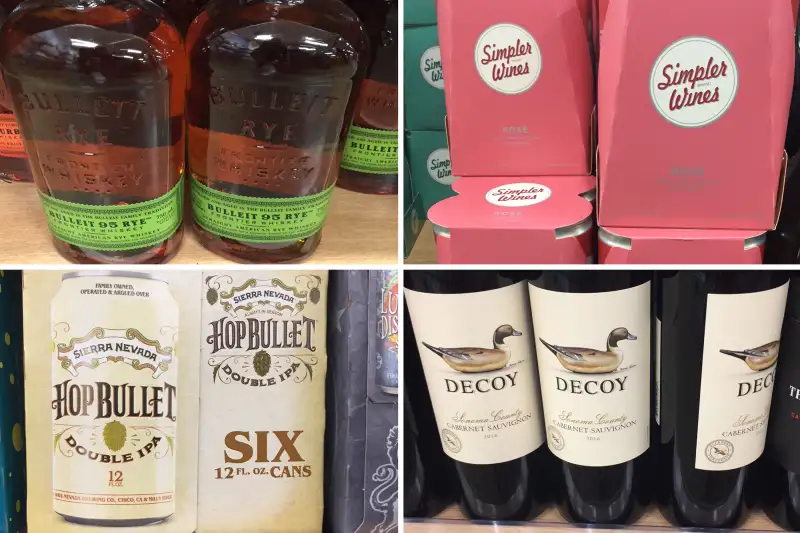 Trader Joe's has become a beloved brand, in part, for its cheap booze. So-called "two-buck Chuck"—the market's Charles Shaw wine—is its own phenomenon. The price may have creeped up (it now costs $3.99), but TJ's has plenty of other quality offerings—that might not induce a similar hangover.
I took one for the team and scoured the spirits, beer, and wine aisles of my local Trader Joe's in Los Angeles to figure out which alcoholic products are worth more than their surprisingly light price tags. (Prices may vary depending on location.)
Here's what I found was worth the pour.
Rebel Yell bourbon, $10
If you want to celebrate with a nice drink while still remaining cost-conscious, it's nearly impossible to beat American-made whiskey. The industry is now so enormous that the customer is reaping the rewards with cheap booze.
Skip the sleekest packaging for something more modest but still carries a punch, like this 750ml bottle of Rebel Yell, a bourbon distilled in Kentucky by Luxco. It's a bit on the sweeter side and definitely straightforward, but it has a bite and punches far above its weight class.
Need proof? It won a double gold medal at the 2017 San Francisco World Spirits Competition—basically the Oscars for booze.
Bulleit Rye, $23
If you want something a bit more complex than Rebel Yell from the Trader Joe's spirits aisle, you'll be delighted by the affordability of Bulleit Rye. While it doesn't come with a bargain-basement price, it's much more expensive at other stores.
The rye (a grain-based type of whiskey with a generally spicier flavor than corn-based bourbon) is produced by MGP in Lawrenceburg, Indiana, to meet Bulleit's specifications. At 45% alcohol by volume, it has a bit of heat on the tongue complemented by notes of vanilla and oak. Works great neat, on the rocks, or poured in a Manhattan.
Sierra Nevada Hop Bullet Double IPA, $8 per six-pack
Based in Chico, California, Sierra Nevada was making craft beers long before it was cool. It's now a very large brewery, enabling it to put out exceptional brews that should cost quite a bit more.
The Hop Bullet is true to its name: This beer is loaded with hoppiness, so IPA skeptics beware, but it also has wonderful citrus notes to round out the taste. And at a little more than a dollar per beer, it's a steal.
Simpler Wines Rosé Cans, $5 per four-pack
Every season should be rosé season, but the wine has a special appeal in spring and summer. The utility of these cans makes them a no-brainer for picnics: Each one contains the equivalent of a single glass of sparkling (!) rosé, rounding out to a little over a dollar per pour. Plus, they're discreet and adorable. You're already sold, but just so you know: the Italian-made rosé is very dry, acidic, and appropriately fizzy.
Block Rosé, $13 per 3-liter box
Looking for a standard house wine? Go with the best of Trader Joe's Block boxed offerings, which will perish your idea that boxed wine must be terrible. This California rosé—which comes in a three-liter, easily dispensed package equal to four bottles of wine—tastes like summer incarnate.
It has a gorgeous copper-ish hue and crisp, acidic notes, along with a decent amount of sweetness. Bonus: The box (and bag the liquid is contained in) actually gives it a longer shelf life once opened.
Purple Moon 2017 Merlot, $4
Merlot gets a bad rap (thanks, Paul Giamatti in Sideways). It can, however, be lovely and approachable. That's the case with this shockingly cheap California wine, made exclusively for Trader Joe's. With hints of black cherry and currant, it has just the right amount of spice on the palate.
Decoy 2016 Cabernet Sauvignon, $17
Quick tip: Stay away from any suspiciously affordable Cabernet Sauvignon—at Trader Joe's or anywhere else. The fruit bomb of a wine can easily become obnoxious if not balanced just right.
While it's not quite a budget item, this cab from the famed Decoy winery in Sonoma, California, is available at TJ's for several dollars less than you're likely to find at your local liquor store. It's layered with blackberry and black cherry flavors with the proper amount of slightly bitter tannins to round it out. You could always save money and make your dinner at home, then splurge on the wine for a nice night in.