Why Core Republicans Boo Donald Trump's Latest Economic Plan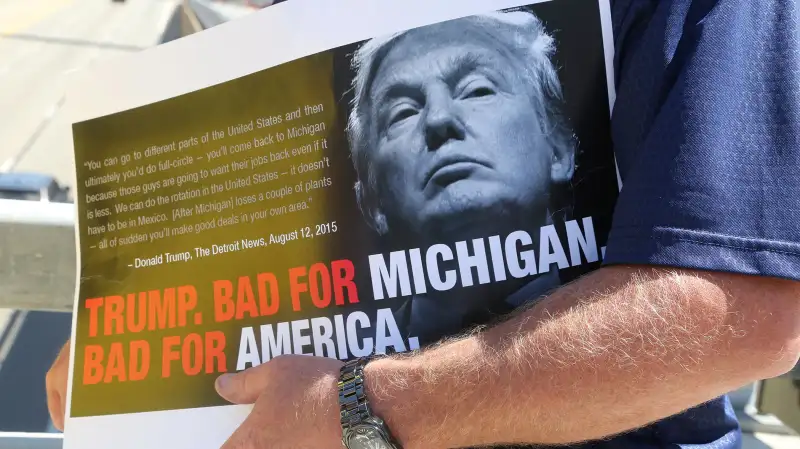 Regina H. Boone—TNS via Getty Images
For years, if you accidentally picked up a speech from the U.S. Chamber of Commerce, the big business lobbying group, and handed it to a Republican office seeker, the candidate would happily nod in agreement. The difference between the Chamber and the GOP platform was next to nil. No longer.
Donald Trump had hardly finished his Detroit economic policy speech on Monday, than the Chamber's Twitter feed started registering the business lobby's objections.
The speech was supposed to establish Trump's policy credentials, make peace with the orthodox wing of the Republican party, and (of course) slam Hillary Clinton's economic program. On all three, Trump had only mixed success.
It's not a surprise that Trump's proposals elicited condemnation from his Democratic opponents. But he also failed to mollify Republican-leaning groups like the Chamber. Meanwhile, plans that were only vaguely thought through made the opposition's job easier. For instance, Trump's talk of a "deduction" for child care expenses immediately raised questions about whether the many households that don't itemize deductions would be eligible. It was an unforced error, and Sen. Elizabeth Warren (D-Mass.), who has become something of a quick reaction specialist for her party, quickly took advantage:
One of the strengths of Trump's campaign has been his appeal to the middle class with a promise of preserving entitlements while dramatically cutting tax rates. This has always been a sore point for fiscal hawks in the Republican establishment, and Trump brought in advisers like Stephen Moore to remedy that. The result may be a plan that seems to shrink Trump's previously proposed tax cuts, and its "you can have everything" appeal — including promises to make no cuts to Social Security, a subject that was absent from this speech — without really satisfying the fiscal hawks.
"The bottom line," says Roberton Williams, who is a senior fellow at the Tax Policy Center, a think tank that has often been critical of Trump's plans, "is that he is looking for more revenue to make his plan less of a loser." Trump's new three-tier tax plan reduces federal rates to three from the current seven: 12%, 25%, and 33%. Williams says that whether this version brings the candidate's plan any closer to fiscal solvency depends on what Trump might do to cut exemptions and deductions. And there was nothing in the speech to indicate what he would eliminate.
Trump's speech was clearly designed for a national audience, not a local one, and it really showed. It's customary for politicians arriving in town to tell their audience how great the town is. That wasn't the case here. Yes, Trump talked about Detroit's glory years, but he made sure everyone knew they were long gone. Or as Trump put it, "Detroit is the living, breathing example of my opponent's failed economic agenda."
The fall of Detroit is a common trope in conservative media outlets, and red meat for a segment of the audience, for whom "Detroit" has long signified crime and white flight — and frankly, often a touchstone for racial resentment. It's not clear that plays well in Detroit itself and its vicinity. The Detroit Free Press was quick to hit back on Trump's claims.
Trump's lines about the federal government spending money to "resettle millions of refugees" (an inflated figure) might sound especially strained in Detroit, which is a key center of the Arab-American community. The same Free Press story also pointed out that Michigan's unemployment rate was down to 4.6%, lower than the national level. If you believe those numbers — Trump has called the federal unemployment stats a hoax — it could make Trump's picture of despair a harder sell.