The Insane Numbers Behind Trump's Deportation Plan
Money is not a client of any investment adviser featured on this page. The information provided on this page is for educational purposes only and is not intended as investment advice. Money does not offer advisory services.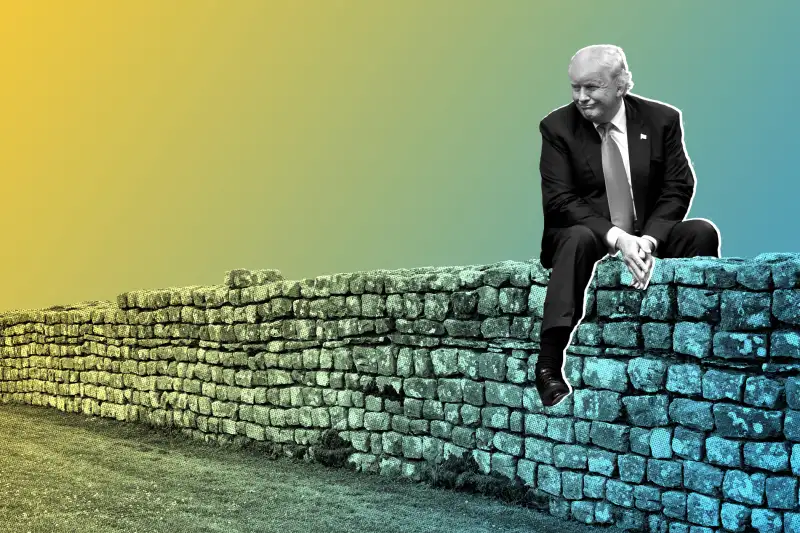 Photo illustration by Sarina Finkelstein for Money; Reuters (1); Alamy (1)
If there is one issue President-elect Trump is known for, it's his get-tough stance on the nation's 11 million undocumented immigrants.
As he pursued his campaign for the presidency, Donald Trump rarely drew more applause from his fans -- or criticism from Democrats -- than when he promised to build "a big, beautiful, powerful wall," along the U.S. border with Mexico. And the president-elect, who characterized immigration as both a law-and-order issue and an economic one, went on to propose a number of other enforcement measures, including apprehending and deporting millions of people.
Now that Trump is setting priorities for his incoming administration, he appears to be ready to make good on his threat. In an interview aired Sunday night on CBS's 60 Minutes, Trump doubled down on his plan to build the proposed wall, suggesting he would deport several million undocumented immigrants immediately.
"What we are going to do is get the people that are criminal and have criminal records, gang members, drug dealers, where a lot of these people, probably two million, it could be even three million, we are getting them out of our country or we are going to incarcerate," Trump told 60 Minutes. "But we're getting them out of our country, they're here illegally."
While Trump stopped short of insisting that all 11 million immigrants could be removed -- as he has done in the past -- he said on Sunday others would face a "determination" by the government "after the border is secure and after everything gets normalized."
So just what might that actually entail? Trump has frequently cast his position as largely a matter of enforcing the current U.S. immigration laws -- suggesting that it doesn't represent a radical departure from existing policy. Putting his plan in place, however, would involve far more than a few new strongly worded memos sent to America's immigration agencies.
In fact, experts say, the proposal – at least in the expansive form he campaigned on -- could cost hundreds of billions of dollars to implement and require the hiring thousands of new enforcement agents, a vision that Trump critics have likened to the creation of a police state. These steep costs are in addition to any secondary effects on U.S. economic growth, which many economists warn could be broadly negative.
To get a sense of just what the project might cost, at least in economic terms, read on.
The Cost of Deportations
According to a government estimate from a few years back, the Department of Homeland Security's Immigration and Customs Enforcement division has the capacity to remove roughly 400,000 people a year.
So deporting more than 11 million people in the two-year time frame that Trump has floated would take a big expansion of both money and manpower, according to the American Action Forum, a right-leaning Washington think tank that has analyzed Trump's plans. Extrapolating from the ICE's existing staffing levels -- the department has about 5,000 workers devoted to apprehending undocumented immigrants -- the think tank calculates that Trump's goal would require boosting the ICE's ranks to more than 90,000 -- about three times the size of New York City's police force.
The American Action Forum also looked other aspects of Trump's plan. The group estimated it would take around 32,000 new immigration attorneys to process cases -- up from about 1,300 today -- plus hundreds of thousands of extra detention beds, 17,000 chartered airplane flights, 30,000 chartered bus trips each year.
The total cost would be $100 billion to $300 billion, the group estimates.
The Cost of Building a Wall
Compared with the mass deportations, Trump's proposal to build a wall along the Mexican border appears comparatively modest.
Trump himself has suggested the cost would be in the neighborhood of $10 billion, a cost he has said he would compel Mexico to pay. (Mexican officials have dismissed the idea in no uncertain terms, and even some Trump allies have questioned whether Mexico would ever comply.)
But the actual cost of such a wall, according to an extensive and frequently referenced "Fact Check" by the Washington Post in March, would likely be around $25 billion -- no matter who pays. The price tag includes $10 billion for concrete panels, $5 billion to $6 billion for steel columns, and the rest for engineering and management costs, among other items.
That's a lot of money by most standards, but in the context of the federal budget it's actually a relatively modest sum. By way of comparison, Boston's Big Dig tunnel project, completed a decade ago, cost about $15 billion. And Trump promised during the campaign that he would to spend upward of $500 billion in total on infrastructure -- a pledge that's already had an impact on interest rates.
The Impact on Workers' Wages
Of course, the impact of deporting millions of immigrants from the U.S. would extend far beyond the immediate costs -- creating ripple effects that would be felt for years.
Trump has argued that deportations and stricter enforcement of immigration laws are necessary to protect working-class jobs. The economic logic isn't hard to see: New arrivals compete with low-skilled workers for jobs, pushing wages down. But it's not necessarily that simple.
Much like tax cuts (which Trump favors), broadly available immigrant labor can spur business investment and lower production costs, sparking broader economic growth that generally offsets the increased competition for jobs. That's especially critical in a nation with an aging native population -- much like the U.S. now.
But the impact on low-skill workers is less certain, according to economists who have crunched the numbers. One prominent study found that immigration reduced wages for U.S.-born workers without a high school degree by about 1.7% overall over two decades, while another concluded it boosted wages by roughly the same amount -- even though both studies concluded that immigration boosted wages for U.S.-born workers overall.
The Cost to the Economy
In terms of immigration's effect on broad economic growth, there is greater economic consensus -- and it's not positive. The American Action Forum's analysis found Trump's plan would reduce private-sector output by between roughly $380 billion and $620 billion -- with the largest contractions in the farming and construction industries, which also employ some of the largest numbers of undocumented workers.
Moody's Analytics, a Wall Street research company that tends to have a more centrist outlook, projected that Trump's plan, taken at face value, would shrink the labor force by about 5% -- roughly the equivalent of removing all the workers in both North and South Carolina.
The resulting labor shortage is what would push up workers' wages -- but it would also drive up the cost of goods they produce, creating inflation and higher interest rates. Those two factors, combined with the impact of Trump's protectionist trade policies, could contribute to an economic recession beginning roughly a year after Trump enters office, Moody's predicted.