How Airlines Will Help You Deal with Crazy Long TSA Lines This Summer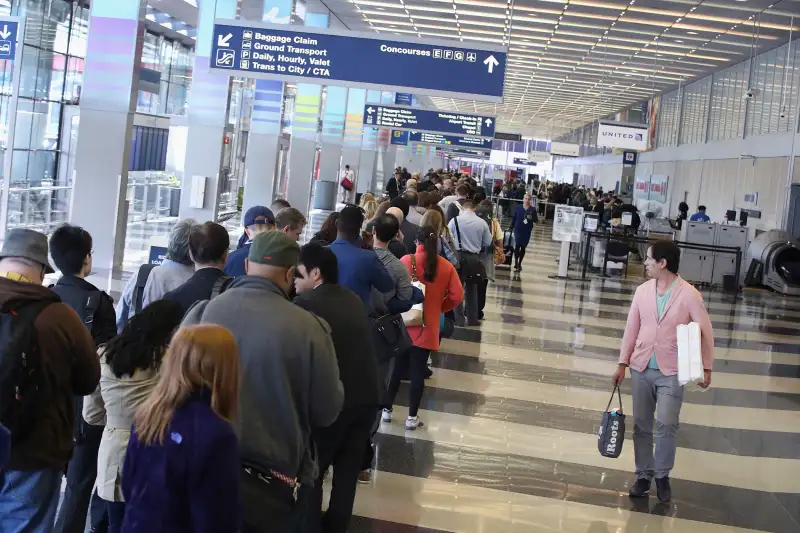 The bad news is that even if you follow the rules and get to the airport two hours ahead of time, there's a chance you could get hung up at TSA security checkpoints and miss your flight. The good news is that the airlines know the security waits are extra horrible nowadays, and they are trying to accommodate these passengers and help them catch their flights. Even so, you shouldn't leisurely stroll to your gate or stop for a bottle of water if you're racing the clock after you clear security. Here's what travelers are in for this summer.
By and large, major domestic carriers say they're not charging passengers to rebook if long lines make them miss their original departure. "We're going to work to accommodate them on the next available flight," an American Airlines spokesman said. United also confirmed that it wouldn't penalize customers in this situation.
"If a customer misses a flight due to long TSA wait times, our employees will work to re-accommodate the customer on the next available flight at no additional charge," a Southwest Airlines spokeswoman said.
"Our employees evaluate each situation on a case-by-case basis," a Delta spokeswoman said.
A JetBlue spokeswoman didn't address the airline's policy if travelers miss flights, but said (as others did) that it was giving passengers a heads-up for when they need to give themselves two hours at the airport because of TSA screening backups.
Airlines also went out of their way to emphasize that they're trying to find workarounds to these extremely long wait times. They've sent top executives to Washington, D.C., to push Congress to find a legislative solution to the crisis. Even though they can't screen customers themselves, at the airports where delays are the worst, carriers are adding extra staff to help out the TSA with non-screening jobs like directing people where to go. Several airlines also said having more employees by the security lanes lets them help passengers who are at risk of missing flights. So if you're watching the clock tick forward while your line hasn't budged and you see someone who works for your airline, ask for help.
Airlines tend to get more knocks than kudos for their customer service, but this might be a rare time where both the carriers and their customers are equally frustrated. That said, even though they're on your side here, there are two reasons why it's still a good idea to race to your gate if the digital departure displays indicate your plane hasn't taken off yet.
Read Next: Check Out 3 Programs That Will Speed You Through Airport Security Lines
First of all, the situation has reached the point where airlines are holding flights for as long as they can if they're waiting on a large number of passengers to clear the TSA bottleneck. Even if it's past the scheduled boarding and departure time, give it a shot, especially if you know from your time in line that there were lots of your fellow passengers also held up.
The other thing to remember is that while airlines say they'll accommodate passengers on the "next available flight," that's not always a guarantee that you'll get on the next plane heading to your destination. Many flights, especially to popular destinations, are already completely full, making it especially tricky for travelers going on vacation with a big family group.