U.K. Stocks Are Super Cheap Right Now. Should You Invest?
Money is not a client of any investment adviser featured on this page. The information provided on this page is for educational purposes only and is not intended as investment advice. Money does not offer advisory services.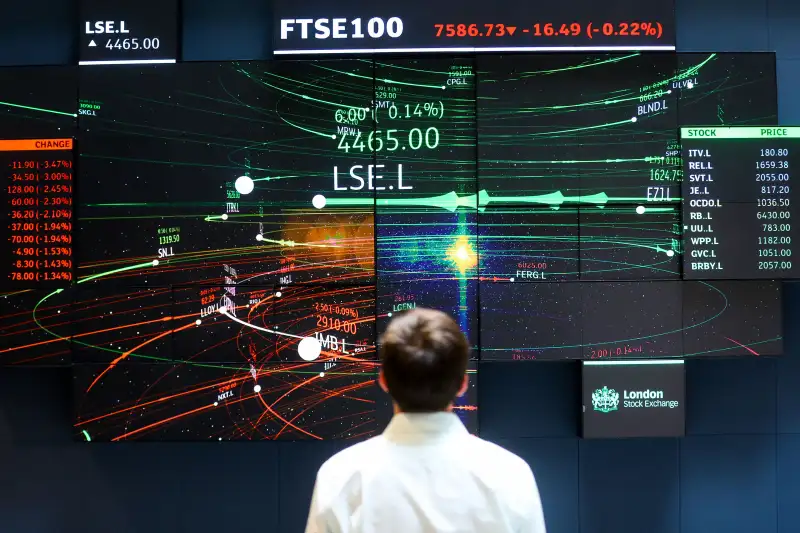 Simon Dawson—Bloomberg via Getty Images
Brexit blindsided investors in 2016, but two years later those fears have yet to be fully realized. As a result, some investors think U.K. stocks look cheap.
Global markets were hammered in the immediate aftermath of the 2016 Brexit vote, and the pound plunged to its lowest level in 30 years. While a truly dire disruption of the U.K. stock market didn't materialize, U.K. equities have continued to lag behind the U.S. market. Since the Brexit referendum, U.S. stocks are up 38% and U.K stocks are up only 15%.
Brexit poses real risks to the U.K. economy, but its stock market is dominated by financial services companies and multinationals whose businesses aren't always tied directly to the U.K.. That leads some to conclude U.K. stocks may fare better under Brexit than investors give them credit for.
"U.K. equities are the cheapest equities in the developed world," Larry McDonald, the head of U.S. macro strategies at ACG Analytics, recently explained on CNBC's "Closing Bell", adding they are trading at 13 times earnings, compared to U.S. stocks which are trading closer to 18 times earnings.
Politics Are Up In The Air
With Brexit less than six months away, there are three possible political outcomes, depending on what kind of deal is reached.

A "soft" exit would keep key customs agreements intact, namely at the U.K.'s border with Ireland, and reduce the likelihood of an overall negative economic impact. A "hard" exit would keep the U.K. "half and half" in the E.U with a renegotiated trade deal. The third option is a "no deal" Brexit, meaning either U.K. Prime Minister Theresa May will try to convince both parties to hold off on making any sort of deal right now — or negotiations fall apart and Britain withdraws from the E.U. in March without any trade or regulatory agreements, putting the most pressure on both Britain's financial sector and stock market.
The problem is that it's anyone's guess what type of Brexit we'll end up with. Coming to an agreement has proved difficult for the U.K. and the E.U. so far, leading some to think a "no deal" Brexit is the most likely. Others believe a deal will ultimately be reached during talks to prevent the chaos and instability that a "no deal" would inflict on the European economy. But as time to negotiate runs out, more and more commentators think a "no deal" Brexit could be the end result.
"Responsible as we are, we must prepare the EU for a no-deal scenario, which is more likely than ever before," Donald Tusk, European council president cautioned in an Oct. 15 letter to E.U. leaders.

London's Financial Sector Is Stable So Far
Even if the worst case scenario comes to pass, U.K. stocks may far better than bears expect. After the Brexit vote, the U.K. said it planned to slash the corporate tax as a "cushion" to any Brexit fallout. If enacted, the tax cut could boost stock returns, much the way President Trump's election and subsequent tax cut did in the U.S.
What's more, the U.K. stock market is dominated by multinational corporations -- with about 70% of their revenue coming from abroad -- offering another potential cushion from any Brexit fallout. Even a falling pound could help these companies, by making foreign-earned profits more valuable in their home currency.
Financial stocks, like HSBC, make up nearly 20% of the value of the British stock market. But worries about the erosion of Britain's status as a financial hub have so far proved overblown. Despite initial worries, bankers aren't decamping to jobs in other parts of the E.U. at high rates, as previously expected, surprising even the CEO of Goldman Sachs. Companies are making proactive changes rather than running for the exits. HSBC is moving a handful of its subsidiaries and branches from London to France to ensure a seamless transition of service for its customers in the E.U. But it's also said that, whatever happens with Brexit, it has no plans to move its headquarters from London.