Why Consumers Are Suddenly Down on Verizon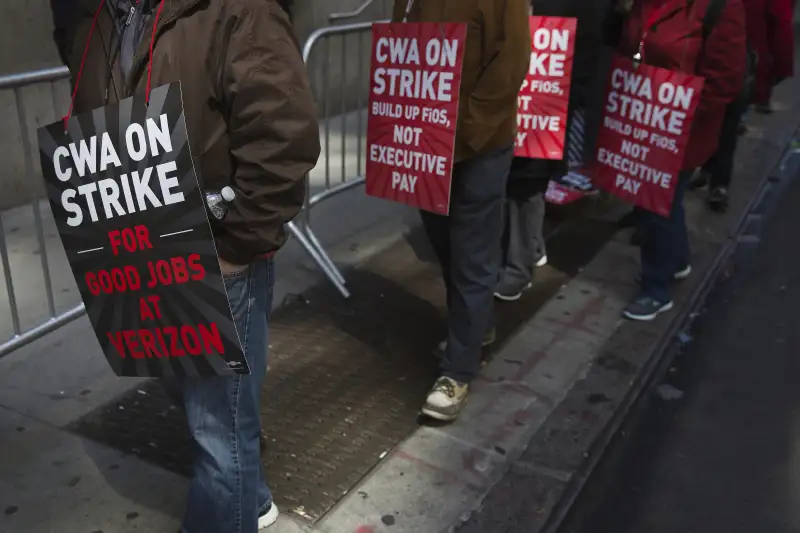 Bloomberg—Bloomberg/Getty Images
Since nearly 40,000 union members walked off the job at Verizon two weeks ago, the telecom giant has been scrambling to keep its systems up and running, but it seems to be falling behind in one critical area: reputation.
How the labor standoff between the striking communications workers and Verizon will eventually play out is anybody's guess, but consumer perception of the telecom giant has fallen to a three-year low, according to YouGov's Brand Index.
What's more, the damage isn't limited to just Verizon itself. Although the vast majority of striking Verizon workers worked for the company's landline section that includes its traditional phone business as well as its FiOS fiber network, YouGov found that people have developed more negative perceptions of Verizon Wireless, as well. Striking Verizon workers have been picketing Verizon Wireless stores and urging customers to boycott the wireless branch of the company, as well.
YouGov uses a metric called its "Buzz Index" to assess consumer sentiment, both positive and negative on a +100 to -100 scale, with 0 being entirely neutral. Prior to the strike, Verizon FiOS had a measurement of 7, which has subsequently dropped to 2. Verizon Wireless previously had an index score of 18, which has since dropped to 9 — even though its workers aren't the ones on strike.
"It appears that sharing the same corporate name has hurt both brands," YouGov said in a statement.