10 Warm, Cheap, Amazing Places for Retirees to Visit Right Now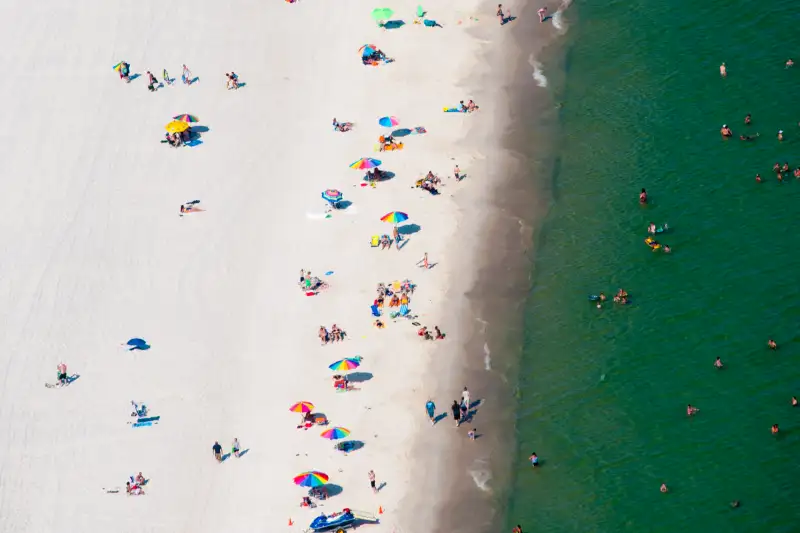 Jim McKinley—Getty Images
Winter still has a firm grip on most of the country, but the good news is that it's not too late to book a warm-weather escape. Retirees have the luxury of traveling whenever they please, taking advantage of weekday rates and senior discounts where available. For inspiration, Money put together a list of 10 affordable getaways from our Best in Travel database. The weekend getaway estimates below are based on a three-night stay for two people and include the price of airfare, hotel, meals and a rental car. We also analyzed overall value with factors such as low crime rates, variety of amenities and ease of access to public transpiration. And when an age isn't attached to senior discounts mentioned below, it's because one wasn't specified on the destination's web site. Enjoy!
Gulf Shores, Alabama
Jim McKinley—Getty Images
Cost of a weekend getaway: $2,066
Seven years after the devastating BP oil spill, tourism along the Gulf of Mexico has rebounded. Gulf Shores, Ala., offers white sand beaches and average high temperatures of 64 degrees in February. Fishing and golfing are two of the area's big draws. Anglers need a fishing license, and prices vary. For example, a 7-day freshwater trip license is $28.75 and a 7-day saltwater trip license is $27.70. If you'd rather hit the tees, there are nine golf clubs in the area. One of the toughest, yet most beautiful courses is at the Kiva Dunes Golf Resort, set against a backdrop of dunes, scrub oak, pine trees and natural wetlands. Book online for discounted rates starting at around $75 per player. Other attractions include the Alabama Gulf Coast Zoo, where you can cuddle a kangaroo for $5 plus the cost of admission, which is $9 for visitors 55-plus (and $11 for adults under 54).
St. Augustine, Florida
Peter Titmuss / Alamy Stock Phot—Alamy Stock Photo
Cost of a weekend getaway: $1,767
Founded in 1565, St. Augustine is the oldest continuously occupied European settlement in the continental United States. Once a favorite tourist destination in spring and summer, the area now bustles year-round. St. Augustine is home to Ponce de Leon's Fountain of Youth Archeological Park, and—for those who believe—the fabled fountain itself. History buffs will enjoy exploring the site where Pedro Menendez de Aviles landed in 1565, along with recreations of Native American and European buildings from the time. Admission costs $14 for adults 60 and over, and general admission is $15. You can also enjoy splendid Spanish Colonial architecture in the Old City and fine art at the Lightner Museum, home to one of the best collections of fine and decorative 19th century art in the country; general admission is $15 and senior tickets are $12.
Albuquerque, New Mexico
VW Pics—UIG via Getty Images
Cost of a weekend getaway: $1,631
Albuquerque may not top the list of well-known travel spots in New Mexico (hello, Taos and Santa Fe), but the desert city is a destination in its own right. The new Hotel Chaco brings a luxurious vibe downtown and serves as a gateway for visitors exploring the city's rich Native American heritage; rooms start at about $190 per night. Albuquerque boasts 310 sunny days a year, and its temperate climate has contributed to the city's status as a mecca for hot air ballooning. Albuquerque also has plenty of land-based fun, including hiking and biking, arts and culture, and unique local cuisine. Nestled along the Rio Grande river, ABQ BioPark has a zoo, aquarium, botanic garden and fishing (anglers need a license). Admission to all for out-of-state residents costs $12 for seniors ages 65-plus and $22 for other adults.
Reno, Nevada
Rachid Dahnoun—Getty Images/Aurora Creative
Cost of a weekend getaway: $1,602
Dubbed The Biggest Little City in the World, Reno isn't exactly toasty this time of year. But with high temperatures around 50 degrees, the weather is moderate compared with many places in the country. Gambling may be the city's best-known pastime—and the elegant old El Dorado is worth a trip even if you don't want to tempt your luck—but there are plenty of other ways to pass the time. The National Automobile Museum houses more than 200 vintage cars; general admission is $12 and $10 for seniors 62 and over. The Nevada Art Museum houses thematic collections that highlight land preservation; general admission is $10 and $8 for seniors ages 60-plus. The Truckee River forms the backdrop to the booming Riverwalk District, which hosts a $20 Walk Wine on the third Saturday of every month.
Fort Worth, Texas
John Coletti—Getty Images
Cost of a weekend getaway: $1,665
Established as an Army outpost in the mid-19th century, Ft. Worth retains a frontier-style charm. Western heritage abounds in the city, where you can see cattle drives, live bull-riding competitions and rodeos as well as visit the Texas Cowboy Hall of Fame. But Fort Worth has more than cowboy culture going for it. The city is also home to renowned art museums, including the Kimbell Art Museum, whose collection includes European masterpieces by Caravaggio, El Greco and Cezanne. General admission is $14, with senior tickets for those ages 60-plus at $12.
Flagstaff, Arizona
Cost of a weekend getaway: $1,860
Flagstaff is an old railroad town, formed in the late 19th century on the route of the Atlantic and Pacific Railroad. Train buffs will appreciate the historic train depot downtown, also home to shops and art galleries. Also downtown is the Hotel Monte Vista (located just off Route 66) which offers iconic rooms, lively nightlife, and some spine-tingling history: some rooms are reportedly haunted. Weekday room rates start at $100 plus tax, and weekends start at $125. Star gazing doesn't cost a cent, and Flagstaff is dedicated to preserving and protecting the city's spectacular night views. You will have to pay to peer through the telescopes at the nearby Lowell Observatory, but for astronomy enthusiasts the regular $15 fee ($14 for seniors) is well worth it (admission on Sundays is $10 for adults and $9 for seniors). The city is located at 7,200 feet above sea level, and visitors unaccustomed to this elevation are encouraged to pace themselves.
Columbia, South Carolina
Richard Cummins/robertharding—Getty Images
Cost of a weekend getaway: $1,839
While most vacationers flock to South Carolina's beaches, the state capital has its own charms. Pop into War Mouth, Southern Belly, or any number of other local joints that give more well-known barbeque destinations a run for their money. The city also has a number of parks. The Columbia Canal and Riverfront Park offers a scenic place to stroll or picnic and the Riverbanks Botanical Garden was recognized by Horticulture magazine as one of 10 gardens that inspire. General admission to the Riverbanks Zoo & Garden is $15.95 and tickets for seniors 62 and up are $14.95.
Tampa Bay, Florida
W. Metzen/ClassicStock—Getty Images
Cost of a weekend getaway: $1,547
Tampa Bay offers plenty of fun in the sun, from top-rated beaches to golf courses. TPC Tampa Bay is home to the PGA Tour Champions event, where a round of 18-holes during the peak season is $169 before 11:30am, $139 from 11:30am to 2pm, and $109 after 2pm (price includes GPS-equipped cart and balls to warm up). Cigar aficionados will enjoy visiting the historic neighborhood of Ybor City, former home to cigar factories that employed Cuban immigrants. You can still find hand-rolled cigars in Tampa Bay, including at King Corona Cigars café & bar in Historic Ybor, which also wins points for its coffee and food. Walk the 2.4 mile Tampa Riverwalk, or rent a water bike (a stationary bike mounted on a kayak) and belly up to the Sail Pavilion, Tampa's only 360-degree open air waterfront bar. The Florida Aquarium, housed in a wave-shaped building, is one of the Riverwalk's most popular attractions. General admission is $28.95 and $26.95 for seniors ages 60-plus if you buy on site (save up to $4 per ticket by booking online). Adventurous guests can swim with the sea life along the Coral Reef exhibit.
Biloxi, Mississippi
Richard T. Nowitz—Getty Images
Cost of a weekend getaway: $2,072
This Gulf town was rebuilt after suffering serious damage in Hurricane Katrina. Its many casinos offer 24/7 excitement, but skip their buffets in favor of the scrumptious Cajun cuisine offered at restaurants around the city. You can get seafood any way you like it—raw, fried, or slathered with barbeque sauce. Or charter a boat and hook your own dinner. For local culture, visit the Frank Gehry-designed Ohr-O'Keefe Museum of Art, dedicated to Mississippi master potter George Ohr. General admission is $10 and tickets for seniors 60 and over cost $8. The city is also home to Beauvoir, the 52-acre estate of Jefferson Davis, president of the Confederate States during the Civil War. General admission is $12.50 and tickets for seniors 65-plus are $10. After sightseeing, relax on Biloxi's low-key, white sand beaches, whose waves stay gentle due to barrier islands off the coast.
Savannah, Georgia
Ty Wright—Bloomberg via Getty Images
Cost of a weekend getaway: $1,943
Savannah oozes southern charm, with its stunning antebellum architecture and enormous oak trees. Learn about the city's history, and sample authentic local cuisine, during the three-hour Savannah Culinary and Cultural Walking Tour, with prices starting around $50. The tour concludes near the City Market, the commercial and social center of historic Savannah since the early 1700s. Shop during the day and enjoy live music at night in the former seafood market. Sample artisanal honey at the Savannah Bee Company at its flagship in downtown Savannah, and savor tangy, smoky barbeque at B's Cracklin' Barbeque, whose Atlanta outpost was named winner of the 2017 Restaurant of the Year Award by Atlanta Eater. Stay cool with a walk down the beautiful shaded path of Forsyth Park, with its Spanish moss covered trees and memorials dedicated to the Confederacy and the Spanish-American War.
Additional reporting by Megan Leonhardt.