How to Watch Prince Harry and Meghan Markle's Royal Wedding Online for Free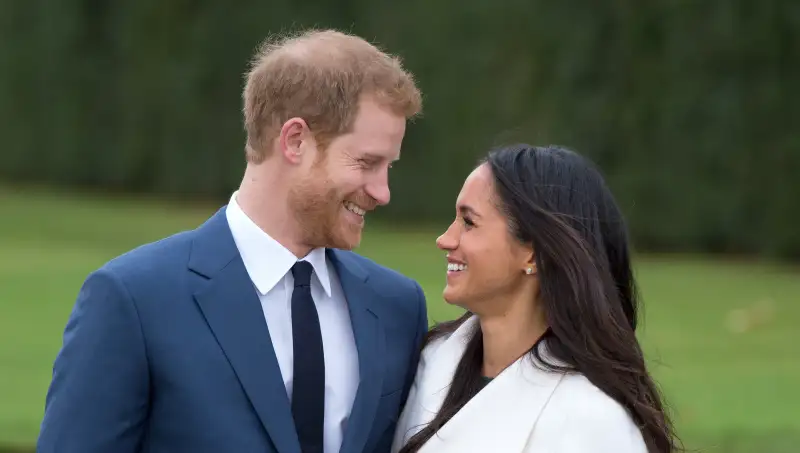 Anwar Hussein—Getty Images
It's finally here — Prince Harry and Meghan Markle's long-awaited royal wedding.
But if you're not one of the lucky few who received an official invitation to their Windsor Castle nuptials on Saturday, May 19 — or one of the 2,640 members of the general public who have been asked to attend the carriage procession to and from the chapel — don't fret. There will still be a way to see all the pomp, circumstance, and royal glory of Harry and Markle's royal wedding — including the ceremony at St. George's Chapel, the picture-perfect royal kiss and the associated proceedings.
Here's what you need to know about when the royal wedding starts as well as where and how to watch it online (including free options).
What time is the royal wedding?
Harry and Markle's wedding starts at noon local time, which means 7 a.m. E.T. That means U.S. viewers will have to be up at dawn to watch the whole ceremony live. "Prince Harry and Ms. Meghan Markle have said they want their Wedding Day to be shaped so as to allow members of the public to feel part of the celebrations too," the Palace stated earlier in the year, confirming that cameras will even be allowed into the chapel so that all media outlets can access the live footage, following in the footsteps of Prince William's 2011 wedding and Prince Charles's 1981 wedding, both of which were also televised.
What channel is the royal wedding on?
You can bet that all major U.S. news outlets will be sure to make the royal wedding is available live on cable starting around 4 a.m. EST. After all, Prince William's 2011 wedding to Kate Middleton brought in about 23 million U.S. viewers alone, and hundreds of millions more globally.
NBC
NBC has coverage starting at 4:30 a.m. E.T., with TODAY Show co-anchors Savannah Guthrie and Hoda Kotb planning to report live from what is being described as "an exclusive vantage point overlooking Windsor Castle" for the big day, joined by commentators Megyn Kelly, Kathy lee Gifford, Al Roker and Sheinelle Jones.
CBS
Over on CBS, Gayle King and Entertainment Tonight's Kevin Frazier kick things off at 4 a.m. E.T. ABC, meanwhile, is sending the Good Morning America team to Windsor for coverage starting at 5 a.m. and going through to 10 a.m. E.T.
MSNBC
MSNBC has tapped Joy Reid to anchor their coverage, also beginning at 4 a.m. E.T., with correspondents Stephanie Ruhle and Katy Tur reporting in from Windsor.
FOX
At FOX, Ainsley Earhardt will start by hosting Fox & Friends at 5 a.m. before joining Shepard Smith and Sandra Smith, who will host wedding ceremony coverage from the Windsor area at around 6 a.m. E.T..
HBO
For a slightly different take, HBO has called upon comedians Will Ferrell and Molly Shannon to commentate on the wedding proceedings while in their characters of Cord Hosenbeck and Tish Cattigan. The Royal Wedding Live with Cord and Tish! will kick off at 7:30 a.m. E.T. if you need a comic break from the more straightforward royal wedding coverage.
Other networks
PBS, BBC and BBC America, ITV, Sky News and more are also expected to cover the events live.
Will the royal wedding be livestreamed?
Yes. PEOPLE.com, ABC, NBC and PBS are just a few of the sites planning to livestream the ceremony to viewers, although you may need a cable login to access some of their feeds. Some of these networks and outlets may also go live on Facebook during parts of the royal wedding.
You can also watch the royal wedding online for free by signing up for free trials of Hulu, Sling, Fubo, Philo, and DirectTV — all of which offer free one-week trials. You can also sign up for two weeks of free YouTube TV (YouTube may also have a separate stream, though details on that have not been revealed yet).
Are all royal weddings televised?
Not all royal weddings are televised, of course. It was Princess Margaret who started the trend for her marriage to Antony Armstrong-Jones in 1960. Her older sister, Queen Elizabeth, was notoriously camera shy. The broadcast of that ceremony at Westminster Abbey drew in about 20 million viewers.
In 1981, Princess Diana's wedding to Prince Charles at St. Paul's Cathedral brought in an estimated 750 million viewers globally, the BBC reported, alongside the 600,000 or so spectators who flooded London. At the time, it became the most popular program ever broadcast on television. (Since it was a Wednesday, it was also celebrated as a national holiday in the U.K.)
In contrast, when Prince Edward — the Queen's second son after Charles — married Sophie Rhys-Jones in 1999, they chose to keep their event a more private affair. It also took place at St. George's Chapel in Windsor, where Markle and Prince Harry are planning to wed.
Following Prince Charles's civil wedding ceremony with Camilla Parker-Bowles in 2005, the BBC covered the ensuing prayer service and broadcast it live. It, too, was at St. George's Chapel.
This post will be updated with the latest details on how to stream the royal wedding live.