I'm a Professional Sugar Baby. Here's What It's Like to Get Paid to Hang Out With Rich Guys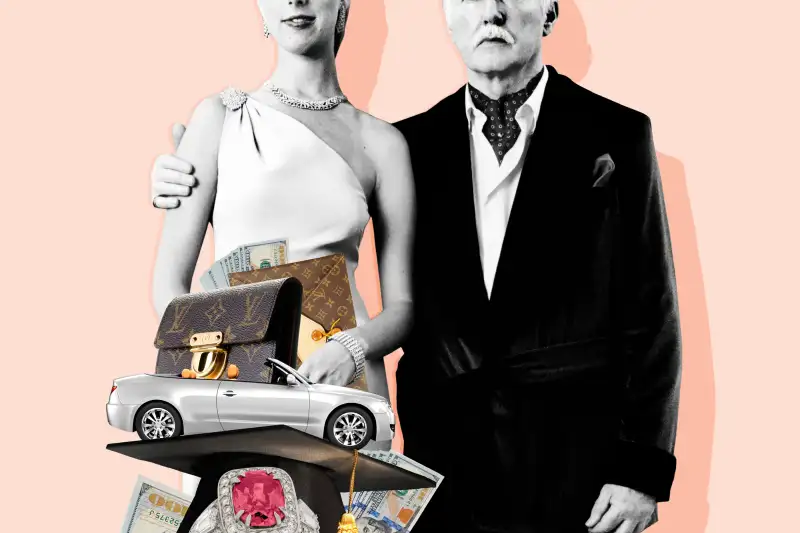 Photo illustration by Money; Getty Images (7)
It's a warm night in downtown Los Angeles, and roughly 75 Sugar Babies are bonding over unlimited sushi on the top floor of a highrise. They're decked out in high heels and spandex, but if they are peacocking, it's only for each other; no Sugar Daddies are invited to this annual Los Angeles Sugar Baby Summit.
Brook Urick, a member of the Sugar Baby site SeekingArrangement's press team, asks the crowd to settle down. She peers through large glasses as she rifles through questions the women have submitted on slips of paper. As Urick pulls them at random, they seem to circle around the same central theme: how do you negotiate financial agreements with Sugar Daddies? Urick seems annoyed by the question itself.
"Sugar Babies aren't paid. They're given gifts," she says bluntly. "If you want to be paid for your time, get a job." She advises the crowd, which is composed entirely of women, (save for two male Sugar Babies — one gay, one straight), to show off "only one body part" at a time and to try to attract a boyfriend-type, but not expect a husband. "People aren't on SeekingArrangement because they want to be on Match.com," she says. "You need to know that — he's not looking to marry someone."
The women at the Summit seem undeterred. As Urick tries to answer questions one by one, the crowd grows rowdier and more emboldened, interrupting her frequently to tell their stories. Here are a few of them.
Why Sugar Babies Become Sugar Babies
Anna, who requested that her name be changed, is a 33-year-old platinum blonde with an earthy streak who drove up from San Diego for the Summit. She's getting her MBA while simultaneously working as an erotic masseuse. Using SeekingArrangement helped fund her move from Utah to California — but she never wanted to rely on it as her sole source of income. "I felt like that if I got to that point, then I might compromise my integrity of what I was comfortable with to be able to pay rent," she says. "And I never wanted to be in that position."
Sugar Babies join SeekingArrangement for a plethora of reasons — not just to fund a move, like in Anna's case. Student debt, rent, mentoring and internships are all reasons Sugar Babies cite as justification. And of course, some are hoping for a serious relationship or husband as well.
"I would like to find someone who's a nice person, who I get along with, and who is willing to help me with where I want to go in life," says 24-year-old Katelin. "I think of it as more of a gift from someone you're dating rather than a sexual transaction, even though that is part of it."
The phenomenon of men with power and money using those aspects to attract women is certainly nothing new. Dr. Kyle Livie, a cultural historian and Associate Professor of History at Ohlone College, says that at the end of the 19th century, a phenomenon known as "treating" began to arise, in which shopgirls and other unmarried women with low-paying jobs relied upon men to provide them with money for housing, dinners, in exchange for being an escort.
"Even in a situation where it seemed like women could be independent, they were very much dependent on a patriarchal economic system," he says. "This concept of 'treating' was essentially seen as a pathway to prostitution and death."
The Sugar Daddy phrase itself can be traced to the 1920s, when it became popularized as a slang term for a man who spoils a younger woman financially. In 2006, entrepreneur Brandon Wade launched SeekingArrangement.com in order to serve as a sort of digital matchmaker. The site now has 3 million users worldwide — and its numbers are growing, with SeekingArrangement reporting a 33% increase in Sugar Daddy membership and a 54% increase in Sugar Baby users since 2015. The dynamic still goes mostly one-way: Men are the benefactors, women the recipients.
Jessica, 33, became a Sugar Baby as an alternative to getting into more student debt. "[I was] never going to be able to think about grad school, because who wants more loans when you can't pay off the ones you have? I was driving a crappy car, living in a crappy apartment. It was rough," she says.
SeekingArrangement likes to promote the narratives of savvy young women like Jessica who are pursuing arrangements as a way to graduate debt-free. They've even created "Sugar Baby University": No minimum GPA is required, and users are encouraged to "join today and get your education paid for by a generous sponsor." According to SeekingArrangement, it is not an actual university — the benefit of registering as a student is that you get an upgraded membership for free.
Jessica wasn't a patron of Sugar Baby University, but still used the site to fund her MBA.
She quickly found an arrangement that many Sugar Babies only dream of — a Sugar Daddy who didn't demand sex, but wanted to help pay for school. "I have not paid any student loans," Jessica says. "I have one year left and I've already paid the full tuition on one of those semesters." That benefactor has since passed away, but thanks to her other arrangements, she'll be graduating debt-free.
How Much Sugar Babies Really Make
When it comes to how much a Sugar Baby makes, or how she negotiates her arrangements, there are no rules, or even common practices. Every relationship and agreement is different, and Sugar Babies and Daddies all have different standards.
Some women will go on multiple dates without expecting to be compensated for their time, and others won't even meet for a coffee without prior payment. Some Sugar Babies charge by the hour, some have a steady monthly "allowance," while others still have no concrete agreements with Sugar Daddies and rely on the whims of his "gifts," a term used to mean anything from cash to paying rent and student loans to buying fancy dinners, handbags and vacations. Some simply want to find a boyfriend or husband who is wealthy and successful, and don't expect an exchange otherwise.
According to SeekingArrangement's stats, the average Sugar Daddy is 38 and makes $250,000 annually, while the average Sugar Baby is 25 and makes $2,800 monthly from her Daddies.
"From one, I get $1,500 a month. I see him typically once a month, sometimes twice," Jessica says. Another Sugar Daddy pays her roughly $700 per visit; some months he sees her only twice, while other months he sees her multiple times a week. The third Sugar Daddy pays her a "monthly allowance" of $2,000 a month, and she sees him twice a week. That adds up to a minimum of $4,900 a month in income. Jessica estimates that between the time she spends on self-promotion, messaging new potential Sugar Daddies, first dates, and maintaining her standing arrangements, she's working full-time hours.
Jessica's success seems to stem from her willingness to negotiate with potential suitors. "I normally just start with a base pay-per-visit. I'm not charging by the hour. I feel like if they can't do $400 to $500 to spend some time with me, then I'm not what they're looking for anyway," she says.
Of the three men who pay Jessica for her company, she has sex with only one. "It may lead up to that someday [with one of the others] but I'm never in a hurry for that," she says. Her highest-paying Sugar Daddy "doesn't sexually function," but she does do things like go to his house and lounge by his pool naked. "He's an older guy, he's not married anymore. He was big on Wall Street, moved to California, got into real estate, and likes to enjoy his money." They travel together often, but she always requires a separate room. She says her independence is part of why she's been so successful.
Jessica has no plans to quit once she graduates. "I'm only 33. I'm now more experienced with it, to where it's a little easier now, not so stressful as it used to be. It used to be, I'd have to have a drink before I even met someone for a drink. Now, I really don't want to work for anybody. I think that's one thing SeekingArrangements has taught me: I like controlling my own financial destiny."
Meanwhile, Anna has struggled to get enough erotic massage clients after the escort listing site Backpage was shut down by U.S. officials this past April — an effort to curb sex trafficking and prostitution. Backpage's demise left thousands of sex workers without a reliable or cheap way to advertise their services, and some, like Anna, have turned to SeekingArrangement.com as a result.
Anna says she averages about $100 an hour, even for overnights that include sex. Compared to the $22 an hour she was making in the financial sector before, it's a bump — but it's still less than the $150 an hour she makes for sensual massage that doesn't involve sex. The emotional labor she has to devote to SeekingArrangement also has her reconsidering. "You have to coddle somebody, and you have to be available to them for hours and hours, and pretend like you're interested in them," she says. "With escorting, you're paying me to leave."
While some Sugar Babies are able to secure a decent living through the site, Anna worries that SeekingArrangement is creating a space that is unsafe and underpaid for women. On escort sites, people soliciting sex are expected to verify themselves by doing things like showing their ID, providing information on where they work, and even listing references from other sex workers. On SeekingArrangement, however, there isn't really any way to screen members as valid or safe — the only policing comes in the form of user complaints, which result in a Sugar Baby having her account paused while the claim is investigated.
"This is to ensure that each complaint is taken seriously and that arbitrary complaints do not affect users who are in compliance with our code of conduct," SeekingArrangement PR Rep Kimberly De La Cruz tells Money. "We are constantly improving our user reporting tools and employing more artificial intelligence software to keep escorts, prostitutes, attempted underage users and those who violate our terms of service and code of conduct off our site. To even further discourage these unwanted elements, we work proactively to report violators to law enforcement."
SeekingArrangement maintains that being a Sugar Baby is not sex work, advising women to instead walk the fine line between girlfriend and girl-for-hire. The company has to walk that line itself: if the site admitted to hosting sex worker profiles, it would risk the same fate as Backpage.
Back at the Summit, several women continue to interrupt Urick in order air grievances. They complain they're being taken advantage of and treated "like hookers," and ask for advice on what to do.
"If you're getting taken advantage of, maybe you need to reflect on your own behavior and think, 'Okay, well how am I showing this guy that I'm not really there for him?'" Urick says. If you're in it only for an "allowance," as they call the unofficial financial agreements between Sugar Babies and Sugar Daddies, he'll sense it. "They're not stupid. They have money for a reason."