What Retirees Can Learn From This Year's Oscar Winners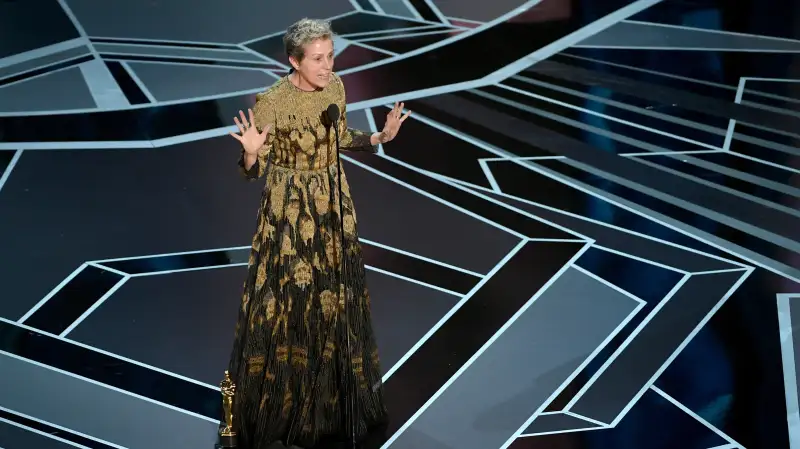 Kevin Winter—Getty Images
Despite what some consider a few tone-deaf or even offensive age-related remarks, the Oscars still delivered a powerful and inspiring message for anyone who's nearing or is at retirement age.
That message: Achievement doesn't have an expiration date, and success and fulfillment are still possible even as you're increasingly reeling in the years.
If you have any doubt about the validity of that message, consider the ages of some of this year's Oscar nominees and winners.
Frances McDormand, winner for best actress in a leading role for her performance in Three Billboards Outside Ebbing, Missouri, and Lesley Manville, nominee for best actress in a supporting role in Phantom Thread, are 60 and 61. Meanwhile, best actor nominee Daniel Day Lewis, also from Phantom Thread, and best actor winner Gary Oldman for Darkest Hour are 60 and 59 (Oldman will hit the big Six-0 in a couple of weeks).
And they're relative youngsters compared with some of their fellow nominated actors and actresses.
Best actress nominee Meryl Streep (The Post) is 68; best supporting actor nominee Richard Jenkins (The Shape of Water), is 70; and, Christopher Plummer (All The Money In The World), who nimbly stepped in as a last-minute replacement for Kevin Spacey after Spacey faced allegations of sexual harassment, is 20 years Streep's senior at 88.
It's not just people in front of the camera who've demonstrated that it's possible to stay active and creative even at advanced ages. For example, 68-year-old Roger A. Deakins copped the Best Cinematography award for his work on Blade Runner 2049, while 86-year-old John Williams, who received his first Academy Award nomination 51 years ago in 1967, was a nominee this year for Best Original Score for Star Wars: The Last Jedi.
There was even some history made on the age front this year.
When James Ivory won for best adapted screenplay for his script for Call Me By Your Name, he became the oldest Oscar winner ever. At 89, he's just one year younger than the Academy Awards themselves, which celebrated its 90th anniversary this year.
Obviously, the lesson here isn't that retirees and near retirees should plan on running out to L.A. to launch a Hollywood career in retirement (although I'm ready for my close-up if there are any directors out there with roles for a somewhat gracefully aging financial journalist).
Rather, the point is that retiring shouldn't be a process of giving up all aspirations and relegating yourself to a slow, steady slide into your dotage.
Most of us are still capable of setting, pursuing, and achieving new goals well into our 60s, 70s, 80s, and beyond.
But living a life of purpose and meaning isn't something that's likely to happen on its own. It requires desire and the discipline to pull it off. And even more important some foresight and advance planning.
This is why in the years leading up to retirement, you need to do a little "lifestyle planning," or in-depth thinking about how you would like to live the rest of your life.
Hoping to remain in your current occupation in some capacity, whether part-time with your present employer or as an independent consultant? Great. But you need to be realistic too.
Surveys show that many people want to work in retirement whether to earn some extra money or to stay socially engaged. Between downsizing and age discrimination, however, finding satisfying work that pays decently can often be a challenge.
You'll increase your chances of success by keeping your skills up to date, staying abreast of what types of jobs are available by regularly visiting sites like RetiredBrains and RetirementJobs.com, and keeping yourself open to a broad range of opportunities rather than pigeon-holing yourself.
And speaking of remaining flexible, remember too that there are many paths to a successful post-career life. If finding work you consider acceptable doesn't pan out, you may be able to find satisfaction in other ways, such as doing volunteer work for a charitable organization whose mission is compatible with your values, embarking on a new project like writing a book or starting a blog or traveling the globe to experience new places, people and cultures.
So if you're approaching or have already entered retirement and are wondering whether you'll still be able to find worthy challenges and goals in life's next phase, listen to the 86-year-old John Williams's intricate and compelling Oscar-nominated score for Star Wars: The Last Jedi or watch the near-60-year-old Gary Oldman channel Winston Churchill (who, by the way, was 65 when he became Britain's Prime Minister at the start of World War II) in Darkest Hour.
You'll soon realize that there's still plenty for you to achieve as you age.
Walter Updegrave is the editor of RealDealRetirement.com. If you have a question on retirement or investing that you would like Walter to answer online, send it to him at walter@realdealretirement.com. You can tweet Walter at @RealDealRetire.
More From RealDealRetirement.com:
Where Should You Put Your Money If You Think The Market's Going To Crash?
**
Correction: An earlier version of this story incorrectly described John Williams' score for Star Wars: The Last Jedi as Oscar-winning.