Yes, You Can Still Go to the World Cup Without Going Broke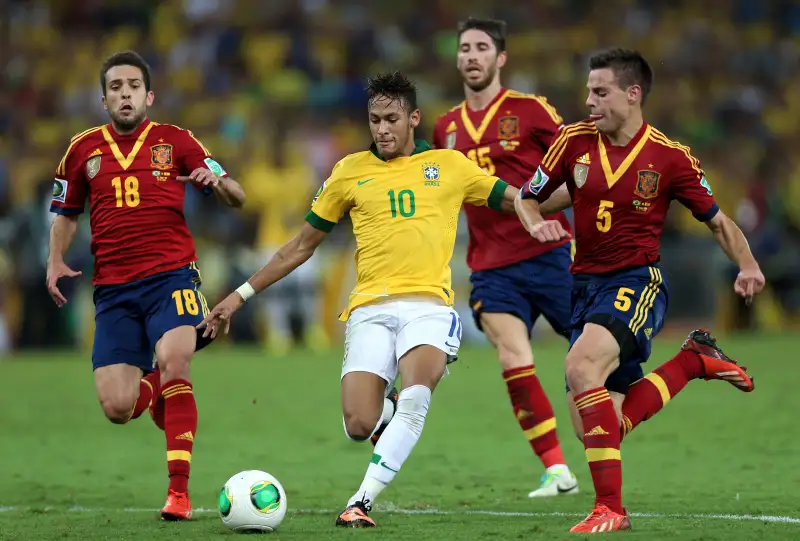 Jasper Juinen—Getty Images
Let's be real: World Cup 2014, which kicks off in Sao Paulo, Brazil, on June 12, isn't exactly a bargain hunter's paradise. That said, there are ways to attend without emptying your bank account—even this late in the game (err, match).
In fact, FIFA, soccer's governing body, is releasing nearly 180,000 tickets for sale on Wednesday, June 4, with prices starting at a manageable $90. On the secondary market, Bloomberg is reporting that some tickets are going for as little as $15. While it's possible to plan a last-minute trip to take in the world's biggest sporting event in person, it's wise to stop procrastinating pronto. Hurry up and submit your visa application (it'll take some time to be processed), check out TIME's guide to the Cup, and use these tips to keep costs down.
Snagging Tickets
FIFA has been very clear that FIFA.com is the only legit place to buy World Cup tickets, and that seats purchased from a reseller may not be honored. However, if you can't score the seats you want through official channels, you may opt to take your chances on the secondary market. You'll find plenty of options on online reseller Viagogo (including that $15 seat to Bosnia-Herzegovina vs. Iran). Recently, the site also listed tickets for Team USA vs. Portugal on June 22 starting at $93. Can't find what you're after? U.S.-based reseller Stubhub also has a World Cup section, though choices are geared toward later rounds, since the site is only offering tickets to buyers who are still in the United States.
Getting There
Fares to Brazil are definitely up there. In May, travel planning site Hopper found that flights from the U.S. during the World Cup were up an average 38%. To chase down a reasonable ticket, you'll need to time it just right. Don't even bother looking at flights on June 12 or 13, says Rick Seaney, CEO of flight-comparison site Farecompare.com, noting that one-stop flights from New York City to Rio de Janeiro on those dates are now starting at about $3,700. Leaving just a day earlier (the 11th), knocks that fare down to $1,800, while waiting until June 15 brings it down to $1,100. The tournaments lasts into July, after all, so it's not necessary to be there at the kickoff.
Another option: fly into Brasilia or Sao Paulo, both of which are typically cheaper than Rio. Seaney says Sao Paulo is especially affordable, with one-stop fares during the early stages of the Cup hovering around $1,200 from New York. If you're flying out of a smaller U.S. gateway, check out fares from a major South America-bound hub (Miami in particular), and then book a separate flight from your city to the international departure point. Sometimes by breaking up flights into sections, the total costs are significantly cheaper.
And don't forget to factor in the cost of any short hops you'll need to take within the country. (None of Team USA's group stage matches are in the big cities.) In some cases, it might be a better deal to pay more for an international flight that will require less jetting around once you're in Brazil.
Where to Sleep
Believe it or not, there are still hotel rooms to be had. But at least in the most popular cities, the pickings are slim and the prices high. According to a TripAdvisor analysis, which looked at data from early May, Brazilian lodging during the World Cup period is up an average 120% over the same time last year. The good news, says TripAdvisor's Brooke Ferencsik, is that hotel prices have edged down slightly in recent weeks, dropping from an average of $298 across the 12 host cities, to $275.
Not surprisingly, TripAdvisor fingered Rio as the most expensive location, with the average per-night hotel rate now coming in at $464. To go cheaper, head to Sao Paulo, where the average rate is a relatively mild $192. The only problem: Sao Paulo doesn't host a U.S. group stage match. For that, the best deal is Natal ($281). Still, a recent search of TripAdvisor found plenty of rooms for less than that, including ten options for $116 to $260 per night on June 16, when the Americans take on Ghana.
Prices get even lower when you start looking at apartment rentals on sites like AirBnB. (Unless you happen to be looking at Brazilian soccer god Ronaldinho's place, which was reportedly listed for $15,000 a night on the site.) Kevin Raub, a Brazil-based writer who's covering the event for Lonely Planet, recommends checking out Brazilian sites, like Camaecafe.com.br for Rio apartments rented by "artists and cool, creative people." For small inns called pousadas, hiddenpousadasbrazil.com still lists some affordable options.
Finally, check Roomertravel.com. This site, which allows people and tour operators to resell hotel rooms they can't use, recently listed the Rio Design Hotel from July 5 to July 11 for $208 a night; the hotel's own site lists the property as sold out.
Getting Around
Brazil is a massive country, so chances are you'll be doing at least some flying to get around. Hopper found it would cost a minimum of $557 to fly from Natal to Manaus to Recife to take in all three of Team USA's group stage matches. To help keep flight costs down, don't rely on flight aggregators or U.S-based travel sites, which can miss some fares. Instead, check airlines' sites directly, says Alexandra de Vries, author of Frommer's Rio de Janeiro Day by Day. The big ones are GOL, TAM, Azul, and Avianca. And as always, the more pain you can endure—layovers, pre-dawn flights—the better the chances you'll get a deal.
Buses are another good option. Lonely Planet's Raub recommends Buscaonibus.com for researching bus routes and timetables. A warning: many of the bus company sites won't allow you to book online using a U.S. credit card, so you may need to wait until you're in Brazil to actually get tickets. Public transportation is the most affordable (and efficient) way to get around the bigger cities, but for times you do want a taxi, Courtney Scott, Travelocity senior editor, recommends loading up on apps. Uber recently launched in Rio, while Easy Taxi and 99Taxis are well established.
Paying for it All
Keep in mind that Visa is a World Cup sponsor, so the stadiums will accept only Visa cards and cash. ATMs can be "fussy with foreign cards," warns Raub. Be prepared to visit a few before you find one that works. Card cloning can be a problem in Brazil, says de Vries, who recommends using ATMs located inside bank branches whenever possible. Also, when planning your cash strategy, remember that various banks cap daily withdrawals at different amounts.
Be aware that "chip-and-pin" credit cards are widely used in Brazil. But don't panic if you don't have one, says Paul Irvine of Dehouche, a Rio-based travel consultancy, noting that few of his American clients have had a problem with their standard cards: "They're very usable."