9 Ways to Score Big at a Yard Sale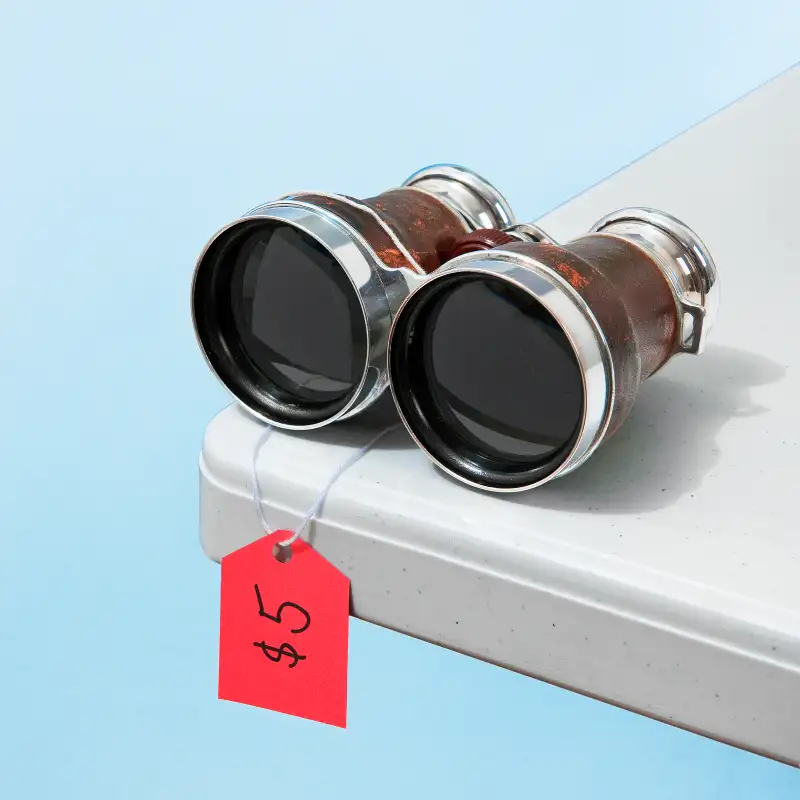 Between summer renters unloading stuff, parents clearing out space for back-to-school gear, and teens leaving behind their childhood rooms for college dorms, August weekends can be a bonanza for yard-sale shoppers. To get the best deals, though, you have to know what to look for. Here are 9 ways to shop a yard sale like a pro.
1. Know your sizes. You don't want to discover after you get it home that your terrific new end table is three inches too wide for the spot you had in mind. Assess your spaces beforehand and carry a small tape measure in your bag to use while browsing.
2. Think frames, not art. The chances you'll spot an original Whistler in your neighbor's yard? Not so good. Frames, on the other hand, can often be worth more than sellers think. "I have found some that were 150 years old selling for chump change," says artist, designer, and garage sale enthusiast Pablo Solomon. Look for intricate frames made from solid material. For more on what makes frames, art, and other antiques valuable, see the guides at eBay.com.
3. Scout out old china. Yard sales are great for nabbing just-out-of-the-box kitchenware. But vintage bowls and cups may be a better deal—and better quality—than newer items. If you're interested in a lot of pieces, ask for a bulk discount; sellers are often willing to cut a deal to clear out a bunch of wares at once.
4. For resale, try retro. Yard-hopping for profit? Many traditional antiques are selling for half what they used to because downsizing baby boomers are flooding the market and younger buyers have a different aesthetic, says Patrick van der Vorst, a Sotheby's veteran and co-founder of ValueMyStuff.com. Today's hot items are appliances, functional objects, and novelties—such as movie posters or advertisements—from the 1950s, '60s, and '70s. Use your smartphone to check how much similar items have recently sold for on eBay before you negotiate.
5. Get goods appraised. Think you've found a garage sale gem? ValueMyStuff.com will give you a virtual appraisal for $10. Just submit a photo, and within 48 hours you'll have an estimate as well as details about the item's provenance and insight about why something is or isn't valuable. That's knowledge you can use to score even bigger on your next scavenger hunt.
6. Test the electronics. Those new-looking portable iPod speakers are a great deal—or are they? Pack an assortment of batteries to test electronic goods, along with a high-powered flashlight or black light to check for cracks or chips on housewares or furniture that may not be visible to the naked eye.
7. Look carefully at costume jewelry. Sellers often think that old costume jewelry made with fake stones and plated with silver or gold isn't worth anything. Yet "vintage costume jewelry can sell for big bucks," says Reyne Hirsch, an expert in 20th-century decorative arts and former appraiser for Antiques Roadshow. Look for sturdy settings and clasps; avoid pieces that have chipped or worn enamel.
8. Go for heavy items. Gardening tools, kids' bikes, fitness equipment, and furniture all may be cheaper at a yard sale than online, since many sellers don't want to go through the trouble or expense of shipping awkward or heavy pieces. To snag the best price on something mentioned in a listing, try calling the seller the day before; aficionados often circle the block hours before the official sale starts.
9. Know when to steer clear. Mattresses, upholstered furniture—forget 'em. The risk of bedbugs is too high. Also be careful with baby gear such as car seats and cribs, since safety standards often change. Check the latest safety info on baby items at the U.S. Consumer Product Safety Commission's website, cpsc.gov.
Adapted from "How to Spot a Yard Sale Deal" in the July 2012 issue of Money magazine.
Related:
How to Host a Money-Making Yard Sale
Inside the 'Pay What You Want' Marketplace