2014 World Cup Jerseys Already Discounted Big Time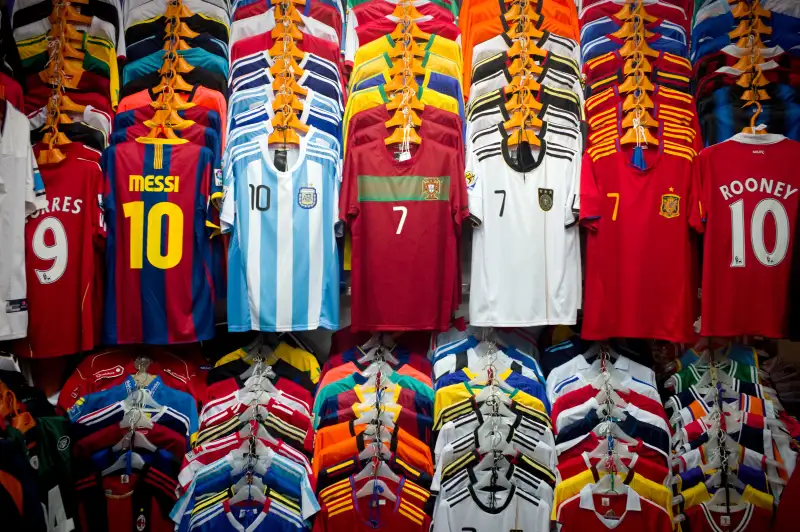 Fans can probably guess the national colors featured on the World Cup gear that's being discounted more than two weeks before the tournament comes to an end. They're those of Spain and England, arguably the 2014 World Cup's two most disappointing teams. Both of the seemingly promising squads were eliminated early on in the tournament, crushing the hopes of home fans—and simultaneously killing the consumer demand for team merchandise.
At the FIFA online store, Spain's Away black-and-green jersey is marked down to $59.99 (originally $89.99). Ditto that discounted price for Spain's red home jersey as well. At sports gear specialist Fanatics.com, Spain's home jersey, originally priced at $89.95, has been marked down to a sale price of $79.99, and then discounted an extra 30% during a special Monday sale, lowering the price to $55.99. Similarly, a neon green Spain training jersey is on sale for $23.79 (originally $44.95).
It's hard to tell whether Spain or England has been more of a disappointment to home fans. Spain's loss to Chile, which eliminated the defending 2010 World Cup champion from the current tournament, came as a complete shock to most of the soccer world, and to fans in Spain in particular. England has a long history of breaking the hearts of its supporters, but the team's performance was so poor, and its exit was so quick, that it left some of the world's most rabid soccer fans utterly depressed.
The Daily Mail noted last week that after Costa Rica upset Italy, thereby eliminating England from the tournament after only two matches, folks in England were too bummed to get out of bed. There was reportedly a 20% increase nationally in workers calling in sick. "Sick calls began at around 11pm on Thursday night as England fans began licking their wounds," the Daily Mail article stated.
England jerseys and other gear appear to still be selling at full price in the U.S. market, but things are different back home for the Three Lions. By this past weekend, stores all over England had slashed prices on a wide range of World Cup team merchandise and souvenirs. Coffee mugs, water bottles, napkins, Teddy bears, rubber duckies, and more featuring Team England have been marked down by 70% in supermarkets and other stores in the UK, according to the Mirror.
Even so, it'll be a hard sell to convince disappointed fans that the prices on any of this merchandise are enough to make them buy. "I for one won't be buying any of that stuff," one fan in a Leeds store told the Mirror. "We are out. What's done is done and I won't be waving my England flag around -- even if it is half price."