3 Secrets You Need to Know About Redoing Your Kitchen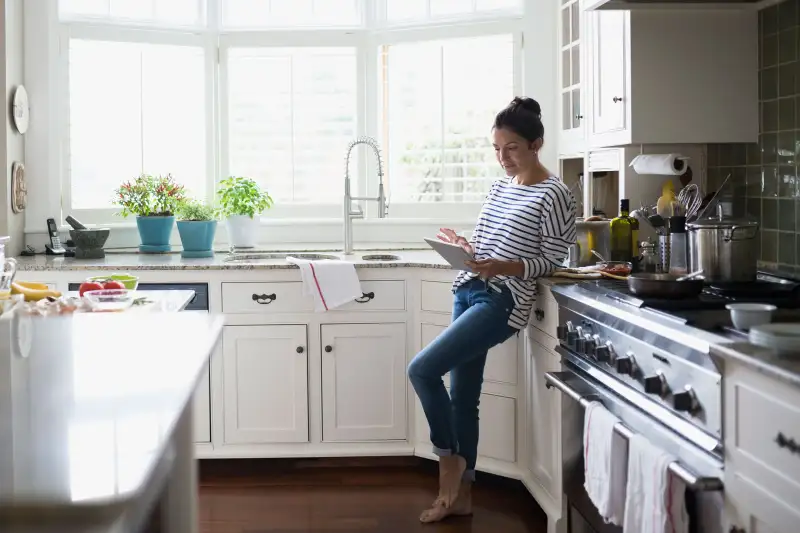 From Julia Child's utilitarian rows of hanging copper pots (now on display at the Smithsonian) to Ina Garten's sunny white cabinets, no single space says as much about us—and our aspirations—as the kitchen.
Perhaps it's no wonder that this room was the No. 1 most renovated interior in 2016, according to a survey by home-design website Houzz. And along with the master bath, it's also the room most carefully scrutinized by potential homebuyers, according to Trulia.
The problem, however, is that all those dream features—from marble countertops to elaborate wine coolers—are pricey, and it's easy to let costs spiral out of control. Houzz also found that just under a third of homeowners spent $50,000 or more redoing their kitchens in 2016. Nearly one in 10 said they spent over $100,000.
Of course, there's nothing wrong with splurging if you can afford it. But don't fool yourself into thinking those extras will hold their value. According to a survey by Remodeling magazine, major kitchen renovations, costing $60,000 or more, typically earned back only about 60% of what was spent when a house was sold.
"Cost is not always equal to value," says Buffalo-based home appraiser Jim Murrett.
If, like most of us, you need to stick within a budget or are hoping to recoup costs, making smart decisions upfront, like focusing on smaller, more functional upgrades, can make a big difference, Murrett says. And the numbers back that up. More modest kitchen jobs, in the $20,000 range, typically earned back about 80%.
Here's what you need to know:
1. Stay Neutral
Vibrant colors and flashy materials are in, according to design experts at Trulia and elsewhere. The trick is to be on trend without seeming trendy.
"You don't want anyone to come in and hate it," Longmeadow, Mass., appraiser Nick Gelfand says. If you plan to sell anytime soon, stick with classic features like subway tile, stainless-steel fixtures, and granite countertops.
Then, to add style, try a splash of colorful paint or accent wallpaper, both of which are inexpensive and easy to remove, instead of adding costlier, more permanent touches like soapstone or slate countertops.
2. Cool it on the Cabinets
At up to $1,200 per square foot, custom cabinets are an easy way to blow out your remodeling budget without adding much value to your home.
"It's important to account for what buyers look at," Gelfand says. "Most can't tell high-end cabinets from mid-range ones."
Gelfand recommends opting for "semi-custom" models offered by chains like Home Depot and Lowe's ($100 to $650 per square foot) and avoiding extras like glazing and built-in organizers, such as utensil drawers and spice racks.
Even better: Save hundreds if not thousands more by working with what's already there.
Many old cabinets can simply be sanded down and refreshed with a new coat of paint or varnish, Murrett says.
If that's not an option, refacing your existing cabinets with new doors and frames can transform the look of your kitchen and typically costs one-third to half of what you'd spend on completely new ones.
3. Know Your Neighborhood
Aim to match but not outdo what would-be buyers are finding in neighboring homes. In a newly revitalized suburb with booming home prices, for instance, buyers might expect a luxurious kitchen attached to even a comparatively small house, according to Gelfand. That's much less likely the case if prices are relatively sluggish and you already live in one of your area's grander homes.
One rule of thumb: If the value of your land represents more than half the value of your total property, it's relatively easy to boost the total value with a significant home improvement, like an upscale kitchen, Gelfand says.
If your house already represents more than half the property's total value, then improving it any further is risky.
"The value of the home is already maximized," Gelfand adds.