$5 Bottled Water at Airport Inspires a Lawsuit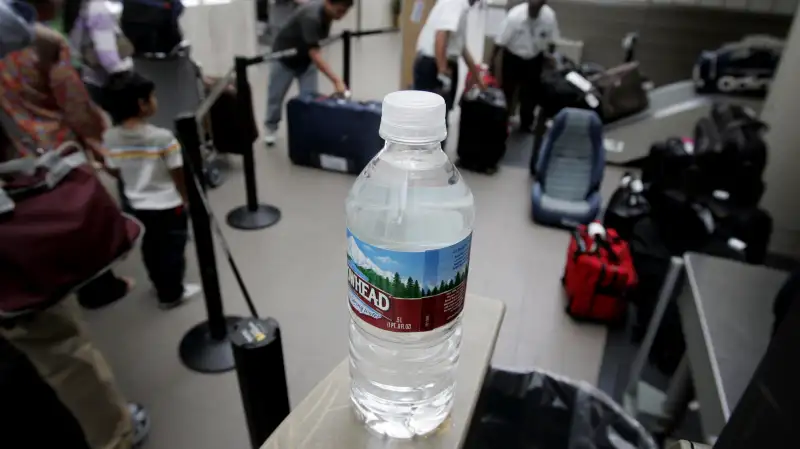 Travelers might rightfully feel that airport stores charging an outrageous $5 for bottled water is just plain wrong. A new lawsuit raises just this issue, but surprisingly, it hasn't been filed by a traveler coalition or group of consumer advocates. Instead, the squabble involves two retailers squaring off at Los Angeles International Airport (LAX).
The New Jersey-based Hudson Group is under contract to run two boutique Kitson stores at LAX. Recently, Kitson filed a lawsuit after Hudson allegedly refused to sell bottled water at a price of $2.55 per liter—instead charging a "hugely" inflated price of nearly $5 per bottle.
"Water is one of the most basic necessities for travelers and Hudson is taking advantage of the post-9-11 airport restrictions" by inflating water prices, Kitson attorney Steven Bledsoe explained to the Associated Press.
The fight isn't over the price of bottled water alone. Kitson has been trying to get out its licensing contract with Hudson for months, if not longer, and both sides are accusing the other of breach of contract. A few weeks ago, according to the Los Angeles Times, Kitson accused Hudson of a "candy-gate" scandal, claiming that Hudson put new wrappers with later expiration on candy bars—and that it overcharged for the stale chocolate to boot. More recently, Kitson says that it sought to stock shelves at the airport with SmartWater for $2.55 per liter, but the Hudson Group refused. Hudson, which operates other stores at the airport, charges $4 to $5 for bottled water at LAX.
Just how much of a rip-off is that? In a 2009 study concerning airport pricing, all major American airports charged $2.60 or less for bottled water—and the prices then were considered exploitive. Some airports, such as Dallas-Fort Worth, cap prices for airport concessions at 10% above street level rates. That equated to $2.25 for a 20-oz. bottle in 2009; at the time, the same bottle cost "only" $1.84 at LAX.
At $3, the price of a bottle of water purchased aboard Spirit Airlines is considered outrageous, but that's probably more to do with the fact that an airline charges for water at all, rather than the price charged. Prices at LAX are roughly in line with pro sports venues, which are also renowned for gouging customers. Levi's Stadium, home of the San Francisco 49ers, charges an absurd $5.75 for bottled water.
In any event, Hudson maintains that the two LAX-location Kitson stores will close at the end of March, while Kitson says there is no such agreement and that their contract doesn't end then. What's more, Hudson representatives say that if travelers are worried about being ripped off, it's actually Kitson that should concern them. "Kitson is known for selling pricey items in its high end boutiques," Hudson attorney Timmons said in a statement. "Anyone who thinks that Kitson is really motivated here by an altruistic concern over how much consumers are paying for water at LAX has either never shopped at a Kitson store or is really naive."
Oh, and if you're really concerned about how much water costs at LAX or any airport, just bring a refillable bottle, or even just an empty plastic bottle. Then, once you're beyond the security gates, where you can't cross through with liquids, find the nearest water fountain and fill up.