5 Things We Learned About Warren Buffett From His New HBO Documentary
Money is not a client of any investment adviser featured on this page. The information provided on this page is for educational purposes only and is not intended as investment advice. Money does not offer advisory services.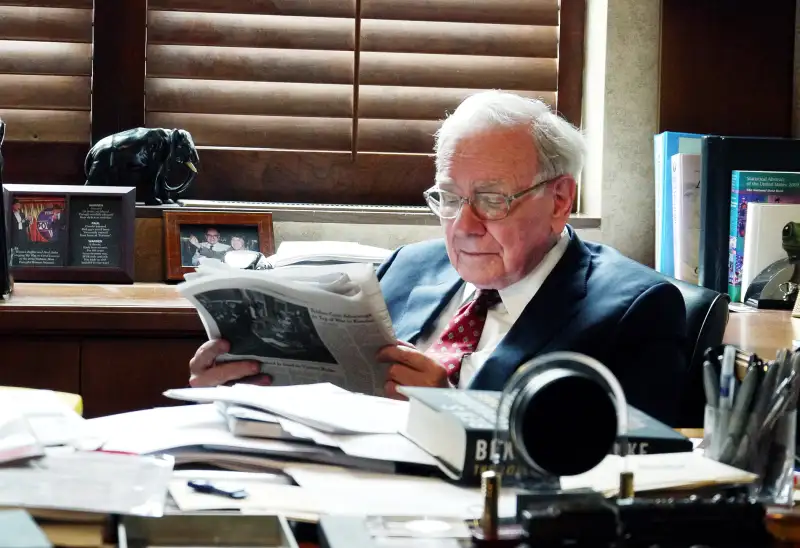 Earlier this week, HBO aired "Becoming Warren Buffett," a documentary that chronicles the upbringing and personal philosophy of the stock market titan.
Chock full of the traditionalist eccentricities the "oracle of Omaha" is best known for--like his love of Coca Cola, and the fact that he lives in the same house he bought in 1958 for $31,500--the film also reveals a surprising set of facts even Buffett die hards may have missed. Here are five of our favorites.
The stock market dictates his breakfast
Buffett, who drives himself to work to Berkshire Hathaway every day, makes an early morning pit stop at McDonald's drive-thru. When the stock market is up, he spends $3.17 on his breakfast -- the cost of a bacon, egg and cheese sandwich. When the market is down, Buffett opts for a Sausage McMuffin with egg and cheese. When he's "not feeling so prosperous," he buys two sausage patties for a grand total of $2.61.
Bloomberg via Getty Images
The only diploma in his office is from a public speaking course
Buffett holds degrees from the University of Nebraska-Lincoln and Columbia University, but the only diploma hanging on his wall is from a Dale Carnegie public speaking course. Once terrified of public speaking, Buffett credits the class for much of his success.
Yuri Gripas/AFP/Getty Images
His wife changed his political views
Buffett was married to his first wife, Susan Buffett (née Thompson) from 1952 until her death in 2004. Raised a Republican, "Susie" was very active in the civil rights movement, and often brought him along to speeches and meetings. Today, Buffett is an active Democrat.
Bloomberg via Getty Images
Philanthropy was always the long game
At the beginning of his marriage to Susan, Buffett made plans to give the bulk of his future fortune to charity. The plan, he says, was to accumulate wealth until his death, with Susan deciding where to donate the money. When she died of a stroke in 2004, Buffett switched gears, and gave more than $30 billion to the Bill & Melinda Gates Foundation -- the largest charitable donation in history. In 2010, Buffett, Bill Gates, and Mark Zuckerberg signed a pledge to donate at least half of their wealth to charity, and urged other wealthy people to do the same.
CHRIS KLEPONIS/AFP/Getty Images
He's Woke
In archived footage, Susan talks about Buffett's displeasure in America's gender disparity. "Wait until women discover they're the slaves of the world," she recalls him saying. In the doc, Buffett doubles down on that sentiment, and quips that he believes the country would be more successful if more women were in business. In recent years, Buffett's charitable giving has gone towards securing rights for low income women workers, ending the mass incarceration of women, domestic violence prevention and other efforts aimed at closing the gender gap.
Spencer Platt/Getty Images
"Becoming Warren Buffett" is available for streaming for HBO customers here.