5 Ways to Trim Your Meat Budget During Barbecue Season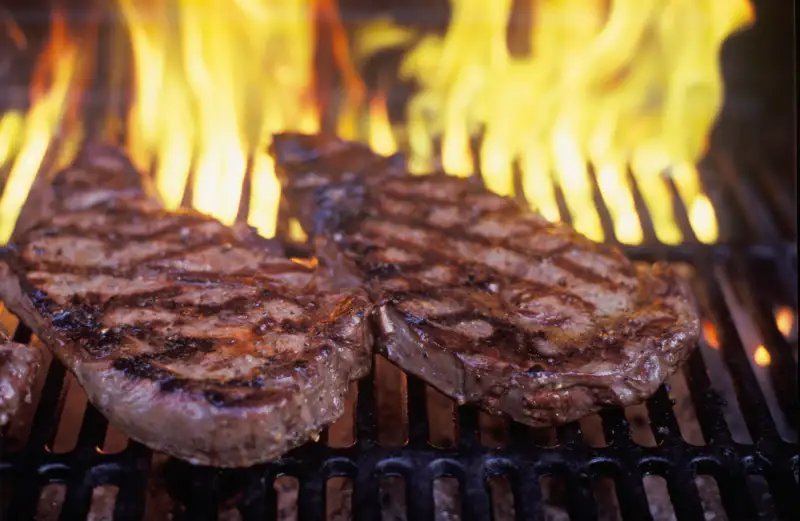 Just in time for prime barbecuing season, there's been an across-the-board rise in meat prices. Many reasons have been cited for higher prices at the supermarket—lingering drought conditions tend to be blamed the most—but farm groups point to another culprit: you.
Strong consumer demand, especially for high-quality meats, is the primary reason, according to Bob Young, chief economist at the American Farm Bureau Federation. "Consumers are feeling better about themselves and their income situation and willing to pay up for good meat," Young told The Atlantic recently. "I think that given the stronger demand, folks are going to find not quite the cut they want for the price they want. They might have to downmarket a bit."
Here are five smart ways to cope without giving up your barbecue fix.
Buy in bulk. Maybe from the back of a truck. No matter if you're at Costco, Walmart, or your local grocer, you'll almost always pay a lower per-pound price for steaks, ground beef, and more by purchasing meats in larger packages—over 3 pounds, typically. Foodies and frugality gurus alike often recommend the strategy of buying a side of beef or an entire pig straight from a trusted farmer, though this isn't always practical for folks who don't have the freezer space or the desire to sharpen up their butcher's skills.
One of the more odd and intriguing means of buying in bulk comes from a Washington-based company called Zaycon Foods, whose curious sales procedure—and terrific prices, under $2 a pound for chicken breasts—started attracting national attention more than a year ago. You won't find the Zaycon brand at any store; instead, the company uses a no-middleman approach to business, in which customers place orders online and pick them up at a prearranged time from the back of a truck that's waiting in, say, a church parking lot. The meat is never frozen; it's taken from the farm and loaded onto the refrigerated trucks that wind up at pickup locations. "The products are as fresh as if you had your own farm, but without all the chores," the Zaycon site explains. This is truly a buy-in-bulk operation, with huge packages you won't see at the supermarket, or even Costco. An individual order of ground beef or chicken breasts is 40 pounds worth of meat.
The Seattle Times described the typical pickup scene: "The driver arrives at the designated parking lot, spreads out yellow parking cones to create a path for the customers' cars, and hands off the boxes while checking names on an iPad." Yet despite the quirkiness (or maybe partly because of it), Zaycon's business has been thriving. At last check, Zaycon had roughly 1,300 drop-off locations in 48 states. Some 325,000 customers have signed up with the company around the country, up from just 84,000 registered users at the end of 2011.
Freeze now, eat later. It goes without saying that if you're going to make use of Zaycon, or Costco's meat section for that matter, owning a large freezer is in a must. Of course, smart grocery shoppers also stock up on meats for grilling when their favorite supermarket has a good sale, or there's a great coupon circulating, rather than right before the July 4 weekend, when you'll have to pay top dollar. Yet again, a good—and good-sized—freezer is in order, as is some basic knowledge about defrosting meat safely, without losing flavor.
Master of the art of leftovers. Today's grilled steak is tomorrow's shabu-shabu. Sure, you could simply heat up the leftovers and eat, but where's the fun in that? If done correctly, leftovers won't taste like leftovers, and they can be stretched out and incorporated into several days' worth of eating. To spice things up, consult SuperCook and enter the foods and ingredients you have handy to see what new dish you can make. For leftover grilled meats, Real Simple recommends sprinkling barbecue sauce, a marinade, or just water over what you have, then wrapping it in foil and warming over indirect heat for a few minutes. Plain old reheating can dry out the meat.
Don't be snobby about cheap cuts. Ground beef that's 90% lean will be more expensive than ground chuck that's 70% or 80% lean. And guess what? The fattier stuff offers far superior taste in a burger. Whereas burgers made with lean ground beef tend to be dense and dry, a 70% lean burger will be juicy and tasty. As a bonus, a lot of the fat drips off in the grilling process. As for grilling steaks, consider less expensive cuts like the skirt and hanger steak over the pricier strip or ribeye. When seasoned and cooked wisely, the cheap cuts won't taste cheap.
Embrace meatless Monday. It's an easy way to save a little cash and get a little healthier: At least once a week—it doesn't have to be a Monday—go meatless. You can still fire up the grill. The Meatless Monday movement offers plenty of suggestions for meals planned around grilled vegetables. Quinoa and white bean burgers anyone?