Here's How to Get Free Money for College on 529 Day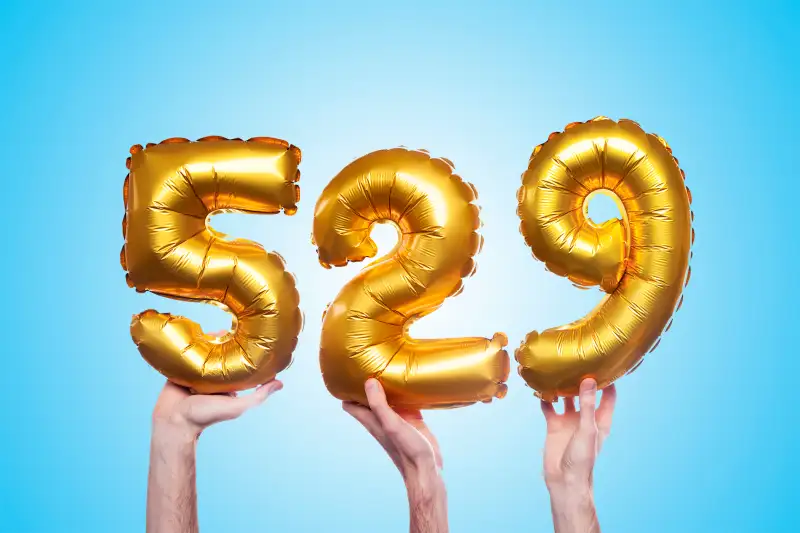 Getty Images (2)—iStockphoto
College savings accounts are in the spotlight this weekend, thanks to the College Savings Plans Network's annual 529 Day.
Held each year on May 29th (aka 5/29), the day is designed to build awareness of the tax-advantaged accounts created to save for college expenses. The event comes with a healthy dose of reminders about the need for parents to start saving early, as well as helpful college saving tips. But like any good celebration, there are gifts to be had, too.
Many states are giving away hundreds of dollars to parents and grandparents of newborns and to new 529 account holders during the month of May. Here's a roundup of some of the cash prizes available leading up to and on Sunday:
Baby Bonuses
Families of all babies born in Rhode Island on Sunday can receive a $529 contribution for opening a college savings account within one year, and Alabama is giving away 31 accounts with a $529 deposit to parents of babies born in the month of May. Other states, including Vermont, Mississippi, South Carolina, and Georgia, are giving away similar new baby scholarships.

Newbie Incentives
The major goal of 529 Day is to nudge you to start saving for college, so many of the prizes have a string attached: You need to open a 529 account. The barrier to be eligible for some extra money is low in most states, though. In California, anyone who opens an account with $50 and signs up for $25 a month automatic contributions will receive an extra $50 from California's ScholarShare program. Tennessee is offering a similar $50 matching deal. That amount might sound negligible considering the average price of tuition nowadays, but as the annual earnings from your investments compound, that initial $50 will help your savings inflate a bit faster.
How much should I be saving for college?
In Iowa, residents who complete a 10-minute tutorial on 529 plans will be eligible for a $1,000 prize, and Colorado residents who contribute at least a dollar to the state's CollegeInvest Smart Choice Account will be entered to win a $2,500 deposit into their account.
Raffles for All
Nebraska and Missouri are holding large grand-prize raffles: Four winners in Nebraska will get a $5,000 contribution to their NEST account, and Missouri will give away a $5,290 contribution along with 10 first-place prizes of $529 each. Oklahoma is hosting two prize giveaways. One, the "529 Day Giveaway," will award a $529 contribution to the Oklahoma College Savings Program to a family who enters the contest on the program's Facebook page between May 29 and June 9. The state is also giving away one $5,529 account contribution, as part of a raffle open to Oklahoma residents with children under 16. Other states holding raffles include Virginia, Pennsylvania, and Connecticut.
Don't see your state here? Check out the CSPN's map to see what's going on where you live and for more details on how to enter each giveaway.