There's an Amazing Flash Sale Happening Right Now on This Cult Kitchen Appliance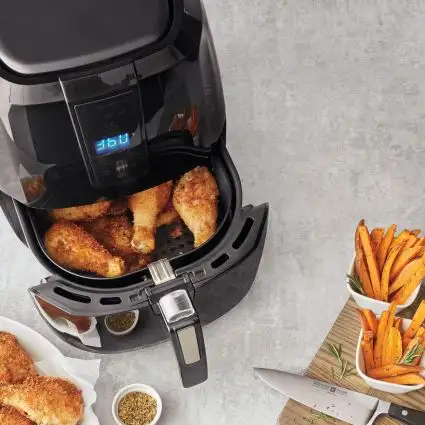 If you made a resolution to eat healthier in 2018, there's a great sale going on now that can help you achieve that goal and without busting your budget. But you have to act fast.
Today only at Sur La Table, the Chef di Cucina's HealthyFry XL Air Fryer is just $139.96 — an amazing 60% off the list price of $349.95. Users give it four stars, raving about its quick, non-messy and less-fatty results. "I have high cholesterol and I can now enjoy the foods I couldn't before," one air fryer owner enthuses. "We are enjoying everything from fries to main dishes... love the taste and feel of fried food without the guilt!" another says.
Pairing well with this fryer is celebrity chef Todd English's The Air Fryer Cookbook: the photos alone are enough to make your mouth water, and home cooks give the book high marks for its easy-to-understand instructions.
A quick introductory lesson if you're intrigued by this nifty kitchen gadget: An "air fryer" isn't a fryer, per se; it uses high-tech convection fans to circulate hot air around food and get it crispy without having to douse it in oil. The convection action also means the HealthyFry XL can bake and roast food in less time than you could do in the oven. With the help of accessories like a nonstick pan and silicone mat, and a French fry-cutter for perfect potatoes, you'll be an air-frying ace in no time.
Aside from Todd English, other celebrity chefs have boarded the air fryer train: Paula Deen has a well-reviewed cookbook all about air frying, and "The Blue Jean Chef," Meredith Laurence's Air Fry Everything, has recipes that run the gamut from chicken wings to donut holes. Sur La Table also has a helpful cookbook for air fryer novices and devotees alike.
We've included affiliate links into this article. Click here to learn what those are.