Amazon Is Trying to Fill 50,000 Job Openings Today. Here's How to Get Hired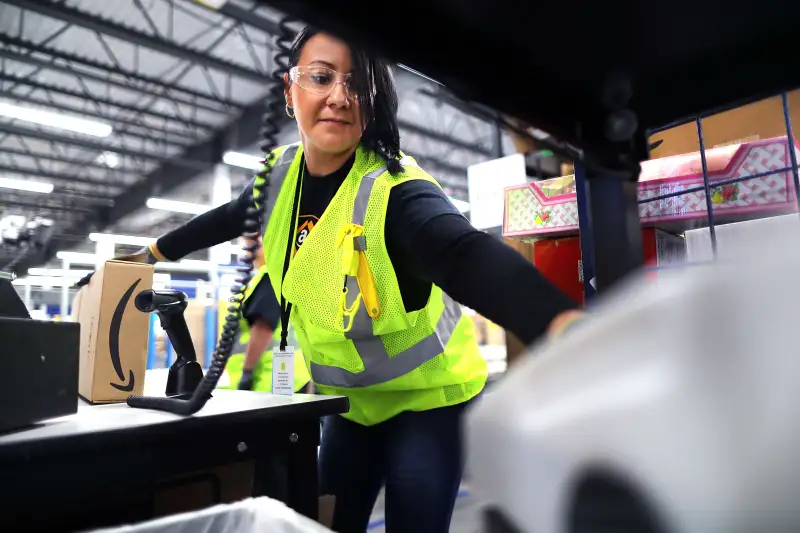 John Tlumacki—Boston Globe via Getty Images
In a bid to fill tens of thousands of open warehouse roles, Amazon is holding a series of job fairs in many of the U.S. cities that support its largest operations hubs.
On Wednesday, the company will hire prospective employees on the spot in places like Baltimore, Maryland and Buffalo, New York, for a range of full and part time positions in the company's fulfillment centers. A total of 10 of its fulfillment centers will also be open for guided tours and information sessions and some corresponding events are scheduled in shopping malls, career centers, and recruitment centers across the country.
"Jobs Day," as its dubbed, comes at a time of furious debate over what a growing reliance on automation means for the workforce, and seems to belie arguments that robots will kill blue collar jobs as we know them. The majority of Amazon's 50,000 open jobs are in packing and sorting roles, alongside robots that scurry around its warehouses. Some managerial, human resources and IT roles are also up for grabs, according to a press release.
The ecommerce giant no doubt hopes to capitalize on the growing throngs of jobless retail workers, laid off as brick mortar shopping falls to online retailers — Amazon, ironically, being chief among the new players.
Interested in a job? Here's what you need to know:
Full-time positions include medical benefits starting and some tuition pre-payment. Part-time positions include medical benefits that begin after 90 days and tuition pre-payment.
Interested candidates need to bring identification.
Guided tours of the facilities (with the exception of Buffalo and Oklahoma City, two new locations) will be held on August 2nd from 8 a.m. - 12 p.m. local time.
There's a dress code. According to a statement from Amazon, candidates must wear flat, closed-toe and closed-heel shoes. Long hair must be tied up, and beards must be trimmed to three inches (or netted). Extraneous jewelry, drawstrings, or anything that might pose a safety-risk won't be allowed.
Here are all the facilities that are hiring, with links to corresponding job fairs:
Fall River, Massachusetts (BOS7)
Robbinsville, New Jersey (EWR4)