Amazon Will Now Deliver to the Football Parking Lot for Your Tailgate Party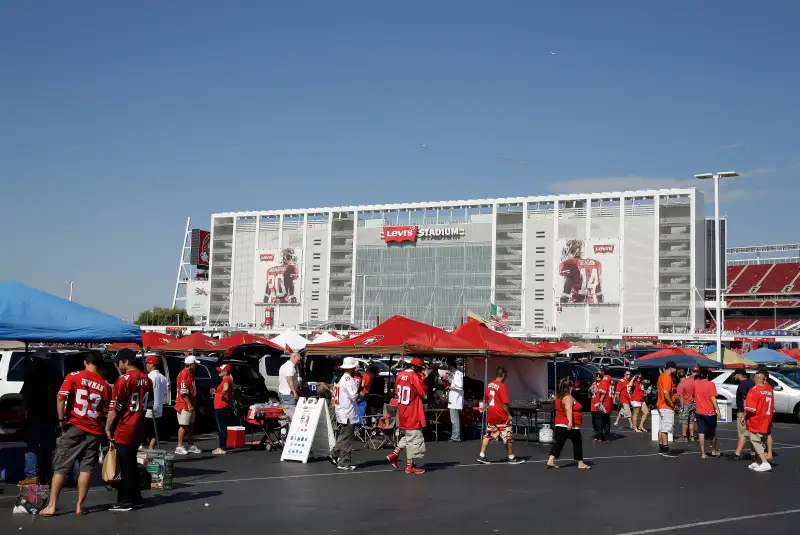 Starting Monday afternoon, Amazon is offering speedy delivery of hamburger buns, a cooler, a Frisbee, alcohol, and almost anything else football fans need for tailgating directly to the stadium parking lot.
A partnership between Amazon and the San Francisco 49ers will allow shoppers to place orders via the Amazon Prime Now service and have items shipped to the parking lot at Levi's Stadium in Santa Clara, Calif. One-hour delivery costs $7.99, and two-hour delivery is free. The 49ers host the Los Angeles Rams during the second of two Monday night NFL games scheduled for tonight, with a local kickoff time of 7:20 p.m. (10:20 ET).
The new service marks the first time that Amazon will accept orders for delivery to a sports stadium parking lot. To kick off the service, Amazon is enticing new users of Prime Now to place their first orders with the promise of $10 off by entering the special code 10PRIMENOW at checkout.
Grill supplies, condiments, and electronics are among the tens of thousands of items that Amazon says can be ordered for express shipping to Levi's Stadium. "Prime Now includes Amazon's alcohol delivery service, however its restaurant delivery service is not yet available in Santa Clara," an Amazon spokesperson explained to InternetRetailer.com.
Read Next: Amazon Has Upper-Income Americans Wrapped Around Its Finger
To place orders, Amazon customers—who must be subscribers to the $99-per-year Prime service—enter the stadium zip code (95054) to see what's available for car-side delivery. At checkout, you enter the stadium's address (4900 Marie P. DeBartolo Way, Santa Clara, CA 95054) and specify the lot where you're parked (service is available only to Red Lot 1, Green Lot 1, and Blue Lot 1) and the nearest parking flag number.
Then, sit back and wait for your order to arrive, perhaps while mooching a burger and a beer from your neighbor in the lot who went shopping beforehand.