5 Astounding Things About America's Biggest Mall Planned in Miami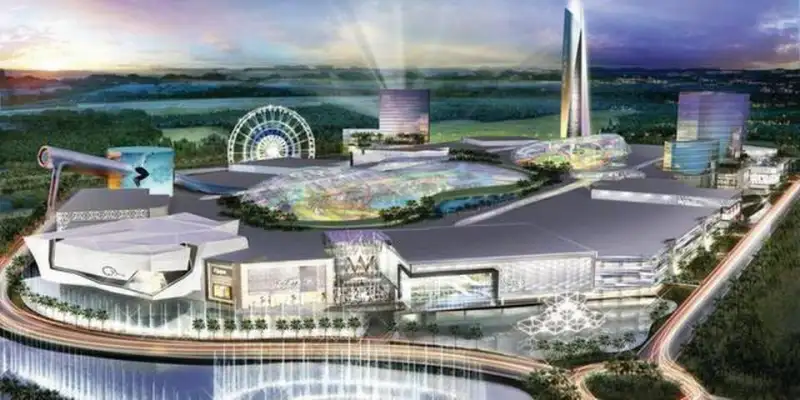 Courtesy of American Dream Mall
If a proposal first revealed this week in the Miami Herald is approved and actually built, the suburbs of Miami would become home to the largest mall in the U.S. It's been estimated that the megamall will cost $4 billion to complete, but that's hardly the only eye-popping factoid attached to the monumental project. Here are a few more:
It'll occupy a whopping 200 acres. That's roughly double the acreage of the Mall of America in Minnesota. The Miami megamall, dubbed the American Dream, has been proposed by a Canadian company called Triple Five. The firm also owns and manages the Mall of America, as well as another American Dream, a much-maligned complex near the East Rutherford, N.J., sports venues once known as Xanadu that's taken more than a decade to develop and still isn't open; and North America's largest mall, the 5.3-million-square-foot behemoth with two hotels, a water park, and 800+ stores in West Edmonton, Canada.
The project is supposed to employ tens of thousands. Construction will reportedly require 25,000 workers, and about that many permanent jobs are expected to be needed to keep the complex running as imagined, according to Triple Five. As for the criticism that many of these jobs would be low-paying retail and tourism gigs, Miami-Dade Mayor Carlos Gimenez told the Miami Herald that all jobs are good jobs, though there seems to be some confusion as to how many jobs will actually be created. "Everybody is focused on high-paying jobs," Gimenez said. "Not everybody is qualified for them. Twenty-thousand jobs are twenty-thousand jobs."
There will be sea lion shows and submarine rides. Triple Five isn't in the business of creating mere places to shop. Instead, it develops "tourism retail and entertainment complexes," and points to a quickie Time.com post as proof that the Mall of America is the country's "Most Popular Attraction," drawing some 40 million visitors annually. (Meanwhile, a story from sister publication Travel & Leisure left the Mall of America off its "Most Visited Tourist Attraction" list because it wasn't deemed culturally or historically significant.)
In any event, Triple Five markets its malls as full-fledged destinations, not simply shopping centers; one particularly ambitious plan envisioned chartered flights heading to Newark, N.J., just so rich folks the world over could visit the American Dream in the swamps of Jersey. Among the over-the-top features in the works for the American Dream Miami are an indoor ski slope, skating rink, water park, amusement park with a roller coaster, Ferris Wheel, live sea lion shows, hotels, condominiums, and submarine rides.
It'll be neighbors with two other enormous malls. As the Miami New Times pointed out, the proposed American Dream mall is planned to be built in Miami Lakes, at the intersection of the Florida Turnpike and I-75. Given the location and scope, it would likely compete directly with two existing monster malls in greater Miami, the Aventura Mall and Sawgrass Mills—which currently rank, respectively, as the third- and seventh-largest malls in the U.S.
The mall isn't necessarily aimed at Floridians. Instead, the key demographic that may lead to the American Dream Miami's success (or failure) is that of wealthy international tourists. Foreign visitors constitute one-third of foot traffic at shopping hubs like the Aventura Mall, according to Miami Today, with an outsized portion coming from Brazil, Colombia, and Argentina. Canadians and Europeans come in abundance as well, and the foreigners tend to spend far more time and money during their shopping excursions than Americans because 1) they're rich foreigners; and 2) it'll likely be a while before they get another opportunity to go on a wild spending spree in America in the future.
Foreign visitors have even begun flocking to South Florida around Thanksgiving, and it's not for turkey dinners. "More and more South Americans now really understand that because of the great discounts, Black Friday is a terrific time to travel to the U.S. to shop," a Saw Grass Mills executive explained.