Why Angie's List Keeps Getting Mixed Reviews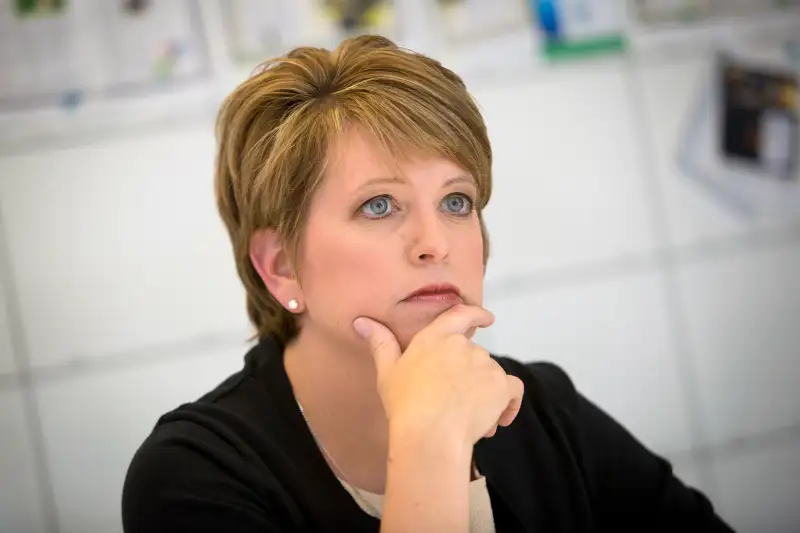 Scott Eells—Bloomberg via Getty Images
Last week, the stock price of Angie's List dropped more than 5%, after a decline of as much as 20% the week prior. Overall, the price of Angie's List stock is hovering near its 52-week low, and it has fallen nearly 60% over the past 12 months. The recent plunge stemmed largely from the release of disappointing third-quarter results. Even as the company decreased marketing expenses by 20% and increased membership revenue by 7%, a slowdown in paid memberships and the failure to meet profit revenue expectations have apparently spooked investors.
Angie's List watchers have been on a particularly wild rollercoaster ride of late. Roughly one month ago, a report surfaced indicating that the company had hired investment bankers to explore the possibility of putting Angie's List up for sale. Shares of the stock rose more than 20% on the news but were still down more than 50% compared to a year ago.
A couple weeks later, Angie's List announced that it was adding 1,000 jobs and expanding its Indianapolis headquarters, leading some to believe there would be much brighter days ahead. One week after that, third-quarter results were released, leading many investors to bail—but also leading opportunistic value investors such as billionaire Ken Griffin, owner of the Citadel Investment Group, to go bullish on Angie's List.
So what does the future have in hold for a paid membership review service such as Angie's List? Well, to anyone under the age of 30, the idea of paying for reviews or online content of any sort is probably puzzling. But for nearly two decades, the online review service Angie's List has built a loyal, paying membership of homeowners and renters who find real value in a network where real-life people can exchange honest, trustworthy recommendations about handymen, contractors, plumbers, electricians, clean-it crews, and other services they've used personally.
To these folks, the value proposition is simple: When you're considering who to hire to do a $50,000 home renovation, forking over $20 or $40 for access to reviews on local contractors is a no-brainer. Indeed, according to the company's second quarter 2014 results, paid memberships hit 2.8 million at the end of June, up from 2.2 million a year before and just 820,000 as recently as 2011.
So why does Angie's List appear to be on the ropes?
An in-depth post by the Indianapolis Business Journal suggests why: Angie's List, founded in 1995, has never turned a profit. A report released last October, for instance, showed the company had a net loss of $13.5 million for the third quarter of 2013, following a loss of $18.5 million for the same period a year prior.
Why hasn't all its growth translated into profits? Much of it can be attributed to (presumably expensive) expansion into new markets; the service is now available in 253 areas of the country, compared with around 200 in 2012.
More to the point, Angie's List has been forced to scale back the amount charged for each membership as Yelp, Google+ Local, TripAdvisor, and other user review sites have flourished with an open-to-everyone, completely free business model. The most recent Angie's List report states that from 2010 onward, the average annual membership fee was just over $12, down from more than $36 a decade earlier.
And the amount members pay continues to drop. A Wall Street Journal post published a year ago detailed Angie's List's plans to cut membership fees in several key cities to around $10 annually. Today, it's a cinch to head over to an online coupon site to find offers for 30% or 40% off, bringing the cost of a one-year subscription down as low as $5.39.
Meanwhile, the company recently agreed to pay a $2.8 million settlement to end a lawsuit alleging it had re-upped members without proper notice and at higher rates than subscribers were led to believe.
Perhaps an even bigger problem is that the trustworthiness of Angie's List is increasingly being called into question. Critics point out that a growing portion of Angie's List revenues come from service providers paying for advertising on the site—the same service providers that are supposed to be rated in non-biased fashion by members. "Almost 70 percent of the company's revenues come from advertising purchased by the service providers being rated," a 2013 Consumer Reports investigation explained.
CR called out in particular the practice of allowing advertisers with B or better ratings to be pushed to the top of search results as questionable at best. "We think the ability of A- and B-rated companies to buy their way to the top of the default search results skews the results… They get 12 times more profile views than companies that don't buy ads."
To be fair, many Angie's List competitors also actively solicit the businesses reviewed on their sites as advertisers. Yelp is known to flood restaurants, doctors' offices, and other small businesses with pleas to advertise on the site, to the point that one restaurant in the San Francisco area launched a bizarre "Hate Us on Yelp" campaign to undermine the user-review site. (Despite claims that it engages in what amounts to extortion, Yelp has repeatedly stated that advertising doesn't affect a business's ratings in any way.) Porch.com, an online network created to help homeowners find contractors and other home improvement services, launched a partnership referral system with Lowe's this year. While businesses don't pay to be listed, the website gives extra visibility to contractors that pay for a premium membership, such as making it easier to see their phone numbers in search results. (Full disclosure: Porch contributes articles on home improvement to Money.com.)
For the time being, Angie's List seems to have figured out how low it must cut membership fees in order to keep subscriber numbers from falling. But the strategy hardly seems sustainable, especially if the perception that the service's ratings aren't trustworthy continues to spread. Convincing consumers it's worthwhile to pay for a review-and-ratings service when there are free alternatives is tough enough. It's borderline impossible to convince them that doing so is worth the money when there's reason to question whether the ratings are entirely legitimate.
Correction: An earlier version of this story incorrectly described how Porch.com enhances the visibility of contractors who pay for a premium profile on their site.
Read next: Grading Twitter's Performance One Year After Its IPO