Alexandria Ocasio-Cortez Is Paying Her Entry-Level Staffers $52,000. Here's How That Compares to the White House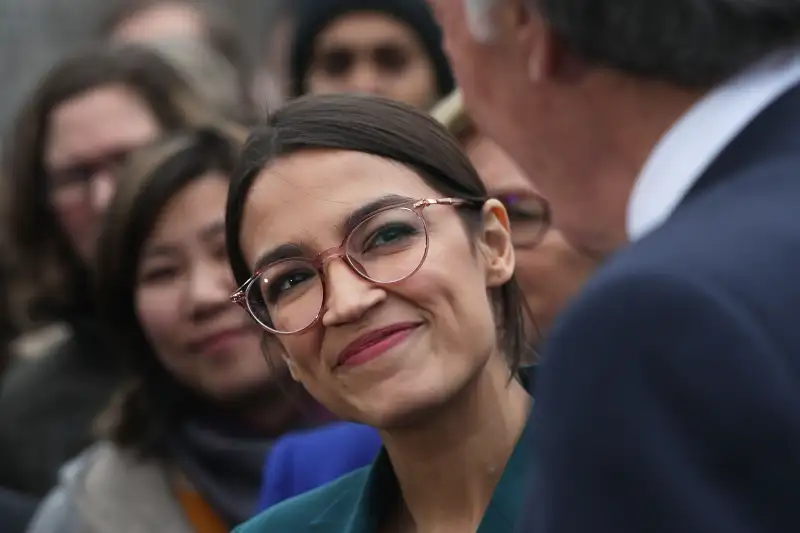 Young Congressional staffers usually make $30,000 to $35,000 per year. But if you work for Alexandria Ocasio-Cortez, you'll earn a lot more.
The outspoken congresswoman from New York—who supports a wide range of progressive initiatives grouped together as the "Green New Deal" and has proposed a 70% marginal tax rate on the richest Americans—recently confirmed that she will pay all of her staffers what she considers to be a living wage in pricey Washington, D.C.: $52,000 a year or more.
That's significantly higher than what many entry-level Congressional employees make. According to Glassdoor, the average Congressional staff assistant salary is about $31,500 per year.
In some cases, working for Ocasio-Cortez, 29, is more lucrative even than serving under President Donald Trump in the White House. As of 2018, many White House office staffers with job titles like staff assistant, associate director, information services operator, and records management analyst had salaries of $40,000 to $45,000.
Ocasio-Cortez (or AOC, as she is also known) said months ago that all lawmakers should pay a decent living wage to their staffers. Now she says she is putting her money where her mouth is. AOC has also vowed to pay her interns at least $15 an hour, whereas many members of Congress expect interns to work for free.
How is AOC able to pay her staffers higher salaries than other congressional aides receive? Every member of Congress receives a Members' Representational Allowance, or MRA, which includes roughly $1 million per year for personnel. It's up to members of Congress to decide how to split up that money among their staffers.
In order for AOC to pay her youngest and most inexperienced staffers higher wages compared to their peers in Washington, D.C., she is also paying lower-than-usual salaries to more senior members of her staff. Roll Call reported that AOC staff salaries will be capped at $80,000, which is about half of what an experienced chief of staff in Congress can expect to make. (Ocasio-Cortez herself will earn $174,000 per year, which is standard for members of Congress.)
Corbin Trent, Ocasio-Cortez's communications director, told Roll Call that he is willing to take a pay cut — the father of two children earns $67,000 per year — to help pursue his boss's progressive agenda. "Part of walking the walk is understanding that everyone is going to have a little bit of a struggle," said Trent. "You divide it up. You work together."
Critics have attacked AOC for her decision to pay entry-level staffers $52,000 a year, at the same time she is paying below-market wages to some of her employees. "It's actually socialism and communism on display," the "Fox & Friends" weekend co-host Pete Hegseth said over the weekend.
According to MIT's living wage calculator, an adult living on his or her own in Washington, D.C., with no dependents, needs to earn at least $37,000 before taxes to make ends meet. That may be underestimated; the calculation factors in $1,500 per month for housing expenses, whereas the average rent for a one-bedroom apartment in the city is around $2,000.