6 Apps That Actually Make It Fun to Save Money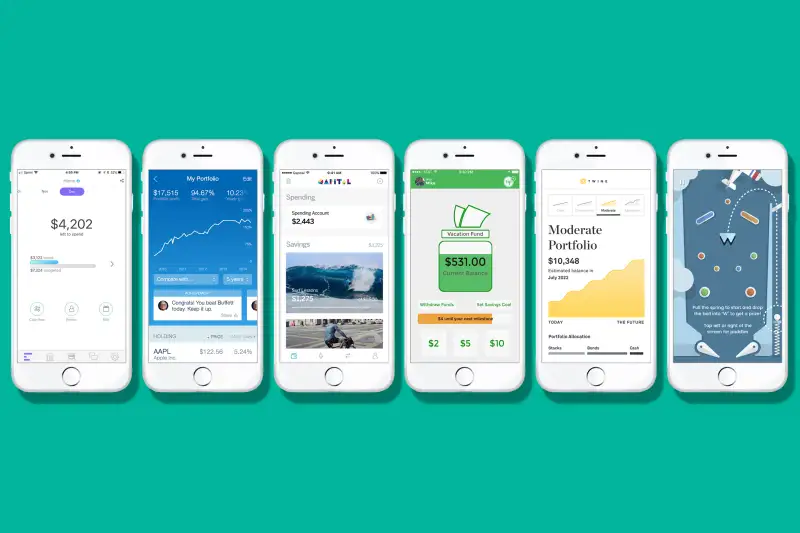 You know you should save, just like you know you should go to the dentist. That doesn't mean you're going to like it. Too many financial tools and advisers makes the task of putting away extra cash seem like a joyless chore. But it doesn't have to be that way. A number of newer apps have tweaked the formula, using games and rewards to encourage people to help out their wallets. Here's a handful that will make you more likely to smile every time you throw dollars into your savings account.
WinWin Saving
There are ample opportunities to distract yourself with games on your phone: on the train, while grabbing coffee, during a commercial break. WinWin Saving adds bonuses to beef up your savings. The iOS app lets you play daily games with cash rewards. The catch is that you set up automatic savings in your linked bank account, and the more you save, the bigger the prizes. If you saved $5, you can play to win $5, but if you put away $100 on your own, you can match it with arcade-style entertainment. WinWin Saving allows you to take out the money any time. It's free for the first two months, but after that, the app charges $2 per month.
Available on: iOS
Honeyfi
Financial conversations between partners can be difficult, to say the least. Honeyfi eases the pain, helping couples make smart money decisions by empowering them to reach goals together. The free app, available for iOS and Android, links to all bank accounts whether joint or individual. You and your better half, working as a team, can react to and comment on transactions, and sync up with Honeyfi's customized monthly budget and shareable insights.
Twine
Similar to Honeyfi, Twine gears itself for couples. Partners create savings missions for themselves, whether it's a down payment for a home or finally booking that dream vacation. Each user is able to contribute and track how close they are to the finish line. And Twine's bright, cheery design makes the process that much sweeter. Whatever you save can go toward cash or be dropped into an investment portfolio. It's also super cheap: It just costs 25 cents per every $500 invested through the service.
Available on: iOS, Desktop
iBillionaire
A billion dollars may be cooler than a million, but making your way there generally involves a lot of arduous work. You can at least get some superstar motivation from iBillionaire, which tracks in real time the financial moves of moguls like Warren Buffett and allows users to replicate them in their own lives with various suggested investment strategies. The app, which charges $1 a month, will open an investment account and automatically drop your savings into it, even if it's just $5 a week, and provide analytics. Your portfolio probably won't be as fat as Buffett's, but you can try to make it work just as hard.
Available on: iOS
Tip Yourself
Instead of getting a dopamine rush from a shopping spree, Tip Yourself enables you to pat yourself on the back by stashing away coins. The free app acts as a savings account, where you set up a goal—say, hitting the treadmill that week—and every time you achieve it, you move money over from your checking account. By linking positive actions with more positive actions, Tip Yourself gets uses to alter their daily habits, without turning it into a grind.
Qapital
Qapital, like Tip Yourself, sets up actions that when completed trigger savings — but it's slightly more robust. Create a goal for yourself like completing a big project at work, or punish yourself when you've overspent on new shoes. The free app, available for iOS or Android, will either reenforce or discourage your behavior by transferring money to savings. You can also set up regular rules for savings, like rounding up to the nearest dollar on transactions and putting away the difference. Think of it as a life coach for your cash.