4 Apps That Will Help You Save Money Immediately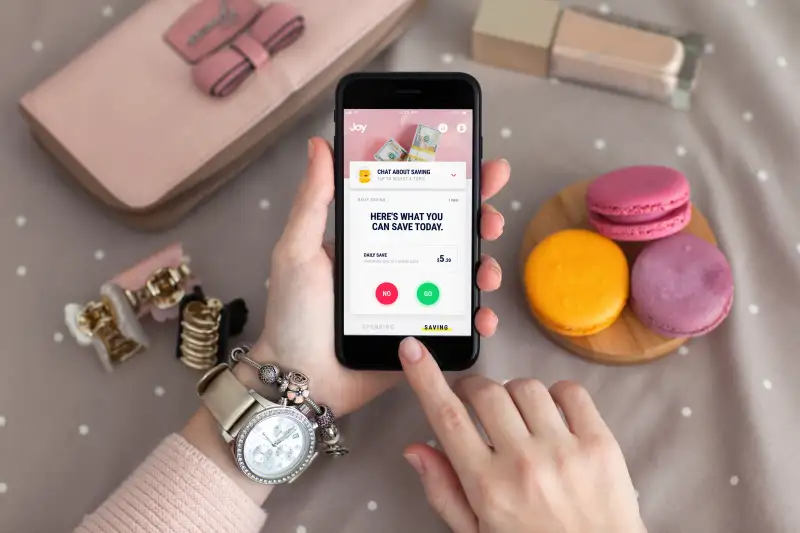 Bigstock; courtesy of Joy
Everyone understands the sting of looking over your monthly bank statement and seeing a hefty charge for a subscription or service you don't even use. But what's worse is never noticing the extra fees associated with various purchases in your everyday life. Since we're not all able to hire full-time financial pros to help us out, various apps have emerged in recent years to combat the problem. They work in the background, with little effort required from users, to figure out how to save a few dollars here and there in ways you won't notice—until they add up to quite a bit more. Here are the best free apps for saving money you didn't know you were wasting.
Joy
hudiemm—Getty Images/iStockphoto
Joy is a brand new app that cleverly utilizes some of the same psychological tricks of dating apps—but in order to help out your wallet rather than your love life. Joy offers you a virtual money coach tailored to your particular behavior, which has been designed with insight from a team of clinical psychologists and neuroscientists. You rate purchases on whether they make you happy or sad, which forces you to confront whether that $20 eggs Benedict and mimosa were indeed worth it. The app then helps you find areas to cut back and gives daily savings recommendations. That extra coin can also be dropped into a free FDIC-insured savings account.
Available on: iOS
Trim
hudiemm—Getty Images/iStockphoto
You might think, It would be nice to have an assistant sort out all these bills. But for those of us not in the C-suite, Trim intelligently replicates the mundane, but essential task of going through purchases to figure out what can be cut. It connects to your bank accounts, with encrypted security for peace of mind, and analyzes spending. Its most vital function is presenting regular payments that can be eliminated or significantly decreased. Trim helps you identify and cancel subscriptions you no longer need or want, and it negotiates on your behalf to bring down the price of your cable bill—something that can be taxing and annoying over the phone, but is one secret to saving a bit more every month. Trim doesn't have a mobile app — you sign up at Go.Asktrim and it works through text messages to and from your phone.
Available on: Text
Honey
So many of us now do the bulk of our regular shopping online because lets be honest: it's too convenient to resist. But there are always clever ways to make your dollars go a little further online. Rather than personally scour for promo codes to use at your favorite furniture or clothing shop, get Honey, a browser extension that silently searches for discounts on purchases you're already making. Honey will try various codes on a shopping cart at J.Crew, for example, to reduce the total. Honey is expected to roll out a phone app later this year.
Available on: Desktop
Wallaby
Credit is one of those things that can be hard to fully grasp, at any age. While credit is an important thing to build up in order to get loans on a home or car, no one wants to weed through the virtually endless amount of credit cards out there promising enticing rewards. Wallaby directs you to the credit cards you might actually like using, based on their rewards for various brands and retailers and interest rates. Enjoy traveling with a certain airline? Wallaby will point you to the card that makes jetting that way cheaper. It also looks at transactions to ensure you're getting your full bonuses and keeps track of spending on credit limits. And the app's new streamlined design makes it easier to instantly figure out what card to use where.