Why You Should Be Worried That Americans Are Buying Fewer Cars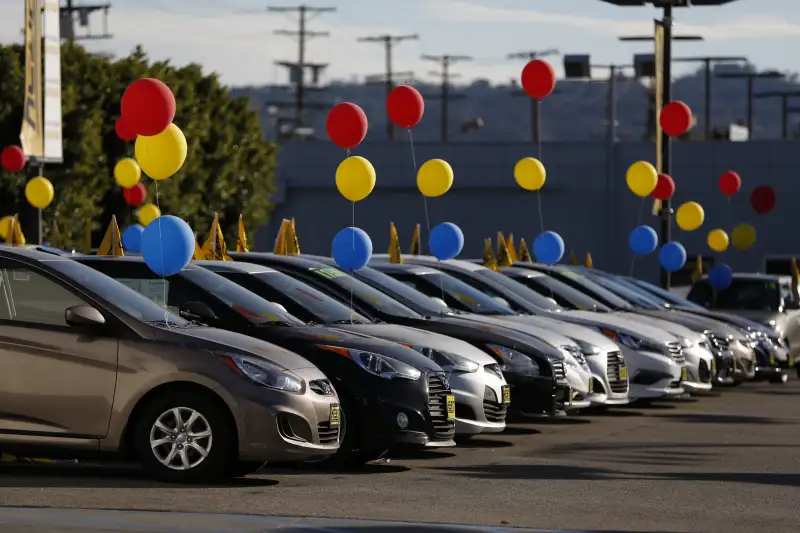 The booming state of auto sales has long been a bright spot in the American economy -- in particular the struggling manufacturing sector. But consumers' appetite for new cars appears to be running out of gas, a trend that comes with potentially worrying implications for the economy as a whole.
Americans bought 1.51 million new cars and trucks in August. With gas still hovering below $2.25 a gallon nationally, that might be considered a healthy number. But its represents a 3.5% slowdown from the 1.57 million purchased last August -- in a year that turned out to be the biggest for auto sales ever.
General Motors, the biggest brand by number of vehicles sold, saw its August sales total tumble 5% to 256,000, as GMC sales dropped 14%. Rival Ford saw an overall drop of nearly 9%, to 213,000. Sales of Ford's popular F-Series pick up trucks slipped 6%, but the company also said sales of Focus and Fusion models both tumbled more than 25%. Toyota Motor's U.S. arm also saw sales decline, by 5%, to 213,000 vehicles.
August marked the third month of 2016 to register a sales decline, according to trade publication Automotive News. That's the represents the worst growth record of any year since the depths of the recession in 2009.
To be sure, the weak numbers are not a complete surprise. Analysts had been forecasting a decline from last year's record pace, in part because automakers have held off offering discounts that can goose short-term sales but also cut into long-term profits, a mistake they made in the run up to the financial crisis nearly a decade ago.
Read Next: 7 Things Travelers Can Expect for Labor Day Weekend 2016
While overall auto sales for 2016 remain near record highs, and the housing market and stock market investments are strong, fewer Americans purchasing new cars can be an ominous sign for the overall economy. Earlier this summer economists surveyed by The Wall Street Journal cited softening auto sales, along side tepid corporate profits, in pegging the chance of a recession in the next 12 months at about one in five, up from about one in ten a year ago.