How Auto Worker Strikes Could Affect Year-End Car Sales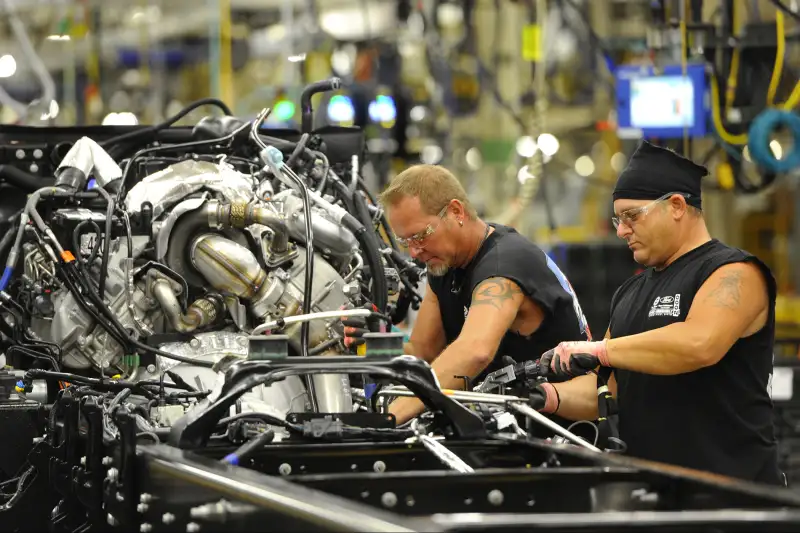 Automakers are on their way to posting the biggest annual sales since before the recession. Models from Detroit's "Big Three" of General Motors, Ford, and Fiat Chrysler have been zooming off dealer lots, and the seasonally-adjusted selling rate for new cars hit 18.1 million in September -- meaning that cars are selling at the fastest pace in 10 years.
Despite rebounding sales and soaring profits, autoworkers' wages for have actually decreased since 2007, according to the Wall Street Journal. Consequently, autoworkers have grabbed their picket signs and appear ready for a showdown.
The clock is ticking: Automakers have until Sunday to meet the demands of Detroit's local United Auto Workers Union leaders to bulk up wages and compromise on compensation, or face a walkout at Ford's Kansas City plant. Ford's not the only automaker under fire from the union. The UAW also rejected an agreement proposed by Chrysler on Thursday, signaling that the union isn't willing to compromise now that automakers are reaping in the profits thanks to soaring sales.
So what, if anything, does this mean for consumers? In some ways, a strike could have a tangible impact on car buying.
Earlier this year, Ford started selling its all-aluminum F-150 pickup truck, solidifying the model's status as best-selling truck in the U.S. The truck is produced at a Ford plant in Kansas City, by local union members who have threatened to strike. A strike at the Kansas City facility wouldn't be a deal-breaker for Ford's year-end sales, since the new F-150 is also produced at Ford's Dearborn, Mich., plant. Because Ford knows that the F-150 is always in high demand, the automaker has built up a large stockpile of the pickup trucks, which should also help ease any effects of a strike that would slow production. (Ford' s got 76 days worth of F-150 inventory in its system, while it normally averages about two months worth.) But that doesn't mean Ford can prolong its stalemate with the UAW indefinitely without consequence.
The end-of-the-year holiday shopping season is normally a strong period for car sales, and if a strike takes place this fall it's possible the selection at Ford dealerships could be impacted. For example, a buyer with a preference for a black F-150 might not be able to find one for sale. All of this is pretty circumstantial, though, and according to Kristin Dziczek, Director for Industry and Labor at the Center for Automotive Research, it's not likely that a strike would last very long--if it happens at all.
Chrysler stands to risk a lot more from a worker strike. A strike could make it difficult for Chrysler to produce some of its most popular--and profitable--models, including Jeeps and RAMs, if a strike happens this weekend and isn't quickly resolved. Dziczek says that because many of those car's transmissions are produced at one plant in Kokomo, Indiana, the imminent local strike could be a serious blow to Chrysler.
"Because of this pinch-point, if this one plant goes down, it could topple the whole system," she says.
To be sure, Chrysler would remain profitable through 2015 with a Kokomo plant strike, even if production on the company's best-selling models hits a roadblock. But a strike could dampen sales during the last few months of the year, and for differing reasons neither the automakers, nor workers, nor consumers want that.