These Are the Best Banks for Service Members and Veterans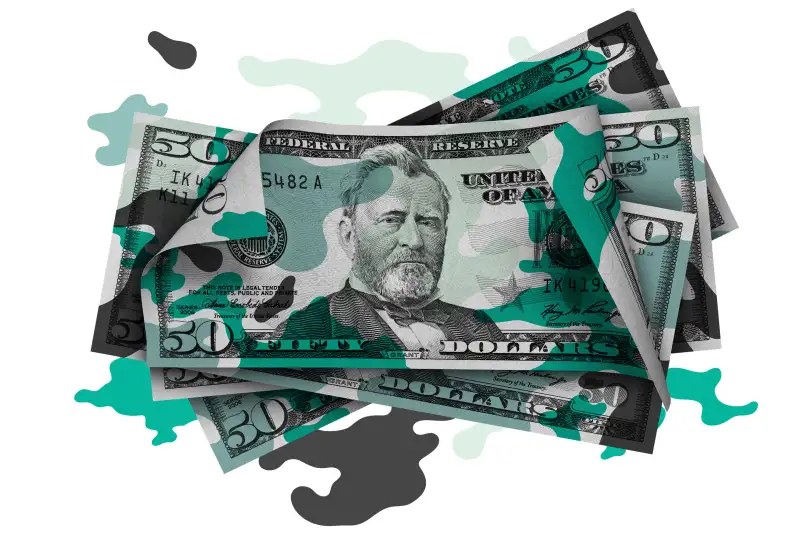 A life in uniform comes with plenty of challenges. Picking a bank shouldn't be one of them.
While it's not hard to find accounts designed for service members and veterans that boast attractive terms and conditions, in reality many of these aren't any better than the best accounts available to the general public.
How can you pinpoint the ones that are? Money's got your six: We assessed the country's largest banks and credit unions to find which accounts really offer the best deals for members of the military.
When naming any top bank, Money prioritizes accounts with the lowest fees and highest interest rates. But for active-duty service members who are frequently relocating, we put a special focus on free ATM withdrawals as well as online and mobile banking features.
"I may need to access my account from home or work or Alaska or the Middle East," says the writer behind the Military Dollar blog. (She declined to have her name published here because she's on active duty.)
For veterans, we shifted the emphasis to banks that offer a variety of low-fee accounts with competitive interest rates to help meet longer-term financial goals.
Banks with a history of serving military families offer other perks too. For one, they understand the unique aspects of military life, says Lacey Langford, a veteran and financial counselor in Summerfield, N.C., who works with military families. If, for example, you call a military-friendly bank to say you're prepping for a "PCS" (a permanent move for a reassignment), its staff can walk you through your financial to-do list, from notifying your landlord to adjusting monthly bills set on autopay.
As always, you should compare national options with what's available locally. A handful of Money's 2017 Best Bank in Every State winners, for example, are open to military members or have special accounts for them, including Tinker Federal Credit Union in Oklahoma, Synovus Bank in the Southeast, and WesBanco in Appalachian states.
When national scores were tallied, our two winners — USAA Federal Savings Bank and Navy Federal Credit Union — were head and shoulders above the rest. Here's what each has to offer.
---
Best for Active-Duty Military Members: USAA
Why It Wins: A predominantly online bank, USAA has been an industry leader in bringing new web and mobile banking features to its customers. Three years ago, for example, USAA was the first major U.S. bank to allow all customers to sign into its app using biometric identification. (Fingerprints or facial or vocal recognition are more secure than a password.) ­USAA's strong reputation for online service — plus outstanding user reviews of its app — helped it clinch this category: Active-­duty soldiers are frequently relocating and need to be able to access their money from anywhere. Plus, while rival Navy Federal offers a strong Active Duty Checking account, ­USAA's basic checking account has a slightly more generous ATM policy, waiving fees for some out-of-network withdrawals and refunding up to $15 a month in ATM-owner fees.
Caveat: That ATM policy works best for service members stationed domestically. When account holders withdraw money at an international ATM, they're charged a 1% transaction fee, plus the standard out-of-network and ATM-owner fees. USAA says it can't guarantee refunds on foreign ATM fees ­because of the way the transaction is processed.
Branches: Four
Key terms
Account: Classic Checking
Monthly service fee: $0
Interest: 0.01% on balances over $1,000
Out-of-network ATM fee: 10 free a month, then $2. Also refunds $15 of fees charged by the ATM owner.
---
Best for Veterans: Navy Federal Credit Union
Why It Wins: Navy Federal offers a strong mix of accounts to meet a range of financial priorities once you leave the military. If you need a basic checking account, the no-frills Free EveryDay Checking will work nicely. For service members and veterans who carry larger balances, consider the Flagship Checking account, which pays interest and offers some ATM rebates. The credit union also stands out for its strong rates: Its free savings account interest rate is 0.25% — nearly double the average for the ­accounts Money ­reviewed. And the one-year certificate of deposit pays 1.76% on balances as low as $1,000 — on par with the most competitive online bank offerings. Plus, Navy Federal has nearly 300 branches for members who'd like face-to-face service for longer-term financial products, such as a mortgage.
Caveat: The credit union has a very low ATM fee ($1), but it still charges you each time you withdraw at an out-of-network ATM.
Branches: 288, including 78 on military bases
Key terms
Account: Flagship Checking
Monthly service fee: $10, waived with a $1,500 average daily balance
Interest: 0.35% on any balance
Out-of-network ATM fee: $1. Also refunds up to $10 of ATM owners' charges if you set up a regular direct deposit into the account.
Notes: Interest rates show a range based on all the accounts offered at USAA or Navy Federal. ATM surcharges are applied by the ATM owner on top of your bank fees. App scores are based on iTunes and Google Play reviews.
---
Methodology
Money reviewed its universe of the country's 90 largest brick-and-mortar banks and 50 largest credit unions, as identified by bank consultancy firm Novantas, and considered any banks that offer accounts reserved for military members. We also reviewed a handful of smaller credit unions open to military members. This gave us a universe of 21 financial institutions, including nine national banks and 12 credit unions that serve military members. Bankrate.com, Money's partner for its bank ratings, helped collect data on fees, interest rates, and account requirements in July and August 2017. Money independently fact-checked all account information in May 2018. Winners were chosen based primarily on lower monthly and ATM fees, higher interest rates, and strong mobile app ratings in the iTunes and Google Play stores.
Additional reporting by Megan Leonhardt