The 25 Best Cities for Jobs - And There Are Tons of Openings Right Now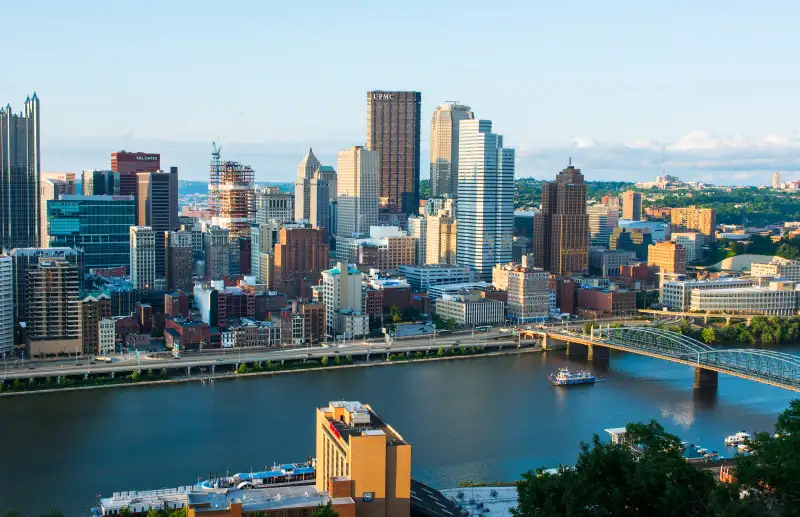 Danita Delimont—Getty Images/Gallo Images
When people relocate for a job, they tend to gravitate towards millennial meccas like New York and San Francisco. But if you're looking for a change of scenery, a midsize city with working-class roots may be the wiser bet.
New data from careers site Glassdoor reveals the 25 best U.S. metro areas for jobs, based on affordability, openings, and job satisfaction. Pittsburgh, Indianapolis, and Kansas City topped the list -- and a panoply of blue-collar hotspots rounded it out.
The top three cities, all rapidly-evolving destinations for tech talent, have over 80,000 job openings each, and a cost of living that puts big cities to shame. Other Midwestern cities on the list, like Minneapolis and Detroit, have well over 100,000 openings a piece.
Salaries tend to rise in big city markets. But with an abysmal ratio between median pay and median home value (with average house prices as high as $1.5 million in San Francisco), that's not much of a redeeming factor.
Cleveland (#7), by comparison, has a median home value of $134,600; about 40% below the national average. And a booming job market in Ohio (Columbus and Cincinnati are also in Glassdoor's top 10) makes snagging a gig in the buckeye state easier than most places.
"When it comes to finding the best city for jobs, bigger doesn't necessarily mean better," says Glassdoor Chief Economist Dr. Andrew Chamberlain. "These areas stand out for offering some of the greatest job prospects along with a lower cost of living that allows more employees to live comfortably."
If affordability and an easy job search top your list of priorities, check out these cities below.
1. Pittsburgh, PA
2. Indianapolis, IN
3. Kansas City, MO
4. Raleigh-Durham, NC
5. St. Louis, MO
6. Memphis, TN
7. Columbus, OH
8. Cincinnati, OH
9. Cleveland, OH
10. Louisville, KY
11. Birmingham, AL
12. Detroit, MI
13. Minneapolis-St. Paul, MN
14. Hartford, CT
15. Oklahoma City, OK
16. Washington, DC
17. Seattle, WA
18. Atlanta, GA
19. Baltimore, MD
20. Nashville, TN
21. Milwaukee, WI
22. San Jose, CA
23. Chicago, IL
24. Charlotte, NC
25. Dallas-Fort Worth, TX