Trader Joe's Fans Are Obsessing Over These New Products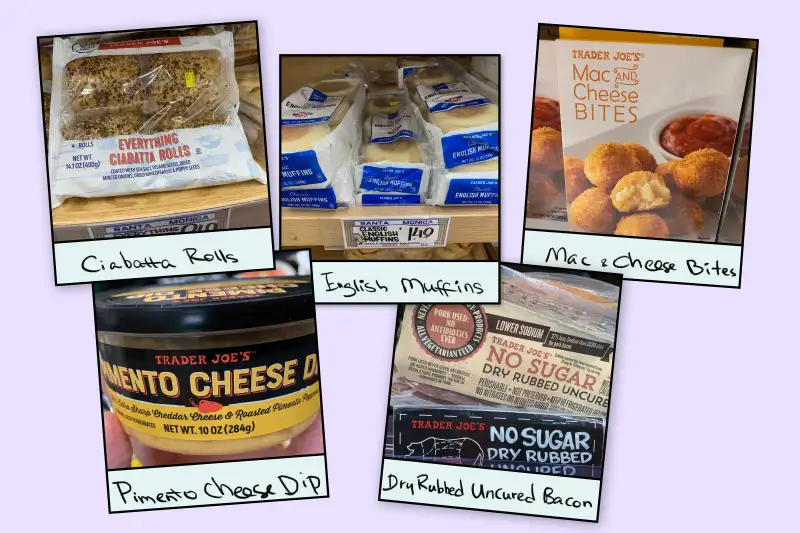 Trader Joe's is abundant with worthwhile delights, but they're not always easy to find. The neighborhood grocery chain specializes in its own, sometimes shockingly affordable, creations, especially ready-to-eat items. Some of them are hits (if you've never had the West Coast-centric sourdough bread or restaurant-style tortilla chips, you're missing out) but others don't quite live up to the brand.
Part of the genius of Trader Joe's lies in its constant experimentation with new products, including seasonal merchandise, to see how they sell. At any of its hundreds of stores in the U.S., the aisles are stocked with freshly minted, enticing offerings. (Prepare yourself for pumpkin-spiced everything.) If you're not sure which to grab, we've got you covered. Here are the newer items that we and other TJ's obsessives adore.
(Prices are based on a Trader Joe's in Santa Monica, California, and may vary based on location.)
Everything Ciabatta Rolls, $2.49
There is perhaps no better vehicle for meats, cheeses, and vegetables at Trader Joe's than its brand-new Everything Ciabatta Rolls. These large and fluffy buns utilize a Trader Joe's secret weapon: Any true TJ's fan knows the power of its Everything But the Bagel Sesame Seasoning Blend. The same flavors are generously sprinkled on these rolls, which work just as well for ham-and-cheese sammies as for late-night peanut butter spread snacks.
Mac and Cheese Bites, $3.99
Macaroni and cheese is an iconic calorie bomb. Almost never terrible, yet always worth it. Trader Joe's has a robust history of high-quality frozen food options, and the frozen mac-and-cheese bites continue that trend. The breaded coating, which you should crisp up in a very hot oven, somehow even improves the gooeyness of elbow macaroni pasta and gouda cheese. And at 190 calories for three indulgent pieces per serving (the entire package comes with 10 bites), you don't have to feel gross if you decide not to make it a full meal. (Although if you do, no judgment.)
Classic English Muffins, $1.49
Trader Joe's baked goods selection is hit or miss — perhaps because the chain works best with products that last on the shelves for more than a day — but it's upped its game in the past year. While TJ's dabbled in awkwardly named "British Muffins" before, it's recently made a big change. Their new Classic English Muffins are an improvement (and slightly smaller than their Brit counterpart). They nailed the soft, slightly spongy, crevice-filled texture. For just over a buck, you get delicious carbs ready for breakfast, lunch, or dinner sandwiches. (Hint: These English muffins freeze well.)
Pimento Cheese Dip, $3.99
The California-based Trader Joe's biggest blind spot may be food that originates in, well, just about anywhere else in the country. It's not surprising that the brand hadn't previously jumped on pimento cheese, otherwise known as the caviar of the South. The down-country specialty is anything but fancy — it's a mix of cheddar cheese, mayonnaise, and pimento peppers — but it's luxurious in both taste and mouthfeel. Spread it on literally anything, or dip a thick chip, and your snacking will get extraordinary upgrade.
No Sugar Dry Rubbed Uncured Bacon, $4.49
One downside to a few Trader Joe's products, especially its many salsas and chips, is the amount of sugar loaded in the ingredients. This issue extends to the cured meats, which can be sneakily full of unnecessary sweetness. But at last, a solution! The arrival of this uncured, no-sugar-added bacon is a blessing for those who seek something simpler or keto-friendly. The thick cut is ideal for a hearty breakfast with eggs or as a simple accompaniment to veggies. Or just make a plate of bacon and eat it on its own. Why not?